Fish Creek Wildlife Observation Site
At a Glance
Brown bears, black bears, and occasionally wolves come to fish the clear shallow waters of Fish Creek, where visitors may observe them from an elevated boardwalk. The best viewing is from July through mid-September during the chum and pink salmon runs.
Fish Creek is about three miles north of Hyder, Alaska. The area's remote location and proximity to interior British Columbia offers other wildlife viewing opportunities. Beavers, mink, Canada geese, harlequin ducks, common mergansers, bald eagles, sharp-shinned hawks, great blue herons, and several species of gulls are also seen in this beautiful glacial river valley.
Several bird species that are common to the interior of North America but rarely found in Alaska are also found here, like the American crow, magnolia and MacGillivray's warblers, warbling vireo, American redstart, western tanager, and chipping sparrow.
A pass is required to visit the Fish Creek Wildlife Observatory during peak season. The site is managed by the US Forest Service.
Facilities
The Fish Creek Wildlife Observatory is open daily and hours vary according to the season. The site consists of a 600 foot elevated wooden viewing platform with benches, two parking areas, a second raised walkway along a spawning channel that connects the parking areas to the main viewing area, and an outhouse. The site is designed to help accommodate increasing numbers of visitors, maintain a safe separation between people and bears, and allow the bears to feel "comfortable" enough to pursue their normal behavior without concern for observers.
An individual pass is required to visit the site during peak season. You may purchase passes from local vendors, the Forest Service office in Hyder, or the Forest Service cabin next to the boardwalk entrance. Forest Service personnel will check your pass (if required) and brief you on site conditions and safety. During the peak viewing season, Forest Service interpreters are also onsite to provide current information on bear safety and wildlife activity.
Accessible Facilities: The wildlife viewing platforms, parking area, and outhouse are wheelchair accessible.
Getting There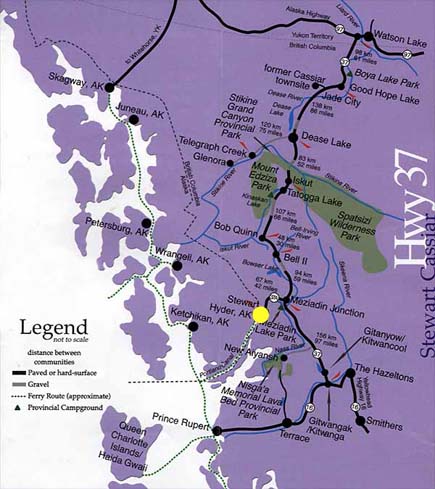 From British Columbia, Canada:
A 41-mile detour off the Cassiar Highway at Meziadin Lake Junction (on Highway 37A) brings you to the neighboring towns of Stewart, British Columbia and Hyder, Alaska at the head of Portland Canal.
Follow the gravel-surfaced Salmon River Road through Hyder and continue three miles north. A sign marks the Observation Site, and the parking area is on the left just past the Fish Creek bridge.
Shuttle vans from Hyder and Stewart provide another way to get to the Observation Site for those who do not want to drive or park large RVs or trailers. Visitors are encouraged to use the shuttles to help minimize traffic congestion at the Observation Site.
From Ketchikan, Alaska:
Hyder, Alaska is about a 75 minute small plane trip from Ketchikan. If you are making the trip, be sure to give yourself enough time. It is not something you can do in a day and you risk being weathered in. Hyder is not connected to Ketchikan by road.
Contact Information
Hyder Forest Service office: (250) 636-2367 from May 1 to Oct. 1
For information during the off-season, contact the Ketchikan Misty Fjords Ranger Service at (907) 225-2148.
US Forest Service website for Fish Creek
Check with the Forest Service for information about shuttle services from Hyder and Stewart to the Fish Creek site.
Gallery