Kodiak Island – Frazer Lake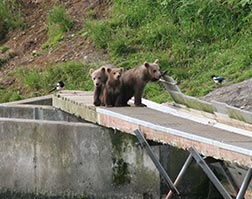 At a Glance
Kodiak brown bears are famous for their large size, thanks in large part to the abundance of salmon and other marine-based foods. They evolved into a distinct subspecies from mainland brown bears, having been isolated on the archipelago since the last ice age, about 12,000 years ago. A rich variety of vegetation, salmon, and berries provides an ideal habitat for bears and their population has flourished. Approximately 3,500 animals are estimated to live in the Kodiak Archipelago, many found within the boundaries of the Kodiak National Wildlife Refuge and surrounding areas like Frazer Lake (Dog Salmon Creek), an easy floatplane trip from the city of Kodiak.
Bears are sometimes seen on the road system. If you are fortunate enough to see a bear, please stop in designated pullouts or parking lots. Stopping on the roadway is illegal and you will be ticketed for doing so. Do not approach bears. Use a long-lens to take photographs and travel with binoculars to see bears that may be in the distance. Even in designated pull-outs, keep alert for high-speed traffic coming from both directions on the highway.
Facilities
Bear-viewing is one of the most popular activities on Kodiak Island. The best time to see a Kodiak bear is during July, August and September and the best way to do so is in the company of a knowledgeable guide. Floatplanes make the trip to Frazer Lake in about 50 minutes and it's about a ¾ mile walk to the viewing area so bring good hiking boots.
Bears may be seen along the road system. Please use designated pullouts and parking lots. Stopping on the roadway is illegal.
Getting There
Most people arrive in Kodiak either by air or by state ferry. Once there, you can explore the road system or book a boat or air taxi to more remote areas. Most local air taxis offer half-day viewing trips. Other options include multi-day bear viewing adventures booked with remote lodges. Some boat charters and kayak outfitters also specialize in bear and wildlife viewing, and special use cabins can be reserved through the Kodiak National Wildlife Refuge office and through the Alaska State Parks office in Kodiak.
The Kodiak visitor bureau offers online information on commercial guides and services.
Contact Information
Discover Kodiak Visitor Center
100 Marine Way, Ste 200, Kodiak, AK 99615
The downtown visitor center, located next to the ferry terminal, is open Monday – Friday, 8:00 a.m. – 5:00 p.m. year round. From early May through late September, the visitor center is open on Saturday and hours are extended to accommodate the ferry or cruise ship schedule and some weekend hours.
ADF&G
351 Research Court
Kodiak AK 99615
(907) 486-1869
USFWS Kodiak National Wildlife Refuge
1390 Buskin River Road
Kodiak, AK 99615
(907) 487-2600
Gallery