Denali National Park and Preserve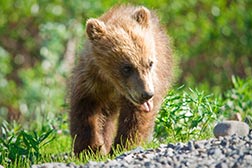 At a Glance
Denali National Park has a healthy population of grizzly bears, but you won't find them gathering in large concentrations like they do at McNeil River and Brooks Camp. Instead they roam across a vast territory either as solitary animals or small family units of mother and cubs. They may be grazing on alpine berries and low tundra vegetation or digging for roots along river gravel bars. Later in summer, bears may be tracking moose calves. They sometimes follow the trail of wolves, looking for an opportunity to steal a wolf-killed calf from the more active predator.
Black bears also inhabit Denali Park, typically in forested areas. They are most frequently sighted on the west end of the park in the Kantishna Hills and on the south side of the Alaska Range.
Take a bus into the park for your best chance to spot a grizzly bear. Keep a sharp eye out, especially in high open alpine country. They stand out pretty clearly early in the season as they are lighter-colored (old coats) and look like walking haystacks. But a sleeping bear can be easily mistaken for a rock.
Facilities
Denali Park Road, the only road through the park, is how most visitors experience Denali. The road parallels the Alaska Range passing through low valleys and high mountain passes. Wildlife is often seen, though sightings are not guaranteed.
During the spring and fall shoulder seasons, the first 30 miles of road (to Teklanika Rest Area) is open to private vehicles. During summer (from roughly late May through early September) only the first 15 miles (as far as the Savage River Bridge) is open. Beyond that the road turns to gravel and travel is largely restricted to buses. Wildlife is sometimes seen along the first stretch of road but your chances are greatly improved by traveling farther into the park.
Both shuttle and tour buses travel the road. The shuttle buses are cheaper and allow for the flexibility to disembark and re-board anywhere along the road. The trip is not narrated. Check here for more information on shuttle buses.
The tour buses include a narration from the driver. There are four tour bus options, of varying length. Check here for more information about bus tours.
Begin or end your trip to Denali National Park with a stop at the Denali visitor Center at 1.5 mile on the Park Road. Park rangers are on hand to answer questions and lead activities throughout the day. Browse the exhibit area and watch a 20 minute film, "Heartbeats of Denali," to learn more about the park. Find information about ranger programs, day hiking, and fees here.
Get more information about accessible facilities at the park.
Getting There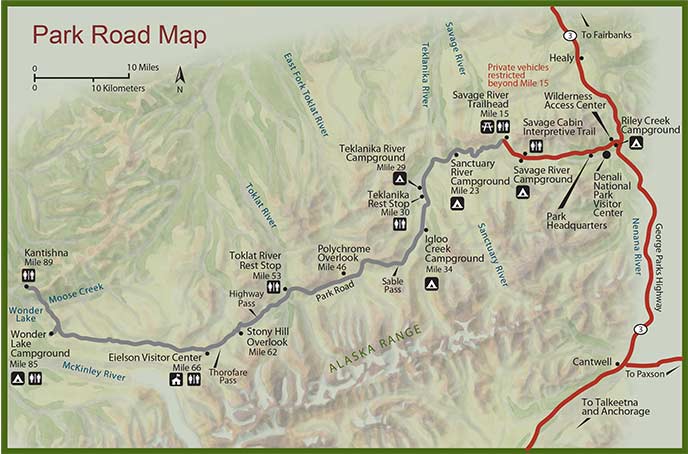 The road entrance to Denali Park is on Alaska Highway 3 (also called the George Parks Highway) about 240 miles north of Anchorage. Another option is to take the train. Alaska's railroad connecting Anchorage to Fairbanks passes directly through the entrance area of Denali.
The Denali Park Road is open to private vehicles for 14.8 miles to the Savage River Bridge. Public travel beyond that is by shuttle or tour bus. Bicyclists and pedestrians are permitted to travel on any part of the road, barring any closures.
Contact Information
Contact information for the park can be found on the Denali National Park and Preserve website.
Gallery