Alaska Department of Fish and Game
---
Steller Sea Lion Research

Entanglements in Marine Debris
Entanglement in marine debris is a contributing factor to Steller sea lion injury and mortality. During our vital rates field research, we photo-document sea lions that are entangled and those with visible evidence of ingesting fishing gear. In a study covering 2000–2007, packing bands (commonly used for holding cardboard bait boxes closed) were the most common neck entangling material, followed by rubber bands, net, rope and monofilament line.
How can you help reduce entanglements? "Lose the loop!"
Simple procedures such as cutting or reducing entangling loops of synthetic material and eliminating the use of plastic packing bands can prevent entanglements.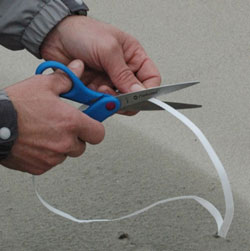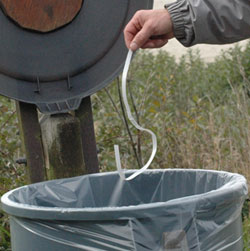 To learn more about entanglements and how you can help reduce them:
Watch our 10-minute video, Entanglement of Steller Sea Lions in Marine Debris: Identifying Causes and Finding Solutions.
Read our poster

(PDF file 152 K)

presented at the October 2009 Biennial Conference on Marine Mammals.
Project Coordinators
The multiagency Pinniped Entanglement Group (PEG) is a collaborative effort that includes marine mammal specialists, researchers, biologists, and educators who are concerned about wildlife entanglement in marine debris. Our goal is to prevent entanglements through identifying causes through research, educating the public and industry, and helping to find solutions. We also have members who have actively captured and disentangled pinnipeds (sea lions and fur seals) in Alaska and Canada.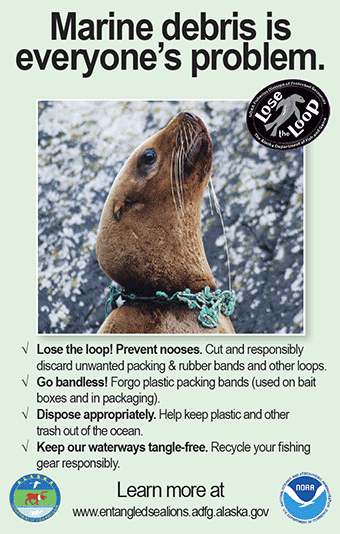 Publications
Raum-Suryan, K., L.A. Jemison, and K. W. Pitcher. 2009. Entanglement of Steller sea lions (Eumetopias jubatus) in marine debris: Identifying causes and finding solutions. Marine Pollution Bulletin. 58:1487–1495.
Contact
Contact the ADF&G Steller Sea Lion Program at dfg.dwc.sealions@alaska.gov
To report an injured or dead marine mammal: please call the National Marine Fisheries Service Alaska 24 hr Stranding Hotline: (877) 925-7773 or (877) 9-AKR-PRD.
Facebook
Twitter
Google+
Reddit

Section Navigation
Marine Mammals Program
Alaska Department of Fish and Game
P.O. Box 115526
1255 W. 8th Street
Juneau, AK 99811-5526
Office Locations