Hatcheries Research

Findings and Updates
Meetings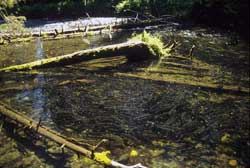 The Alaska Hatchery Research Project is a long-term research project designed to provide information on the interaction of wild and hatchery pink and chum salmon in Prince William Sound (PWS) and Southeast Alaska. The agenda and presentations from these meetings are posted here for your information.
Informational Meetings
The purpose of these meetings is to provide an update on project research completed to date as well as an update of ongoing and planned work.
March 9, 2022
The agenda is currently being developed and all presentations will be posted once they are finalized.
March 6, 2020
March 7, 2019
Business Meetings
March 30, 2023
December 14, 2022
January 19, 2022
November 22, 2021
May 14, 2021
December 21, 2020
November 9, 2020
December 16, 2019
September 13, 2019
May 29-30, 2019
Workshops
Alaska Hatchery Research Project workshops will be held periodically to provide the public and department an overview of the progress made and challenges encountered, and so that mid-course adjustments can made if necessary.
March 5, 2016
December 12, 2014