Alaska Department of Fish and Game
---
Hatcheries Research

Findings and Updates
Prince William Sound Science Center (PWSSC) and its sub-contracting partner Sitka Sound Science Center (SSSC) are engaged in the scientific data collection and analysis services requested under the State of Alaska contract IHP-13-013 entitled "Interactions of Wild and Hatchery Pink and Chum Salmon in Prince William Sound and Southeast Alaska".
The overarching purposes of this research are to: 1) further document the degree to which hatchery pink and chum salmon straying is occurring; 2) assess the range of interannual variability in the straying rates; and, 3) determine the effects of hatchery fish spawning with wild populations on the fitness of wild populations.
This research project has been subdivided into four major activities for implementation, each with a separate project leader: ocean sampling near PWS; stream sampling in PWS; stream sampling in SEAK; and data management, analysis, and reporting.
Written reports
Reports made to ADF&G, as described in the Request for Proposal (RFP), will be posted below. Reports will consist of a complete description of preceding field data methods and the data collected. Reports will include any analyses that can be made with the data available up to that time. Reports will be progressive, i.e., will include all data and analyses from the beginning of the project up to the date of the report. Annual progress will be submitted in December of each year, except that the final report will be submitted in January of 2016, so that it can be reviewed by ADF&G staff and then revised based on their comments prior to the March, 2016 contract end date.
Workshops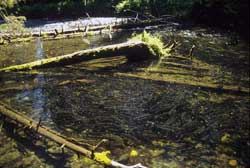 A workshop was held in December 2014 to provide the public and department an overview of the progress made and challenges encountered, so that mid-course adjustments can made if necessary. The agenda and presentations from that workshop are posted here for your information. The interim progress reports for 2013 and 2014 field seasons are still not available due to delays in reading otoliths at the state labs, cleaning up the data, and preliminary analysis of estimates of hatchery proportions in the total return of pink and chum to Prince William Sound and chum salmon to Southeast. Similar estimates for strays at the regional level in the spring of 2015. At that point in time we plan to post the interim progress reports.
Final Results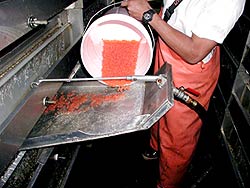 The long-term research project proposed here has the potential to answer some of the questions most relevant to the Alaska salmon enhancement program. As good stewards of wild salmon stocks and the natural resources of the state, ADF&G believes strongly this work should be undertaken. It recognizes that the results will likely have some ambiguity and may even be interpreted differently by some groups. Nonetheless, this information will likely guide future decisions and will greatly advance the understanding of the ecological and evolutionary dynamics of wild and hatchery interactions.
Facebook
Twitter
Google+
Reddit

Alaska Department of Fish and Game
P.O. Box 115526
1255 W. 8th Street
Juneau, AK 99811-5526
Office Locations