Alaska Department of Fish and Game
---
Anchorage Coastal —
Wildlife Refuge
Potter Marsh Discovery Day 2016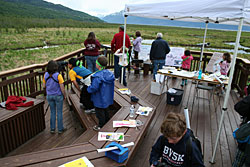 When: Saturday, June 4, 11am to 4pm
Cost: Free and open to the public.
Where: Potter Marsh boardwalk, Anchorage Coastal Wildlife Refuge - 2880 East 154th Avenue, Anchorage, AK; located at Mile 117 along the Seward Highway approximately 10 miles south of downtown Anchorage (approximately 1/2 mile south of the Rabbit Creek Road exit and across from the Rabbit Creek Rifle Range).
Event: Potter Marsh turns 100! Help celebrate Anchorage's most popular wildlife viewing area at this free annual event. This family-friendly nature festival brings you birding stations along the boardwalk, captive birds from Bird TLC, educational animals from the Alaska Zoo, archery and spin casting practice, hands-on nature activities for kids, release of a rehabilitated wild bird, and more.
Special events for this year's celebration include a focus on the Alaska Railroad (which created Potter Marsh in 1916), and also the federal Migratory Bird Treaty, which also turns 100 this year and started modern bird conservation efforts in North America. Come explore the marsh on this important centennial year and enter a free drawing for two tickets on the Alaska Railroad.
A food vendor will be on site; parking available nearby; restrooms and entire facility is accessible to those in wheelchairs.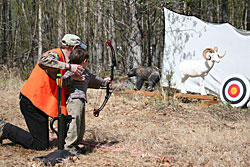 Event sponsors include Alaska Department of Fish and Game, Alaska Geographic, Alaska Sea Life Center, Alaska Zoo, Anchorage Audubon, Anchorage Museum, Anchorage Waterways Council, Audubon Alaska, Bird TLC, Casting for Recovery, Ducks Unlimited, Friends of the Anchorage Coastal Wildlife Refuge, Municipality of Anchorage - Parks and Recreation, U.S. Fish and Wildlife Service, and U.S. Forest Service. For information, contact Elizabeth Manning at (907) 267-2168 or elizabeth.manning@alaska.gov.
Facebook
Twitter
Google+
Reddit

Alaska Department of Fish and Game
P.O. Box 115526
1255 W. 8th Street
Juneau, AK 99811-5526
Office Locations