Chitina Personal Use Salmon Fishery

Overview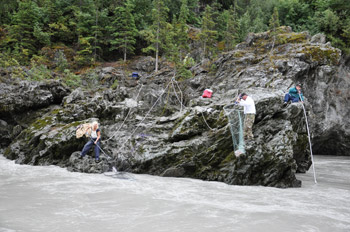 The Chitina Subdistrict Personal Use Fishery is restricted solely to the waters of the mainstem Copper River between the downstream edge of the Chitina-McCarthy Bridge and Alaska Department of Fish and Game regulatory markers located on an east-west line crossing the Copper River about 200 yards upstream of Haley Creek (in Wood Canyon). All tributaries of the Copper River in this area, including the Chitina River, are CLOSED to personal use fishing.
Under the Copper River Personal Use Dip Net Salmon Fishery Management Plan (5 AAC 77.591), salmon may be taken in the Chitina Subdistrict from June 7 until September 30 only during periods established by Emergency Order. Emergency orders are issued during the season to adjust this schedule based on escapement estimates at the Miles Lake sonar. Information regarding fishery openings are posted online and made available on a recorded hotline when adjustments are made.
You must be a state resident to participate in the personal use fishery. Personal use dipnetters are required to have a current sport fishing license and a Chitina Subdistrict Personal Use Fishing Permit (permit). Both are available online. There is a $15.00 fee required for the permit which helps support road and trail maintenance and help provide sanitation services.
Dipnetters are required to log their catches on their permits and clip the tails of their fish prior to leaving the fishing site. When done fishing for the season, permit holders must report their harvest online. Harvest reports must be submitted no later than October 15. Failure to report by October 15 will result in being denied a permit for the fishery for the following year.
Notices and Reminders
Not all private land is posted. Please respect the rights of private landowners.
Remember: Littering carries a fine of $1,000. YOU are responsible for your trash. Please haul your garbage home and leave as little behind in the trash barrels and dumpsters as possible.
Disposal of fish carcasses along the road and not into fast flowing waters that carry the fish into the Copper River is also considered littering and subject to the $1,000 fine!
Recorded hotlines for Chitina dipnetting information:

Fairbanks: (907) 459-7382
Glennallen: (907) 822-5224
Anchorage: (907) 267-2511
The Copper River is divided into two subdistricts for management purposes:

The Chitina Subdistrict is classified as a personal use fishery, and dip nets are the only allowable gear. This is commonly referred to as the "below the bridge" fishery.
The Glennallen Subdistrict is classified as a subsistence fishery, and either fishwheels or dip nets are allowable gear. This is commonly referred to as the "above the bridge" fishery.
Users may participate in ONLY ONE of these two fisheries in any given year. Be aware of which fishery you want to participate in and obtain the correct permit.
Salmon Escapement (Fish Counts)
See the Copper River/Miles Lake Sonar salmon escapement numbers page for additional information.