Alaska Department of Fish and Game
---
Most ADF&G website information and services will not be available on Sunday, October 11 as the State of Alaska will be doing planned maintenance in Juneau on that date between 5 am – 9 pm AKST. We apologize for any inconvenience this may cause.
Facebook
Twitter
Google+
Reddit

Southeastern Area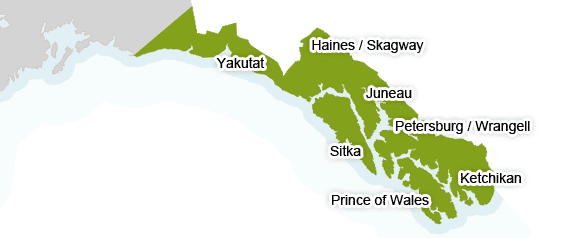 Southeast Alaska covers an area about 500 miles in length from the U.S./Canada border just below Prince of Wales Island north to Yakutat and to Cape Suckling. Southeast or the "panhandle" as it is known in Alaska, is noted for its fjords, mountains, maritime climate, old growth spruce and hemlock forests, glaciers, and fishing! Southeast includes over 1,000 islands strung just offshore westward from the mainland. The Tongass National Forest and the icy Glacier Bay National Park are just two of the federally designated areas that are found in this area of islands and rugged mountains.
An average of over 90 inches of rain falls on Southeast-Yakutat annually. Summer temperatures average 65°F. Waterproof jackets and pants are recommended. Wear several layers of light clothing for warmth. Bug dope should be considered a necessity for any fishing trip to Southeast Alaska. You might want to check the current weather conditions and forecast before you come at the National Weather Service.
Secondary Site Navigation
Personal Use Fishing
Upper Cook Inlet
and Chitina
Alaska Department of Fish and Game
P.O. Box 115526
1255 W. 8th Street
Juneau, AK 99811-5526
Office Locations