Tanana Drainage Management Area

Fishing Opportunities
Upper Chena River Arctic Grayling
---
Description
The upper Chena River flows through the Chena River State Recreation Area about 40 miles east of Fairbanks, and is road accessible at a number of points along Chena Hot Springs Road. Although the regulations are catch and release only, the river provides excellent sport angling for Arctic grayling. The river is low gradient, and the water is mostly clear. River conditions are Class I and II, although there are sweepers and log jams that must be avoided while floating the river. When fishing for Arctic grayling in the Upper Chena River you may observe spawning king and/ or chum salmon from July through August, don't try to catch them, because all salmon fishing is closed in this portion of the river.
Tackle
Fishing with dry flies is often very productive (Mosquito and Mayfly patterns), and when dry flies aren't working, fishing with black or brown nymphs usually works well for fly fishers. Salmon egg patterns like the famous Salcha Pink work well, particularly when salmon are spawning. Anglers using spinning gear will find that small spoons, spinners, and white or pink jigs also provide high catch rates. You can also watch the "How to Fish for Arctic grayling" video for more tips.
Getting There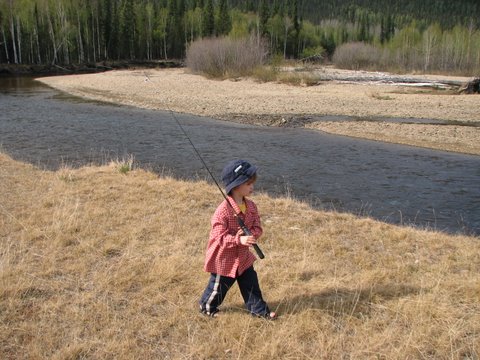 Take Chena Hot Springs Road to the Chena Recreation Area. The river is best accessed for angling by canoe or jet boat, but there is shore fishing available at a number of river access points, including at road mile 27, 28, 28.6, 31.6, as well as at each of the four bridges that cross the road. The river makes for a great canoe or raft float, and although is all Class I and II, sweepers and logjams can be challenging, and only experienced river floaters should consider floating the river. Jet boats can be launched at 28 mile and at the second bridge. Jet boat driving is challenging, and only experienced boat drivers should consider boating in the upper Chena. Information about floating the river is available from the State Division of Parks Float Guide.
Species
Dates
Begin: May 01
Ends: September 30