Alaska Department of Fish and Game
---
Most of the ADF&G website will be unavailable on March 23, 2017 from 5 p.m. until 8 p.m. (AKDT) due to scheduled maintenance.
Kuskokwim Drainage Management Area

Fishing Information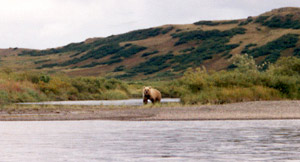 Sport fisheries management is partitioned into Lower and Upper Management Areas in the Kuskokwim River drainage. There are 23 fish species indigenous to the Kuskokwim River Drainage, all of them occur within the Lower Kuskokwim. Sport anglers commonly fish for Chinook (king), coho (silver) salmon, pink (humpy) salmon, sockeye (red) salmon, chum (dog) salmon, Arctic grayling, rainbow trout, lake, trout, Arctic char, Dolly Varden, sheefish (inconnu), Northern pike, and burbot. Occasionally anglers take least cicsco, humpback whitefish, round whitefish, and broad whitefish. Fish species that are present in the Kuskokwim River but are not targeted by sport anglers include Alaska blackfish, lakechub, longnose sucker, slimy sculpin and Arctic lamprey.
Facebook
Twitter
Google+
Reddit

Section Navigation
Sport Fishing
Alaska Department of Fish and Game
P.O. Box 115526
1255 W. 8th Street
Juneau, AK 99811-5526
Office Locations