Alaska Department of Fish and Game
---
Secondary Site Navigation
Kuskokwim Drainage Management Area

Fishing Information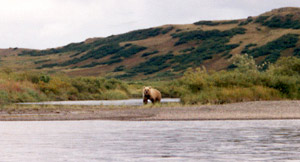 Sport fisheries management is partitioned into Lower and Upper Management Areas in the Kuskokwim River drainage. There are 23 fish species indigenous to the Kuskokwim River Drainage, all of them occur within the Lower Kuskokwim. Sport anglers commonly fish for Chinook (king), coho (silver) salmon, pink (humpy) salmon, sockeye (red) salmon, chum (dog) salmon, Arctic grayling, rainbow trout, lake, trout, Arctic char, Dolly Varden, sheefish (inconnu), Northern pike, and burbot. Occasionally anglers take least cicsco, humpback whitefish, round whitefish, and broad whitefish. Fish species that are present in the Kuskokwim River but are not targeted by sport anglers include Alaska blackfish, lakechub, longnose sucker, slimy sculpin and Arctic lamprey.
The following links lead to regulation summaries of Alaska sport and personal use fishing regulations published by the Division of Sport Fish as a service to anglers. They are not intended to be a complete digest of all fishing regulations.
Regulations may be changed by the Alaska Board of Fisheries during its regular meetings, by emergency regulation, or by emergency order at any time. Any changes to the regulations are made available through the emergency order link below.
Kuskokwim Drainage Emergency Orders
Kuskokwim Drainage Regulations