Alaska Department of Fish and Game
---
Secondary Site Navigation
Waterfowl Hunting in Alaska

License and Duck Stamp Requirements
Resident Hunters
All Alaska residents age 16 or older must possess a hunting license to hunt in Alaska and must carry it while hunting. Resident hunters 60 years old or older may obtain a free, permanent identification card issued by the Department. This card replaces the sport fishing, hunting, and trapping licenses. Disabled veterans qualified under AS 16.05.341 may receive a free hunting license. Residents with an annual family income below $8,200 (before taxes) may buy a low income license.
Nonresident and Alien Hunters.
All nonresident hunters, regardless of age, must possess the appropriate nonresident or nonresident alien hunting license. Nonresidents may buy a small game license.
Nonresident Military Personnel
Members of the military service on active duty who are permanently stationed in the state, and their dependents who are living in the state, and are not yet Alaska residents under AS 16.05.940(24), may buy a special nonresident military small game license or a non-resident small game license.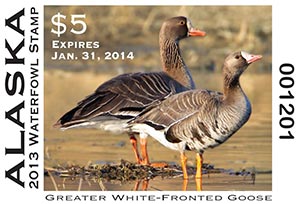 The 2013 duck stamp features a photo of Pacific white-fronted geese taken by Anchorage photographer Donna Dewhurst during spring migration in the Mat-Su Valley. Three populations of Greater white-fronted geese occur in Alaska. Those breeding on the Arctic Coastal Plain and Interior Alaska are part of the Mid-continent population whose breeding range extends eastward to Hudson Bay in Canada. The Mid-continent birds winter in the lower Mississippi River Valley, southern Texas, and northern Mexico. Current population estimates exceed 700,000 birds. Numbers have been steadily increasing on the Arctic Coastal Plain of Alaska where over 200,000 geese may occur. Pacific White-fronts breed in western Alaska, primarily the Yukon-Kuskokwim Delta, and winter in California. Current population estimates exceed 600,000 birds, well above management objectives. Numbers have been increasing since the 1980's. The Tule White-fronted Goose, by far the smallest of the 3 populations with perhaps only 12,000 birds, nests primarily in the lower Susitna River Valley and marshes of Upper Cook Inlet. Tule's, identified by their larger size, richer brown coloration on the head and neck, and less speckling on the belly, winter in California. Populations of Tule's are low, but stable.
Also new to the 2013 duck stamp is the HIP Certification number printed on the right side of the stamp. In past years this number was found on the back of the stamp.
State and Federal Duck Stamps
All waterfowl hunters 16 years of age or older must have a current federal Migratory Bird Hunting Stamp. An Alaska Waterfowl Conservation Stamp is also required unless you:
are an Alaska resident under the age of 16;
are an Alaska resident 60 years old or older;
are a disabled veteran eligible for free license; or
qualify for a low income license.
State and Federal stamps must be signed in ink and must be carried at all times while hunting waterfowl. Stamps do not have to be attached to a hunting license. State and federal stamps are not required if hunting only snipe and cranes.
Proof of HIP Enrollment
All migratory bird hunters that are required to have a state duck stamp are also required to enroll in the Harvest Information Program (HIP) and must carry proof of enrollment while hunting—the serial number on the back of state duck stamps is the HIP number. Hunters who are not required to have a state stamp need not enroll in HIP, but are encouraged to do so voluntarily.
License Fees at Work
The Alaska Waterfowl Conservation Stamp program was authorized by the 1984 Alaska State Legislature to manage and enhance Alaska's waterfowl and their habitats and to provide public appreciation and benefits of waterfowl as national and international resources. Since 1985, the Alaska duck stamp program has raised over $3 million.
Hunting license and state duck stamp fees contribute to the state's Fish and Game Fund, reserved for the management of Alaska's fish and wildlife resources. Royalties from the sale of duck stamp art prints, posters, and other products are considered General Fund revenue, allocated to the department by the Alaska Legislature for the Waterfowl Conservation and Enhancement Program. Your duck stamp license fees and other stamp revenues provide all of the funding for the state's waterfowl management program and may not be used for other purposes.
Duck stamp funding allows the department to attract partner organizations such as Ducks Unlimited, The Nature Conservancy, and U.S. Fish and Wildlife Service for cooperative projects. To date, duck stamp dollars and cooperative funds have been used to acquire and improve valuable waterfowl habitat and public access sites, produce educational materials for schools and hunters, and develop interpretive facilities at major viewing areas.