Alaska Department of Fish and Game
---
Facebook
Twitter
Google+
Reddit

Waterfowl Hunting in Alaska

License and Duck Stamp Requirements
License Requirements
Resident Hunters
All Alaska residents age 16 or older must possess a hunting license to hunt in Alaska and must carry it while hunting. Resident hunters 60 years old or older may obtain a free, permanent identification card issued by the Department. This card replaces the sport fishing, hunting, and trapping licenses. Disabled veterans qualified under AS 16.05.341 may receive a free hunting license. Residents with an annual family income below $8,200 (before taxes) may buy a low income license.
Nonresident and Alien Hunters
All nonresident hunters, regardless of age, must possess the appropriate nonresident or nonresident alien hunting license. Nonresidents may buy a small game license to hunt waterfowl.
Nonresident Military Personnel
Members of the military service on active duty who are permanently stationed in the state, and their dependents who are living in the state, and are not yet Alaska residents under AS 16.05.940(24), may buy a special nonresident military small game license or a non-resident small game license.
Duck Stamps
Federal Duck Stamp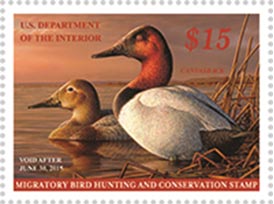 All waterfowl hunters 16 years of age or older must have a current federal Migratory Bird Hunting Stamp. Federal stamps must be signed in ink and must be carried at all times while hunting waterfowl. Stamps do not have to be attached to a hunting license. Federal stamps are not required if hunting only snipe and cranes.
The 2014-2015 federal Migratory Bird Hunting Stamp depicts a pair of Canvasback ducks. This stamp expires on June 30th, 2015 and can be purchased from the United States Postal Service and most major sporting goods stores and large chain stores that sell hunting and fishing licenses.
State Duck Stamp
An Alaska Waterfowl Conservation Stamp is also required unless you:
are an Alaska resident under the age of 16;
are an Alaska resident 60 years old or older;
are a disabled veteran eligible for free license; or
qualify for a low income license.
State stamps must be signed in ink and must be carried at all times while hunting waterfowl. Stamps do not have to be attached to a hunting license. State stamps are not required if hunting only snipe and cranes.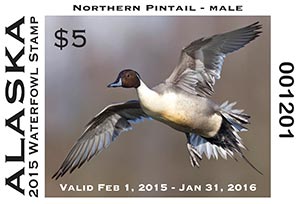 The 2015 state duck stamp features a photo of a male northern pintail in flight by photographer Milo Burcham of Cordova, AK. Adult male northern pintails have a grey, brown and black patterning on their sides and back with a white chest, and a chocolate head with a blue-grey bill. The females are a mottled light brown resembling other dabbling female ducks, but also contain the blue-grey bill. The northern pintail, once the most numerous dabbling duck, can be found throughout Alaska due to the high amount of suitable nesting habitat. In the spring, pintails migrate from their main wintering grounds in California, Central America and the Gulf Coast, to more northerly nesting areas in the upper Midwest, Canada, and Alaska. Females on average lay 8 or 9 eggs and nest in open, relatively unwooded wetlands along swamps, shallow lakes, marshes or tundra. Pintails feed primarily on plant materials, seeds, and invertebrates. As fall arrives, pintails are usually one of the first dabbling ducks to begin migrating south back to their wintering grounds. The North American population of northern pintails is approximately 3.2 million birds. About 1 million breed in Alaska each year. This population has been relatively stable over recent years but is significantly lower than it highs seen in the mid-50's when the North American population numbered more than 10 million birds.
Junior Duck Stamp
The Federal Junior Duck Stamp Conservation and Design Program is an integrated art and science curriculum developed to teach environmental science and habitat conservation. The program combines art, science, and cultural curricula to teach a greater awareness of our nation's natural and cultural resources. Participants select a species of North American waterfowl, do research on this species and its habitat, and then depict the waterfowl in an artistic medium. Students learn about conserving habitats while they explore the aesthetic qualities of wildlife and nature.
The Junior Duck Stamp Program has many benefits:
It introduces school age children to an important and fragile part of the natural world.
It instills a sense of individual responsibility toward the environment.
It benefits waterfowl and their habitats as well as all migratory birds and hundreds of plants and animals that share wetland habitats.
The Junior Duck Stamp is not required to hunt waterfowl. Proceeds from the sale of the $5 stamp are re-invested into the Junior Duck Stamp Program to support conservation education and provide recognition for contest participants and winners. The Program continues to educate youth about land stewardship and the importance of connecting to their natural worlds.
For more information or to learn about and participate in this program: http://www.fws.gov/alaska/jrduck/index.htm
Secondary Site Navigation
Alaska Hunting Information
Alaska Department of Fish and Game
P.O. Box 115526
1255 W. 8th Street
Juneau, AK 99811-5526
Office Locations