Alaska Department of Fish and Game
---
Secondary Site Navigation
Waterfowl Hunting in Alaska

License and Duck Stamp Requirements
Resident Hunters
All Alaska residents age 16 or older must possess a hunting license to hunt in Alaska and must carry it while hunting. Resident hunters 60 years old or older may obtain a free, permanent identification card issued by the Department. This card replaces the sport fishing, hunting, and trapping licenses. Disabled veterans qualified under AS 16.05.341 may receive a free hunting license. Residents with an annual family income below $8,200 (before taxes) may buy a low income license.
Nonresident and Alien Hunters
All nonresident hunters, regardless of age, must possess the appropriate nonresident or nonresident alien hunting license. Nonresidents may buy a small game license.
Nonresident Military Personnel
Members of the military service on active duty who are permanently stationed in the state, and their dependents who are living in the state, and are not yet Alaska residents under AS 16.05.940(24), may buy a special nonresident military small game license or a non-resident small game license.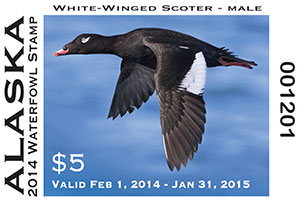 The 2014 duck stamp features a photo of a male white-winged scoter in flight by photographer Milo Burcham of Cordova, AK. The white-winged scoter is the largest of the three scoter species weighing about 3.5 pounds and is distinguished primarily from the black scoter and surf scoter by the all-white speculum on the secondary feathers of their wings. Adult male white-winged scoters are black with a white eye patch and a colorful bill with a knob at the base. The dark brown females lack the eye stripe, have two whitish patches on the side of their head, and have brown eyes. White-winged scoters can be found wintering in large bays and estuaries of coastal Alaska from the Aleutian Islands to the Southeastern panhandle. This western population of white-winged scoters is distributed down throughout the Pacific coast of Canada and United States south to Baja California. As spring approaches, white-winged scoters are among the last ducks to leave their wintering grounds for their breeding areas and summer habitat. Freshwater and brackish lakes found in the northern boreal forests of Alaska and northwestern Canada make-up the primary summer habitat and breeding grounds for white-winged scoters. The North American population of white-winged scoters (Atlantic and Pacific populations) is believed to be between 500,000 and 800,000 birds. The broad estimate is because scoter species are difficult to distinguish during aerial surveys. The white-wing scoter is believed to be the most abundant of the scoter species.
State and Federal Duck Stamps
All waterfowl hunters 16 years of age or older must have a current federal Migratory Bird Hunting Stamp. An Alaska Waterfowl Conservation Stamp is also required unless you:
are an Alaska resident under the age of 16;
are an Alaska resident 60 years old or older;
are a disabled veteran eligible for free license; or
qualify for a low income license.
State and Federal stamps must be signed in ink and must be carried at all times while hunting waterfowl. Stamps do not have to be attached to a hunting license. State and federal stamps are not required if hunting only snipe and cranes.
Proof of HIP Enrollment
All migratory bird hunters that are required to have a state duck stamp are also required to enroll in the Harvest Information Program (HIP) and must carry proof of enrollment while hunting—the serial number on the back of state duck stamps is the HIP number. Hunters who are not required to have a state stamp need not enroll in HIP, but are encouraged to do so voluntarily.
License Fees at Work
The Alaska Waterfowl Conservation Stamp program was authorized by the 1984 Alaska State Legislature to manage and enhance Alaska's waterfowl and their habitats and to provide public appreciation and benefits of waterfowl as national and international resources. Since 1985, the Alaska duck stamp program has raised over $3 million.
Hunting license and state duck stamp fees contribute to the state's Fish and Game Fund, reserved for the management of Alaska's fish and wildlife resources. Royalties from the sale of duck stamp art prints, posters, and other products are considered General Fund revenue, allocated to the department by the Alaska Legislature for the Waterfowl Conservation and Enhancement Program. Your duck stamp license fees and other stamp revenues provide all of the funding for the state's waterfowl management program and may not be used for other purposes.
Duck stamp funding allows the department to attract partner organizations such as Ducks Unlimited, The Nature Conservancy, and U.S. Fish and Wildlife Service for cooperative projects. To date, duck stamp dollars and cooperative funds have been used to acquire and improve valuable waterfowl habitat and public access sites, produce educational materials for schools and hunters, and develop interpretive facilities at major viewing areas.