Waterfowl Hunting in Alaska

License and Duck Stamp Requirements
License Requirements
Resident Hunters
All Alaska residents age 18 or older must possess a hunting license to hunt in Alaska and must carry it while hunting. Resident hunters 60 years old or older may obtain a free, permanent identification card issued by the Department. This card replaces the sport fishing, hunting, and trapping licenses. Disabled veterans qualified under AS 16.05.341 may receive a free hunting license. Residents with an annual family income equal to or less than the most recent poverty guidelines for the state may buy a $5.00 low-income license.
Nonresident and Alien Hunters
All nonresident or alien hunters, regardless of age, must possess the appropriate hunting license to hunt waterfowl.
Nonresident Military Personnel
Members of the military service on active duty who are permanently stationed in the state, and their dependents who are living in the state, and are not yet Alaska residents under AS 16.05.940(28), may buy a special nonresident military license or a non-resident small game license.
Duck Stamps
State Duck Stamp
Waterfowl hunters must purchase a current year's Alaska State Duck Stamp for all fall hunting and for those that qualify for the spring/summer subsistence hunt unless you:
are an Alaska resident under the age of 18;
are an Alaska resident 60 years of age or older;
are a disabled veteran eligible for a free license;
qualify for a low-income license; or
are hunting only cranes and snipe.
You can purchase a state waterfowl stamp from the ADF&G online store or from a local vendor. If you have any questions about obtaining a state waterfowl stamp, please contact ADF&G Licensing at adfg.license@alaska.gov or call 907-465-2376.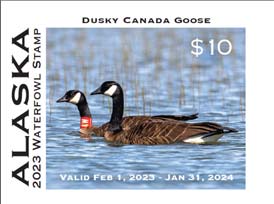 Dusky Canada Goose
The 2023 state duck stamp features a photograph by Eden McCall of a pair of Dusky Canada Geese (Branta canadensis occidentalis). During 2022, Eden worked as a U.S. Forest Service media intern for the Chugach National Forest where she spent time capturing photos and videos of waterfowl across the Copper River Delta. When not helping or photographing biologists in the field, she sought to highlight the incredible biodiversity and wildlife of Southcentral Alaska. Named for their notably darker plumage characteristics, Dusky Canada Geese (duskies) are one of the least abundant and geographically limited sub-species of Canada geese in western North America - facts that have led, in part, to closed hunting seasons throughout much of their winter range in Oregon and Washington. A portion of the dusky population is marked with red neck collars (one can be seen in the 2023 duck stamp image), which allow biologists to monitor survival and can help hunters identify duskies in areas where harvesting these geese is prohibited. Duskies breed exclusively in southcentral Alaska, with the largest concentration nesting on the Copper River Delta near Cordova. Habitat and land-use changes on the breeding and wintering grounds present a complex mixture of potentially detrimental and beneficial conditions for the conservation of this sub-species.
The State Duck Stamp is valid from February 1 to January 31 the following year to encompass both the spring/summer subsistence and fall hunting seasons.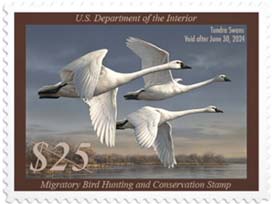 Joseph Hautman studied physics and astronomy at the University of Minnesota and earned a Ph.D. in Physics from the University of Michigan. In the midst of an active research career, he began to enter the Federal Duck Stamp Contest as a way to exercise his artistic skills. His first experience as a professional artist came after he won the Federal Duck Stamp Art Contest in 1991. Although he had never previously sold a painting, he suddenly found himself visiting the Oval Office and receiving honors for his artistic achievements. This surprise victory provided the incentive to return professionally to his first love. He now paints fulltime and finds his art career as challenging and fulfilling as his science research. With additional contest wins in 2001, 2007, 2011 and 2015, Hautman is now a six-time Federal Duck Stamp Contest winner and is tied with Minnesota artist and brother, James Hautman, for having painted artwork for the most Duck Stamps.
Federal Duck Stamp
By purchasing a Duck Stamp, you will be showing your support of bird conservation in our National Wildlife Refuge System, 98 cents of every duck stamp dollar goes directly into the Migratory Bird Conservation Fund to purchasing of vital bird habitat benefitting ducks, geese, and other migratory birds.
Federal Duck Stamp Exemption for Subsistence Hunters
A Federal Duck Stamp is not required if you are a qualified permanent rural Alaska resident or an eligible person living in an included area. Seasons when you may hunt without a federal duck stamp vary depending on how you qualify for this exemption. However, you must purchase a hunting license and state duck stamp unless you qualify for license and duck stamp exemptions listed above. For questions or clarifications, please contact the USFWS Office of Law Enforcement at (907) 786-3311.
Junior Duck Stamp
The Federal Junior Duck Stamp Conservation and Design Program is an integrated art and science curriculum developed to teach environmental science and habitat conservation. The program combines art, science, and cultural curricula to teach a greater awareness of our nation's natural and cultural resources. Participants select a species of North American waterfowl, do research on this species and its habitat, and then depict the waterfowl in an artistic medium. Students learn about conserving habitats while they explore the aesthetic qualities of wildlife and nature.
The Junior Duck Stamp Program has many benefits:
Introduces school age children to an important and fragile part of the natural world.
Instills a sense of individual responsibility toward the environment.
Benefits waterfowl and their habitats as well as all migratory birds and hundreds of plants and animals that share wetland habitats.
The Junior Duck Stamp is not required to hunt waterfowl. Proceeds from the sale of the $5 stamp are re-invested into the Junior Duck Stamp Program to support conservation education and provide recognition for contest participants and winners. The Program continues to educate youth about land stewardship and the importance of connecting to their natural worlds.
For more information or to learn about and participate in this program: