Anchorage Bear Committee

Background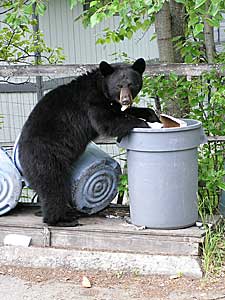 No other city in the world boasts the number and diversity of wild animals found throughout the Municipality of Anchorage. In 1996 and 1997 the Alaska Department of Fish and Game sponsored a survey of Anchorage residents and a planning effort involving municipal, state, and federal government agencies and non-governmental organizations to foster and encourage coexistence with wildlife. The resulting plan-Living with Wildlife in Anchorage: A Cooperative Planning Effort-was completed in 2000 and was subsequently adopted by reference in Anchorage 2020: The Anchorage Bowl Comprehensive Plan. The Living with Wildlife plan addressed all wildlife in the city. It was intended to provide guidance in the form of goals and objectives and priority actions that could be implemented in more detail, and with more agency and public input, by individual agencies and interest groups, each with their own missions, regulations, policy guidelines, and bureaucracies. Many of the goals, objectives, and action items focused on bears. Concerned agencies resolved to develop a "step-down" plan specifically for urban bear management.
The Anchorage Bear Committee (ABC) was established by the Alaska Department of Fish and Game in 2001 to minimize conflicts between humans and bears in the Municipality of Anchorage. Member agencies include the Alaska Department of Fish and Game, Municipality of Anchorage parks, planning and police departments, Fort Richardson, Elmendorf Air Force Base, Alaska State Troopers, Chugach State Park, U.S. Forest Service, Bureau of Land Management, and Alaska Waste. Currently the group meets twice a year, in the spring and fall, to discuss bear-human incidents and methods to avoid or minimize adverse encounters through information, education, solid waste storage, regulation, enforcement, or land use policies.
Thus, both black and brown bears are found in proximity to developed areas, drawn primarily by natural foods. When some of the black bears learn to eat garbage, pet and livestock foods, and bird seed, or some of the brown bears routinely fish or chase moose calves near homes, trails, and sport fishing streams, the public interacts with them daily. Most Anchorage residents appreciate, or at least tolerate, bears in the city, but it's in the best interest of the public and bears to minimize the potential for maulings.