Kachemak Bay —
Critical Habitat Area
Area Overview
— A component of An International Reserve of the Western Hemisphere shorebird reserve Network and The Kachemak Bay National Estuarine Research Reserve.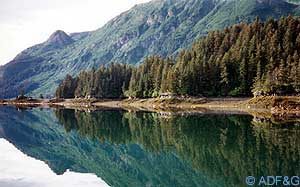 Easy access, outstanding recreational opportunities, and a diverse and productive environment make Kachemak Bay important to residents and visitors alike. Fish and shellfish populations abound year-round, supporting several significant fisheries. In the spring, summer, and fall, the bay hosts tens of thousands of feeding waterfowl, shorebirds, and seabirds. In the winter, marine mammals and waterbirds remain in the bay's protected waters.
The high level of biological productivity in Kachemak Bay is at least partially the result of a large gyre-like circulation pattern that serves to hold shellfish larvae in the bay. Productivity is further enhanced by a two-layered "nutrient trap" estuarine system in which organic nutrients are moved out of the bay by surface waters and settle to the bottom only to be moved back into the bay by deeper on-shore currents.
For more information on the Kachemak Bay Critical Habitat Area please refer to the Kachemak Bay Management Plan. For current land status information, see the Kachemak Bay Land Status Map (PDF 2,058 kB). You may also download the KML file which depicts the refuge area boundary.