Alaska Department of Fish and Game
---
Facebook
Twitter
Google+
Reddit

Dude Creek —
Critical Habitat Area
Area Overview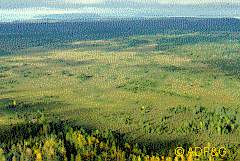 The Draft Management Plan for the Dude Creek Critical Habitat Area is currently under review. ADF&G is distributing copies of the Public Review Draft, and is requesting comments from the general public on this plan.
The Dude Creek Critical Habitat Area in northern southeast Alaska, adjacent to the community of Gustavus and next door to Glacier Bay National Park, encompasses the largest expanse of undisturbed wet meadow habitat in the region.
For current land status information, see the Dude Creek Land Status Map (PDF 417 kB). You may also download the KML file which depicts the refuge area boundary.
Secondary Site Navigation
Conservation Areas
Alaska Department of Fish and Game
P.O. Box 115526
1255 W. 8th Street
Juneau, AK 99811-5526
Office Locations