Alaska Department of Fish and Game
---
Most ADF&G website information and services will not be available on Sunday, October 11 as the State of Alaska will be doing planned maintenance in Juneau on that date between 5 am – 9 pm AKST. We apologize for any inconvenience this may cause.
Facebook
Twitter
Google+
Reddit

Chilkat River —
Critical Habitat Area
Area Overview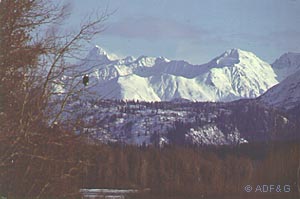 At the confluence of the Chilkat and Tsirku rivers 18 miles north of Haines on the Haines Highway, is the site of the largest known concentration of bald eagles in the world, the "Bald Eagle Council Grounds," designated as both a state critical habitat area and the Alaska Chilkat Bald Eagle Preserve for the protection of bald eagles and their habitat.
For current land status information, see the Chilkat River Land Status Map (PDF 546 kB). You may also download the KML file which depicts the refuge area boundary.
Secondary Site Navigation
Conservation Areas
Alaska Department of Fish and Game
P.O. Box 115526
1255 W. 8th Street
Juneau, AK 99811-5526
Office Locations