Taylor Lehnhart, College Intern I

Wildlife Conservation - Juneau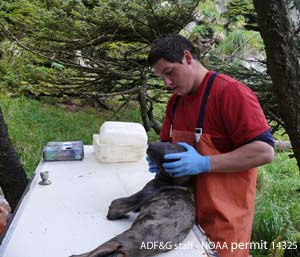 The constant roar of the Steller sea lions and the lingering stench was a persistent reminder of where I was. Lowrie Island, off the coast of Prince of Wales Island, in the southern-most tip of Alaska was my home for two months, along with five other researchers and hundreds of Steller sea lions. Lowrie Island is an amazing place and I was extremely lucky to have such a wonderful adventure and unusual opportunity. This internship provided me with a glimpse of what could be a future career. During this internship, I was able to meet and live with biologists of all ages that have been doing this kind of fieldwork for many years. I got a chance to take part in the many different aspects of life in the Lowrie field camp. Along with the hardships of living in a field camp, the pleasures are many in a place with so much natural beauty.
Life on Lowrie was relaxing but filled with many different types of work. There were the normal field camp operations: working on the water catchment system, cooking, cabin cleaning, and lots of trail work. In addition, there were the surveys and data culling. This year, there was also a new project involving the collection and subsequent necropsy of dead pups in search of hookworms. There was also a large amount of construction work that needed to be done. Living in the Lowrie field camp was a lot of work, but I found out soon after I arrived that I enjoyed the work.
I especially liked the survey work on land and in the boat. It was so interesting to get to walk and boat around such an amazing place and watch hundreds of remarkable animals give birth and care for their pups. It was incredible watching the power these animals have. Though they are huge, they are able to maneuver themselves fairly quickly around steep cliffs and rocks, as well as haul themselves out of the water. It was fascinating to watch the beginning of life for the pups and how they had to adapt to fairly rough surroundings.
I had a once in a lifetime opportunity where I was witness to many of nature's beauties: from the daily surveys where I encountered Steller sea lion only a few feet away, to the bonfires on the beach.
One of our last days on Lowrie, we were out on the boats doing our last boat surveys and we observed the most wildlife that I have ever experienced in one day. We watched two humback whales breach multiple times, followed only a few minutes later by an Orca swimming around us. That day, we also had the privilege to see northern fur seal, sea otters, eagles, puffins, California sea lions, and, of course, hundreds of Steller sea lions. Last, but not least, the day ended with a wonderful sunset. It was one of those days where I was thankful for the opportunity and recognized that a decision to pursue marine biology is a good pursuit for me personally, because I enjoy marine wildlife so much, as well as living outdoors.
My internship on Lowrie was an experience that was extremely valuable. I learned practical realities about the field that I am pursuing, such as working seven days a week, sharing living conditions with colleagues and supervisors, and participating in work that is outdoors and active. I was able to learn more about the eastern population of the Steller sea lion, a marine mammal that I have interest in. I also got the chance to make new friendships and great connections that will benefit me as I pursue my career in this field.
---