Laura Junge, College Intern II

Commercial Fisheries - Bethel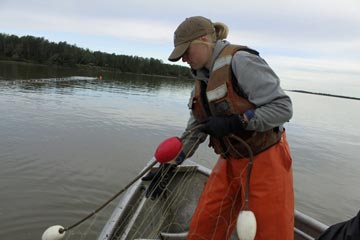 Growing up subsistence fishing in rural Alaska, I gained an early and deep appreciation for its natural resources. My long-term career goal is to work with fish in Alaska. I studied environmental science and freshwater ecology at Western Washington University. Just prior to graduating with a Bachelor of Science degree, I applied for an internship with the Division of Commercial Fisheries in Bethel. I choose this internship because I wanted to enhance my skills as a scientist and it sounded like an amazing opportunity to experience fisheries management in the Kuskokwim area, where the subsistence culture is very important. The inseason management and genetic research aspects of this internship sounded fascinating and I really wanted to be a part of it.
My internship included a range of assignments, primarily focused on sockeye salmon harvest. I spent the first six weeks of my internship working with the Bethel Test Fishery (BTF) out of Bethel, Alaska. During that time, I used drift gillnets to index salmon abundance and run timing and I collected genetic tissue, age, sex, length, and girth data from harvested sockeye salmon. I then spent two weeks at escapement monitoring projects located on two remote tributaries: Salmon and George rivers. At each location, I assisted with operation of weirs - which are just big fences across the river - used to count salmon and collect age, sex, and length data. After leaving the field, I continued my internship for four weeks at the ADF&G Gene Conservation Lab in Anchorage. Each part of my internship built upon the last and furthered my understanding of the project. It was an amazing experience to see all the facets of this study and be a part of the process from field sampling to data analysis.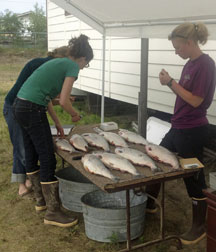 Prior to arriving in Bethel Alaska, I had only a fuzzy idea of what being an intern with ADF&G would entailed, based only on the interview and background information provided. Soon after I stepped off the plane, however, I realized that being an intern for the Division of Commercial Fisheries means that you will learn something new every day. This internship was a great opportunity to learn new ideas about salmon fisheries and to learn a wide variety of skills, both biological and technical. For example, the first day I arrived, I learned exactly why we collect scales from a specific location on a fish-s body, how to measure the girth of a salmon, and how correctly remove fish from a gill net. No class has ever taught me this much about fish before!
While in Bethel, I had many opportunities to learn what it means to work for the State of Alaska. I had the opportunity to learn about the hiring processes for various positions within the department, and I was lucky enough to sit in on a hiring interview. I read many publications from Kuskokwim River projects conducted over the years. I regularly discussed data collection methods and reviewed collected data with my supervisors to prevent errors. Of the many lessons learned during this internship, one of the most critical was that the validity of our data is paramount.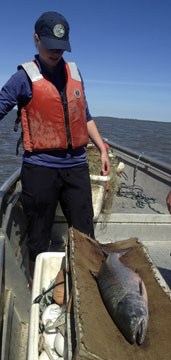 The Kuskokwim River is an interesting system for its people and salmon management style. Kuskokwim River salmon support mostly subsistence fisheries, and for many of the residents, subsistence caught salmon is a primary winter food. The local fisheries are managed collaboratively by State, Federal, Tribal, and local organizations. I was very fortunate to sit in on several fisheries management meetings - giving me my first opportunity to experience cooperative management first hand. I felt very fortunate that I could work with salmon in this community, especially considering how critical they are to those living along the river.
The final stage of my internship took place in the State of ADF&G Gene Conservation Laboratory in Anchorage. The genetics lab in Anchorage is the largest fisheries genetics lab in the world, and they process thousands of fish samples every month. During my time working in this busy lab, I witnessed the level of dedication these biologists, technicians, and geneticists have towards their work. Quality control was again a key feature in my learning experience.
I worked at the lab throughout the month of August, learning about genetic techniques and the role of genetics in managing Alaska's fisheries. I was responsible for extracting the DNA from the sockeye tissue samples I collected while working at the Bethel Test Fishery project. I shadowed biologists and geneticists as they processed the DNA I had extracted. As I completed scientific queries in the laboratory, I learned the importance of accurate data collection in the field. Working in the lab was an amazing way to complete my internship.
I believe this internship was an important stepping-stone towards my long-term career goal of working with fish in Alaska. The high quality scientific research I witnessed this summer impressed me, as well as the variety of positions available for fisheries biologists in Alaska. I believe that this experience has helped distinguish me from other recent graduates and has helped me focus my academic and professional interests. As the internship neared an end, I had already decided to move back to Alaska to pursue a future in fisheries and consider options for graduate school. During my final meeting with my supervisors, they offered me a short-term position to continue working with the Gene Conservation Lab � what a great way start to my career!
---