Samantha Devorich, College Intern II

Habitat Division - Anchorage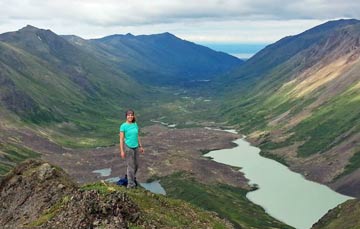 I am attending West Virginia University studying Wildlife and Fisheries Resources. After graduation in May 2014, I hope to work with a department studying steam quality or natural fisheries.
During my summer internship with the Anchorage office of the Habitat Division, I worked on the Pebble Prospect project. On this project, I helped collect water quality data along with biotic data such as bug and minnow samples. I also helped other people while in the office on projects such as the Montana Creek weir and minnow pit tagging on Buddy Creek. Through my work with Fish and Game, I learned many things such as how to pit tag minnows, how to use and calibrate the water quality equipment, and how to install a weir.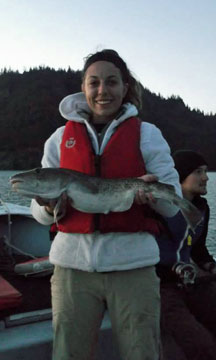 When I wasn't working, I was out exploring the Chugach and other areas in Alaska. On my first weekend in town, I biked the 21 miles to Eagle River from Anchorage. I also backpacked Crow Pass, Symphony Lakes, and Williwaw. I went to Denali and stayed at Wonder Lake. On another trip, I was lucky enough to stay at my roommate's cabin in Halibut Cove where we went kayaking, hiking, and halibut fishing. My last trip of the summer was to Matanuska Glacier where I learned how to ice climb. Through my summer adventures, I learned many things about the Alaskan outdoors and landscape along with key survival skills.
This summer as helped me work towards my goal as it gave me needed experience in the field and the office. It has also helped solidify my plan of working with water and fish. This internship has also opened many doors for me and gave me some connections for future job searches.
---