Emily Culhane, College Intern I

Wildlife Conservation - Fairbanks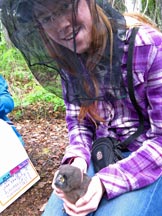 I am a Wildlife Biology/Management and Conservation major at Humboldt State University in California. I interned for ADF&G two summers in a row, in the same location: Fairbanks, almost the center of Alaska. I was born and raised in Alaska, so I already thought I knew a lot about hunting, fishing, and Alaskan wildlife. But, before getting this job, I had never been to Fairbanks.
I dabbled in a little of everything at Fish and Game, from being an office helper, lab technician, and field technician. I was unsure of what I wanted to do in my future until landing this job. Trying a bit of everything, I got to work with a lot of hunters: sealing their bear skulls and hides, removing bear teeth, radio tracking in the field and swamps behind the office, and learned more than I ever knew existed as far as regulations and laws regarding hunting and wildlife management. There was so much to do, every day felt like a new adventure, and I was rarely bored. It helped that the people I worked with were some of the nicest, most interesting people I have ever met.
The highlight of my first summer, the summer of 2011, was going with the biologists and technicians to guard a landfill from grizzly bears that kept trying to break in while the electric fence was down. We stayed up all night at the landfill, with shotguns filled with cracker shells (non-lethal fire-cracker-like explosives) to scare the bears away. I didn't know how fast bears could run! That summer I touched more dead things and got more kinds of blood on myself than I ever imagined.
My second summer was more of the same but with more field experience. More dead animals, more bear sealing (the smelliest and greenest I've ever seen - I learned I was thankful I have a horrible sense of smell), more tooth removal (this time of martens and bears both), and more regulations (this time I learned more about fish and fishing than I ever cared to know). It was extremely relevant to my education and I loved every minute of it.
The highlight of this summer, however, was that I now know exactly what I want to do: I want to be a field ornithologist. I learned this the summer of 2012, my second summer, when I got to drive up the Elliott Highway with some visiting ornithologists from Ohio to go monitor the development and survivorship of baby boreal owls, and to band their legs when they got big enough. I've always been incredibly interested and obsessed with owls, so I jumped at the chance to go along.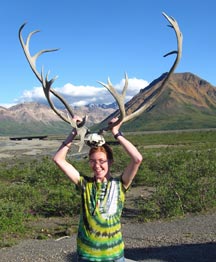 On the weekends, I took adventures around Fairbanks and its nearby attractions. I went hiking, biking, and walking, around town and up mountain trails. Fairbanks has a lot of local events and festivals going on during weekends and evenings, so there was always something to grab my attention when I wasn't working. Only two hours away, Denali National Park was an amazing experience as well.
Both of these summers taught me a lot: what I want to do when I graduate college, I love and need wilderness to explore in, and I love to travel. Next year I am hoping to get involved in owl or other bird surveys, either in Alaska or in California.
---