Emily Bloom, College Intern II

Commercial Fisheries - Juneau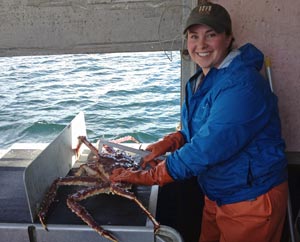 I am a rising senior at the University of California Davis, majoring in Fisheries, Wildlife and Conservation Biology. The summer of 2013, I was awarded the opportunity to intern for Forrest Bowers, the Shellfish-Groundfish Program Leader with the Division of Commercial Fisheries in Juneau, AK. I had no previous experience with shellfish (crab, shrimp etc.), which made this internship especially fun and full of surprises! My Alaska Department of Fish and Game internship provided an opportunity to develop my skills and knowledge of the management procedures associated with Alaska's commercial fisheries, as well as direct my future career aspirations.
Throughout my internship I gained new experiences in the field and office working on a variety of projects. I participated in all aspects of management procedures for the red king crab fishery, collecting data, entering data, and digitizing previous year's reports for ADF&G's new online library. Additionally, I assisted graduate students at the University of Alaska, participated in aerial Dungeness crab surveys, and maintenance of research equipment. Through this work, I learned about commercially caught crab, management techniques, and current population trends.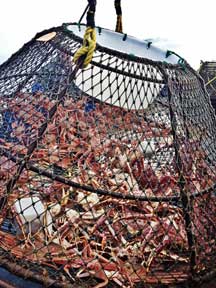 My favorite part of the internship occurred aboard the R/V Medeia during an eighteen day sampling cruise through Southeast Alaska pulling and setting crab pots to determine red king crab (Paralithodes camtschaticus) population density. Once the pot was on deck, we sorted the crabs by species and sex. We measured length, recorded carapace cleanliness, number of legs, and, for females, egg capacity. To get ready for setting crab pots, I prepared bait, set lines, and assisted with deployment. Spending a few weeks on the boat was a wonderful way to see beautiful Southeast Alaska along with hundreds of whales passing by, bald eagles over-head, and bears on the coast.
In my free time, I explored the beautiful town of Juneau and the surrounding area. Boating, whale watching, berry picking, biking, hiking, and sightseeing around downtown, there is no limit to what you can do in Juneau! I'm thankful for the opportunity I received this summer to build on my knowledge of shellfish management techniques and know these skills will help me throughout my career in the world of fisheries. This is a wonderful opportunity and I recommend this program to anyone who wants to work in fisheries and explore the beauty of Alaska.
---