Kayla Bevaart, College Intern I

Commercial Fisheries - Kodiak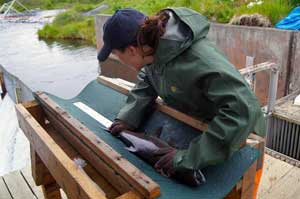 I was granted the opportunity to intern with Steve Thomsen, a fisheries biologist with the Division of Commercial Fisheries in Kodiak, AK. Thomsen oversees several of the Kodiak region's sockeye salmon weirs where research is conducted and analyzed for the assessment and management of local sockeye salmon stocks. Data collected at these weirs is utilized to determine sockeye population dynamics for the establishment of future escapement goals and harvest regulations.
Both emigrating sockeye smolt and returning adults are sampled and analyzed for management purposes. ADF&G also works closely with the Kodiak Regional Aquaculture Association (KRAA) to operate and manage local field camps. During the summer season I visited several field camps around the Kodiak area operated by ADF&G and KRAA personnel.
This internship benefited me in numerous ways, not only did I gain a vast amount of knowledge and experience in fisheries research: I thoroughly enjoyed my summer work. I feel that ADF&G works hard to provide their interns with lots of opportunities to observe and learn about different projects. Over the course of the summer I worked at seven different sites around the Kodiak region. Steve Thomsen made sure I received ample time in the field working and exploring new locations. Though my primary interest has always been marine biology, I found fisheries to be very interesting and could possibly see myself working in this field in the future. As I look toward the prospect of graduate school, I feel the skills and knowledge I acquired during my experience will be highly beneficial.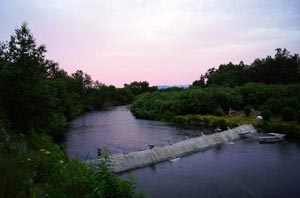 Apart from the acquisition of new skills and knowledge, I met lots of great people, explored beautiful places and observed lots wildlife. I would highly recommend an internship with ADF&G to anyone interested in any of their divisions. I can't thank them enough for the opportunity they granted me.
---