Fort Knox Fish Studies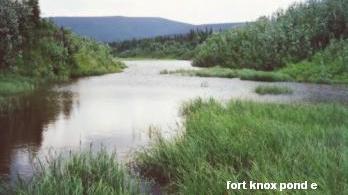 The Fort Knox Fisheries project was initiated prior to construction of the Fort Knox Mine complex located 35 miles North of Fairbanks. Studies determined what species of fish were present in several small and historically mined creeks and ponds in the area of a proposed fresh water reservoir.
Since construction of the reservoir, populations of Arctic grayling and burbot captured in the reservoir have been monitored annually. Results of annual research have led to the creation of viable Arctic grayling spawning habitat and high value wetlands in the previously mined areas.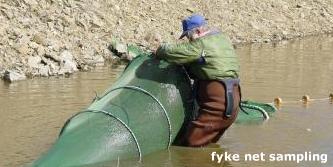 Population monitoring is ongoing and eventually will support fish, game, and land management decisions once the fresh water reservoir area is turned over to the state at mine closure and is operated as a recreational area.
Fish population and water quality research conducted in the man-made complex continue to provide valuable data for habitat management at Fort Knox and also have applicability to other mining projects across the state.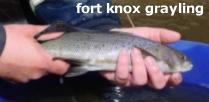 Publications
For additional listsins, see our Technical Report Series.
---
* Adobe Acrobat PDF files require a free viewer available directly from Adobe. Need a hard copy of a publication? Contact Habitat Webmaster.