Commissioner's Office

Commissioner
Commissioner Sam Cotten
Sam Cotten is the Commissioner of the Alaska Department of Fish and Game. Commissioner Cotten was appointed by Governor Bill Walker in 2014, and later confirmed by the Alaska Joint Boards of Fisheries and Game, and the Alaska's 29th Legislature. As the department's principal executive officer, Sam oversees six divisions, an annual operating budget of over $200 million, and more than 1,500 employees.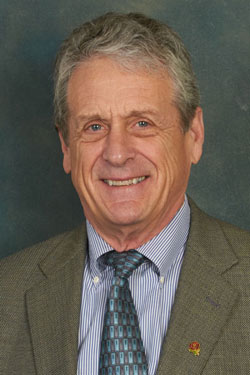 He's a lifelong Alaskan born in Juneau and has lived in Tenakee Springs, Douglas, Palmer, Eagle River, and Halibut Cove. Commissioner Cotten served two tours of duty in Vietnam in the U.S. Navy, and received the Award for Alaska's Outstanding Vietnam Veteran by the National No Greater Love Foundation.
His long history of community involvement and public service includes multiple terms in the Alaska State Legislature and as Chairman of the House Finance, Chairman of House and Senate Resource Committees, and Speaker of the House. In addition to his time as a legislator, he has a broad background in service on many boards, commissions, councils, and fisheries organizations.
Sam is an avid fisherman, having fished commercially with his family for 25 years in Kachemak Bay and sport fished throughout Alaska. He is an outdoorsman and has hunted in central and southeast Alaska over the years.
He and his wife, Martha Tillion Cotten, M.D., have two sons, Sam and Gus.