Division of Commercial Fisheries

Director
Scott Kelley

Director of the Division of Commercial Fisheries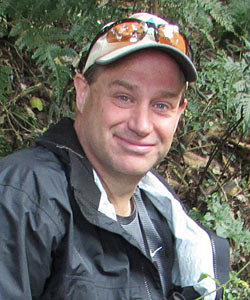 Scott Kelley first came to Alaska in 1982 while serving at U.S. Coast Guard Air Station Sitka. He quickly concluded Alaska was the place he wanted to make home. After finishing his military commitment he somewhat reluctantly left the state to get his undergraduate degree in Fisheries Science from Oregon State University. It was there he met his wife Carolyn who is from a long-time Juneau family. Upon completing their degrees the two of them moved to Juneau. Scott started work on his graduate degree in Fisheries Science which he completed in 1994 from the University of Alaska-Fairbanks.
Scott's first job with the department was a commercial fisheries port sampler at Excursion Inlet in the summer of 1990. He went from there to the old Fisheries Rehabilitation and Enhancement Division as the Snettisham Hatchery biologist in the winter of 1991. When FRED Division was merged with the Division of Commercial Fisheries an opportunity to become the Taku River salmon stock assessment biologist presented itself. It was at this time Scott became involved in the Pacific Salmon Treaty as a member of the Transboundary River Technical Committee. In 1997 a chance to enter the fishery management arena became available and Scott was hired as the Haines Area Management Biologist. From there he moved on to the Regional Management Coordinator and Regional Supervisor jobs in Juneau from 1999-2014. Just prior to his current role as the Director of the Division of Commercial Fisheries, Scott was the Shellfish-Groundfish Program Coordinator for Region I.
Scott enjoys traveling with family and friends, fishing and hunting, and has self-published two short murder mystery type books. He hopes upon his eventual retirement to do more fictional writing and take classes to improve his skills in that arena.