Chinook Salmon Research Initiative

Publications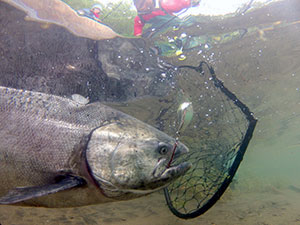 Adult Production
Juvenile Abundance
Subsistence
Chinook Salmon Research Plan
The finalized Chinook Salmon Stock Assessment and Research Plan, 2013, is now available.
This plan results from collaboration and partnering with federal agencies and academia to develop the gap analysis and convening the 2012 Chinook Salmon Symposium to inform and solicit input from stakeholders.
ADF&G will use this plan to guide its near-term stock assessment and research efforts on Chinook salmon in Alaska. The central objective in implementing this plan is to create a consistent stock assessment framework across a diversity of indicator systems in Alaska that will provide improved information for sustained yield management of Chinook salmon for a range of run sizes and productivity regimes. Results will be integral to gaining a more complete understanding of important factors influencing Chinook salmon productivity. We envision the plan as a living document, to be updated in the future as recommendations are implemented and new information becomes available.
Download Plan