Alaska Department of Fish and Game
---
Secondary Site Navigation
Chinook News

Newsletter — e-Library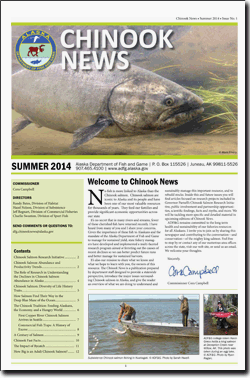 Chinook News is designed in newspaper format to highlight the major issues surrounding Chinook salmon in Alaska while giving the reader an overview of what the Alaska Department of Fish and Game (ADF&G) is doing to understand and sustainably manage this important resource.
Weak Chinook salmon runs have impacted cultural patterns of food gathering, sport opportunities, and commercial economic activity, and the State of Alaska launched the Chinook Salmon Research Initiative in 2012 to further explore and address the causes for the down turn in production. Over the next five years, the Initiative will study 12 river systems throughout Alaska through the support of Governor Parnell and the Alaska Legislature.
ADF&G is committed to keeping all Alaskans informed about this issue. Please visit our Chinook Salmon Research Initiative pages for more information.
Chinook News:
The following newsletter, while optimized for 11x17-inch printing, is still viewable and printable at 8½ x 11-inch size.
For additional information please contact:
Candice Bressler
Alaska Department of Fish and Game
PO Box 115526
Juneau, Alaska 99811-5526
Phone: (907) 465-6166
Email: candice.bressler@alaska.gov