Fairbanks Hunter Education Indoor Shooting Range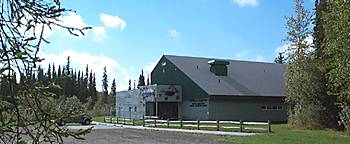 The Alaska Department of Fish & Game Fairbanks Hunter Education Indoor Shooting Range opened to the public in the fall of 2000. One priority use of the facility is for hunter education and training. Our public shooting program and firearms instruction program is maintained to the extent possible. The range is the first of its kind in Alaska and is a first-class educational and recreational facility for Fairbanks and surrounding communities.
Our facility offers:
50-foot Live-Fire Range with 10 Shooting Lanes
Bullet-Trap system (for .22 rifles and handguns up to .45 caliber)
Air Handling system for a Safe, Clean Environment
Two media-equipped Classrooms with capacity for 36 students
Electronic Range/Shooting Simulation System
Hunter Education, Bow Hunter Education, and Muzzleloader Hunter Education classes
Hunter Information and Training Clinics (Muzzleloading, Bear Baiting, etc.)
Firearms Instruction for all skill levels
Instructor and Range Safety Officer certification
Youth Shooting Sports and Clinics
Marksmanship Qualification (Handgun, Bullseye Pistol, and Light Rifle)
League Shooting (.22 Pistol and Center-fire Pistol)
Competitive Shoots and Tournaments
Targets and other shooting accessories for sale and rent
Friendly and knowledgeable staff, instructors, and volunteers
Warm, safe, friendly atmosphere for everyone!