Alaska Department of Fish and Game
---
Most ADF&G website information and services will not be available on Sunday, October 11 as the State of Alaska will be doing planned maintenance in Juneau on that date between 5 am – 9 pm AKST. We apologize for any inconvenience this may cause.
Facebook
Twitter
Google+
Reddit

Wood Bison (Bison bison athabascae)

Management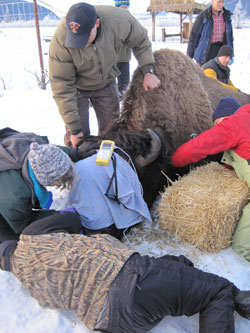 Alaska Department of Fish and Game is currently working to restore wood bison populations to portions of their historic range within Alaska. Alaska's restoration effort will not only increase the worldwide population of wood bison, but will be a significant step forward in northern ecosystem restoration efforts, resulting in the reestablishment of a keystone grazing herbivore and natural processes, and an increase in biological and habitat diversity.
Populations will be reestablished using disease-free wood bison that have been obtained from disease-free herds in Canada. In hopes of promoting more sustainable free-ranging herds of wood bison, Canada's National Recovery Plan, the IUCN/American Bison Specialist Group, and a number of state and national conservation organizations in the U.S. recommend that wood bison be restored to one or more parts of their original range in Alaska. Alaska's wood bison project is consistent with recent initiatives to restore herds of both plains bison (B. bison bison) and wood bison in additional areas and at levels that will restore the ecological function of bison on the landscape.
Detailed information regarding the 2007 Environmental Review and Decision regarding the Restoration of Wood Bison in Alaska can be found in these documents:
Management Plans
Secondary Site Navigation
Species
Alaska Department of Fish and Game
P.O. Box 115526
1255 W. 8th Street
Juneau, AK 99811-5526
Office Locations