Stan Price —
State Wildlife Sanctuary
Fish and Wildlife
Brown Bears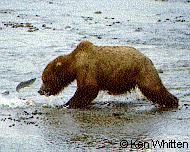 During July and August brown bears move along the shores and down from the steep slopes of Admiralty Island to the intertidal wetlands at the mouth of Pack Creek to feed on spawning pink and chum salmon and on the sedges found there. The sanctuary – named after the late Stan Price, longtime "bear man of Pack Creek," who for forty years made his home alongside Pack Creek – has been a popular bear viewing area for many years.
A broad estuary and tidal flat at the mouth of Pack Creek is used frequently by bears for travel, feeding, and resting. The bears tolerate a certain amount of human presence, and visitors may often veiw and photograph bears fishing for salmon and interacting.
Most of the bears seen at Pack Creek are sows and sow/cub groups. There is no way to predict the number of bears that you will see at the viewing area. Almost all visitors (more than 95%) are successful in seeing at least one bear. During peak viewing periods from mid-July to mid-August, fortunate visitors may enjoy close-up views of five or more bears during the day. Tides, weather, fish availability, and the number and activity of visitors all affect bear behavior. Plan to stay at Pack Creek for at least one full day (or longer) for a good chance of seeing bears. Binoculars or a spotting scope will increase your opportunity to observe behavior.
Reseachers who study bear behavior at the site say there are about 25 bears that use Pack Creek part of the time during the summer. It is not uncommon to see several bears at one time. Neither is it uncommon to watch for hours without seeing a single bear. The very unpredictability of wild bears is one of the things that makes watching and studying them an enjoyable challenge.
Other Mammals
Although best known for its brown bears, other mammals use the sanctuary as well. Sitka black-tailed deer inhabit the old-growth spruce-hemlock forests that surround Pack Creek, feeding on understory plants and venturing out of the forest to feed in the meadows at the mouth of the creek. River otter, mink, marten and smaller mammals also inhabit the area. Harbor seals are attracted to the intertidal portions of the creek by the returning salmon. Orcas and humpback whales are occasionally viewed offshore.
Birds
Home of the bald eagle as well as the brown bear, Admiralty Island supports the highest concentration of nesting bald eagles in the world. Eagles are commonly seen feeding on spawning salmon at Pack Creek. Ravens, crows, and Bonaparte's and glaucous-winged gulls are attracted to the abundant food supply. Waterfowl, including white-winged scoters, surf scoters and mergansers frequent the mouth of Pack Creek. Canada geese, mallards, green-winged teal and harlequin ducks are seen occasionally during migration. Great blue herons, yellowlegs, Steller's jays, and belted kingfishers feed along the shore. Marbled murrelets are found in the channel between Pack Creek and Windfall Island.