Walrus Islands —

State Game Sanctuary


Area Overview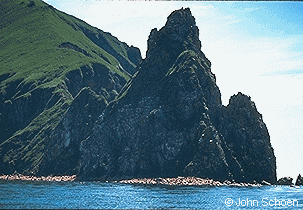 The Walrus Islands State Game Sanctuary (WISGS), protects a group of seven small craggy islands and their adjacent waters in northern Bristol Bay, approximately 65 miles southwest of Dillingham. The WISGS includes Round Island, Summit Island, Crooked Island, High Island, Black Rock and The Twins. The WISGS was established in 1960 to protect one of the largest terrestrial haulout sites in North America for Pacific walrus (Odobenus rosmarus divergens). The sanctuary also protects important habitats for several species of seabirds, Steller sea lions (Eumetopias jubatus) and other marine and terrestrial birds and mammals. The Alaska Department of Fish and Game (ADF&G) manages the sanctuary primarily to protect these important habitats and wildlife species, and secondarily to provide for public use and enjoyment of these resources including the opportunity for scientific and educational study, viewing, and photography.
Best known among the WISGS islands is Round Island, where each summer large numbers of male walruses haul out on exposed, rocky beaches. Round Island is one of four major terrestrial haulouts in Alaska; the others are Capes Peirce (Togiak NWR), Newenham (Togiak NWR), and Seniavin (near Port Moller). Male walrus return to these haulouts every spring as the ice pack recedes northward, remaining in Bristol Bay to feed they haul out at these beach sites for several days between each feeding foray. The number of walrus using the island fluctuates significantly from year to year. However, up to 14,000 walrus have been counted on Round Island in a single day.
The ADF&G staffs a camp at Round Island through the summer months to protect and monitor walruses, other terrestrial and marine wildlife, and to operate a visitor use program.
For current land status information, see the Walrus Islands Land Status Map (PDF 536 kB). You may also download the KML file which depicts the refuge area boundary.