Bear Safety for Anglers

Chilkoot River and Chilkoot Lake Area
Special efforts are requested for the Chilkoot River and Chilkoot Lake Area:
Stop Fishing if a Bear Approaches
Bears may be attracted to a fish splashing on the end of your line, or they may be patrolling the river for food. If a bear approaches within 100 yards while you have a fish on the line, give the fish slack or cut the line.
Fish Waste Management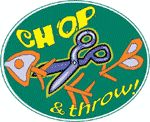 Make sure that fish carcasses are not accessible to bears. When filleting, anglers are asked to Stop, Chop, and Throw: cut filleted carcasses into small pieces before throwing into the deep or fast-moving water.
A fish cleaning table is no longer provided at Chilkoot Lake because bears were habituated to feeding on carcasses left in the vicinity.
Secure Your Catch
Do not provide food to bears. Keep your catch close to you or secure your catch in a bear-resistant container, such as a vehicle. Food coolers are not bear-resistant. Also secure your tackle box and fishing gear.