Alaska Department of Fish and Game
---
Most ADF&G website information and services will not be available on Sunday, October 11 as the State of Alaska will be doing planned maintenance in Juneau on that date between 5 am – 9 pm AKST. We apologize for any inconvenience this may cause.
Facebook
Twitter
Google+
Reddit

Hunting Maps

By Game Management Unit (GMU)
Note: Use of these maps indicates that you have read and understand the liability statement.

Select a Game Management Unit for a list of hunts.
Game Management Unit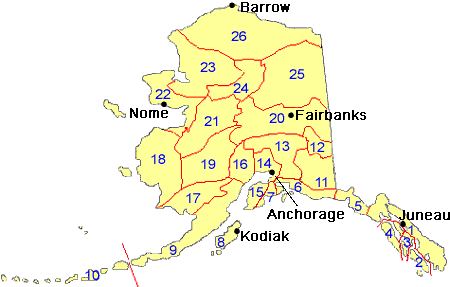 ---
Game Management Unit 18
Black Bear
Hunt
Number(s)
Unit(s)
Hunt Description
Static PDF
Map
Custom
Map
General
Season
18
Unit 18

Residents and non-residents

Bag limit: Three bears

Season dates: no closed season
View Map


(1,059 kB)

Make a Custom Map
Brown/Grizzly Bear
View brown/grizzly bear range map
Hunt
Number(s)
Unit(s)
Hunt Description
Static PDF
Map
Custom
Map
RB698

18
Unit 18
Residents Only
Subsistence regulations apply to this hunt
View Map


(398 kB)

Make a Custom Map
General
Season
18
Unit 18

Residents and non-residents

Bag limit: One bear every regulatory year

Season dates: Sept 1 – May 31
View Map


(1,059 kB)

Make a Custom Map
Caribou
Hunt
Number(s)
Unit(s)
Hunt Description
Static PDF
Map
Custom
Map
RC503

09A, 09B, 09C, 17, 18, 19A, 19B
Unit 9A; 9B; 9C, that portion within the Alagnak River drainage; 17A, remainder; 17B; 17C, east of the east banks of the Wood River, Lake Aleknagik, Agulowak River, Lake Nerka and the Agulukpak River; 18; 19A; and 19B
Residents Only
View Map


(1,707 kB)

Make a Custom Map
Moose
Hunt
Number(s)
Unit(s)
Hunt Description
Static PDF
Map
Custom
Map
RM615

18
Unit 18, Lower Kuskokwim
Residents Only
View Map


(397 kB)

Make a Custom Map
RM620

18
Unit 18, that portion south of and including the Goodnews River drainage
Residents Only
View Map


(371 kB)

Make a Custom Map
General
Season
18
Unit 18, remainder

Non-Residents (resident hunt in separate listing)

Bag limit: One antlered bull

Season dates: Sept 1 – Sept 30

Hunt requires harvest ticket
View Map


(767 kB)

Make a Custom Map
General
Season
18
Unit 18, remainder

Residents only

Bag limit: Two moose total (see details in season dates below)

Season dates:
Two moose, only one of which may be an antlered bull, taking cows accompanied by calves or calves is prohibited:
Aug 1 – Sept 30
OR
Two antlerless moose:
Oct 1 – Nov 30
OR
Two moose:
Dec 1 – Mar 15

Hunt requires harvest ticket
View Map


(767 kB)

Make a Custom Map
General
Season
18
Unit 18, that portion south of the Eek River drainage and north of the Goodnews River drainage

Residents only

Bag limit: One antlered bull

Season dates: Sept 1 – Sept 30

Hunt requires harvest ticket
View Map


(649 kB)

Make a Custom Map
Muskox
Wolf
Hunt
Number(s)
Unit(s)
Hunt Description
Static PDF
Map
Custom
Map
General
Season
18
Unit 18

Residents and non-residents

Bag limit: Ten wolves

Season dates: Aug 10 – Apr 30
View Map


(743 kB)

Make a Custom Map
Wolverine
Hunt
Number(s)
Unit(s)
Hunt Description
Static PDF
Map
Custom
Map
General
Season
18
Unit 18

Residents and non-residents

Bag limit: Two wolverine

Season dates: Sept 1 – Mar 31
View Map


(778 kB)

Make a Custom Map
Secondary Site Navigation
Hunting Maps &
Area Information
Hunting Maps
Area Information
Areas with Restrictions
Alaska Department of Fish and Game
P.O. Box 115526
1255 W. 8th Street
Juneau, AK 99811-5526
Office Locations