Alaska Department of Fish and Game
---
Facebook
Twitter
Google+
Reddit

Traditional/Independent
Hunter Education Shooting Proficiency
This is a description of the Traditional/Independent Hunter Education proficiency shoot only. It is only for students who are enrolled in a Traditional/Independent Study Hunter Education Course. It is not for Online Field Day students and they may not attend a Traditional/Independent Study shoot to satisfy their Online Field Day requirement. Students taking the Traditional/Independent Study Course may not attend an Online Field Day to complete their course.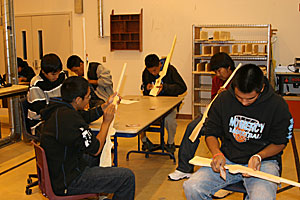 All applicants for Basic Hunter Education Certification must successfully complete a standardized proficiency shoot. All firearms and ammunition and targets are provided by the Hunter Information & Training Program.
During the required proficiency shoot, each student shall fire five practice rounds from three of the following positions: standing, kneeling, sitting or prone (15 total, practice shots). After students have fired their practice rounds and have had opportunity to check targets, the qualification examination will be administered.
For the qualification examination, a student will fire five rounds from any one of the four positions (standing, kneeling, sitting or prone) and cannot have the aid of any type of rest. The student must place four out of five shots within two inches with an air rifle at 33 feet, three inches with a rim-fire rifle at 50 feet (indoors), or four inches with a rim-fire rifle at 25 yards (outdoors). We are looking for a "group", not bulls-eye shooting.
Students with disabilities will not be required to sit, kneel, or lay prone; for example those that have been through recent knee surgery, or have bad knees or hips.
Regardless of the shooting skills demonstrated, a disruptive or unsportsmanlike attitude by a student during any portion of the Field Day may result in a failing grade being assigned by the instructor. If the student does not successfully complete all portions of the field course, they must re-take the entire course.
Secondary Site Navigation
Education
Alaska Department of Fish and Game
P.O. Box 115526
1255 W. 8th Street
Juneau, AK 99811-5526
Office Locations