Alaska Department of Fish and Game
---
Facebook
Twitter
Google+
Reddit

Alaska's Wild Wonders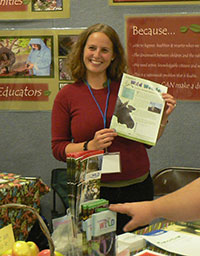 Alaska's Wild Wonders, produced by educators from the Alaska Department of Fish and Game's Division of Wildlife Conservation, is an annual publication available online and in printed form upon request.
This publication was produced in response to requests from Alaska teachers for wildlife materials to use in their classrooms. Alaska's Wild Wonders serves as a resource primarily for upper elementary students to learn about Alaska's wildlife and habitats. Alaska's Wild Wonders is a tool for helping students better understand and appreciate Alaska's wildlife resources. It encourages participation in outdoor learning, and provides information about wildlife conservation across Alaska. The possibilities for using this publication are endless. Ideas from other educators around the state include reading, research, writing, science journal prompts, bulletin boards, after school programs, summer reading assignments, homework, and more. We hope you and your students enjoy Alaska's Wild Wonders and find it a useful resource.
You can access digital copies of the issues from the links below, or sign up to receive a FREE classroom set.
Secondary Site Navigation
Education
Alaska Department of Fish and Game
P.O. Box 115526
1255 W. 8th Street
Juneau, AK 99811-5526
Office Locations