Information by Fishery

Commercial Dive Fisheries
Overview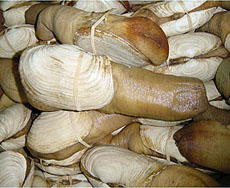 Southeast Alaska dive fisheries harvest three species of invertebrates: geoduck clams Panopea generosa, California sea cucumbers Apostichopus californicus, and red sea urchins Mesocentrotus franciscanus. All three fisheries occur primarily in southern Southeast Alaskan waters. The pinto abalone Haliotis kamschatkana fishery is currently closed to commercial harvest. A small experimental sea cucumber fishery was prosecuted during the 2007/08 season in the Yakutat area.
Southeast dive fisheries are relatively recent entrants into the region's commercial fishing industry. The first commercial landings for abalone occurred in the mid 1960s, and red sea urchins, sea cucumbers, and geoduck clams in the early to mid 1980s. Currently, each fishery is a competitive limited entry fishery. Stock Assessment surveys for green urchins have been conducted in Southeast Alaska but there has been no fishery.
Westward Region dive fisheries include the sea cucumber Apostichopus californicus fishery in the Westward Region (Kodiak and Chignik) and a small green urchin Strongylocentrotus droebachiensis fishery in Kodiak and Alaska Peninsula. Sea cucumber GHLs and fishery periods were developed between 1991-1993. The GHL for the Kodiak District was 140,000 pounds and 25,000 pounds for the Chignik District. To promote reproduction, the fisheries in these areas are closed from May 1-September 30.
Dive Fishery Species
---
Adobe Acrobat PDF files require a free viewer available directly from Adobe.