September 2022
Issue 57

---
Fall fishing opportunities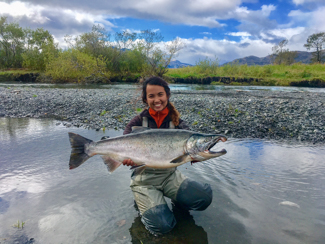 September is a great time to get out and take advantage of some exceptional fishing opportunities. There are countless areas across the state to pursue resident species such as rainbow trout, Dolly Varden, northern pike, lake trout and coho (silver) salmon.
In this edition of Reel Times, we highlight opportunities to target coho in Yakutat and on Kodiak Island. We also point to some great lake trout fishing opportunities in the far north region of the state.
As you've been out fishing this year, we hope you've captured some of those memories with your camera. We're currently accepting submissions to our annual Sport Fishing Regulation Summary Booklets Cover Photo Contest. You'll find more information below. Send us your best shot!
Have you purchased your 2022 sport fishing license yet? If not, be sure to do so before you head out on your next fishing adventure. Visit our online store to get started.
Are you following us on social media? If not, be sure to check us out on Instagram @wefishak. You can also follow us on Facebook at ADF&G - wefishak . Also, visit our YouTube channel for a growing selection of "how-to" videos and much more.
If you have a comment or story ideas for Reel Times, we encourage you to send them our way. You can send comments to ryan.ragan@alaska.gov.
We'll see you on the water.
Ryan Ragan
Coho Fishing on Kodiak Island
By Tyler Polum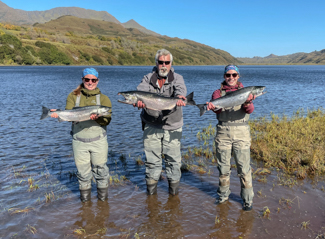 There are an incredible number of coho fishing opportunities on Kodiak Island ranging from do-it-yourself trips planned around the more than 20 fishable streams on the road system to fully guided and outfitted trips in the far-flung reaches of the Island. Whatever version your time, resources and personality allow, coho fishing on Kodiak is one of the more dependable and consistent salmon sport fisheries around.
The name of the game with picking a coho fishing spot is flexibility. Most anglers know of their aggressive nature and often come to expect action packed fishing during coho season, but they can just as easily be found to be finicky and uncooperative with schedules and the spot that was hot yesterday. It's good practice to be willing to move around to find fish that are less stressed and more active. Some of the favorite spots on the Kodiak Road System are the Buskin, Olds, and Pasagshak drainages, with the stocked runs at Pillar and Monashka Creeks more recent favorites. Each of these rivers offers great coho fishing, but they will often not all offer great coho fishing at the same time. If you're planning a trip on the road system, it's always good to keep a couple spots in mind if you're favorite seems to be a bust. Fortunately, each of these is less than an hour's drive away and it's no problem to fish multiple streams in a day. For some of the more remote areas, the time of year is often the best predictor of good fishing. In general, coho salmon arrive earlier in the Afognak and Shuyak islands area with runs peaking near the end of August usually, while on Kodiak, most coho runs peak in mid to late-September.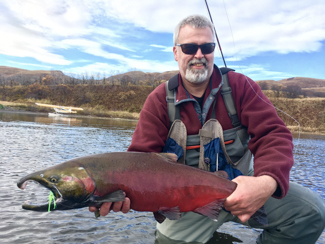 The go-to spots on Afognak are often the estuaries of the numerous fjord-like bays connecting to river drainages with Litnik, Big Bay (on Shuyak), and Paul's Bay being the most popular. Popular spots off the road system on Kodiak Island include Uganik, Karluk, Ayakulik, and the drainages in Olga Bay. In all of these areas, there are multiple guide services and lodges that will already have the hot spots in mind and can give the latest go-to information as they are the locals in the area, they are fishing. There are also a number of air and water taxi services that will take you to any of these locations if you prefer to find the fish yourself. One thing to note if you're planning an unguided trip, there are a several public use cabins available right in the middle of prime coho fishing. These are found on Shuyak Island, in the Afognak State Park on Laura Lake and in Discoverer Bay, and in the Kodiak National Wildlife Refuge primarily at Uganik and Little River lakes.
When thinking about how to catch coho salmon, conditions are everything. Fishing at a given spot is going to be most heavily influenced by the conditions you find on a given day versus what tackle you brought. Coho will often find a shaded resting pool that offers cooler water and some cover like trees, a cut bank, or a deep eddy. If fishing a pond or lake, earlier in the day is often best, and many will testify that fishing often shuts down when the sun hits the water. If you can time your fishing trip after a decent rain, it probably won't matter much what you use for tackle, but in between these times, they can be a little picky. Local favorites are Vibrax spinners and Pixies but be careful opening up the eternal debate about which color is better, pink vs. green. For flies, think big and ugly. Bright, hairy articulated leeches, flashy streamers, and heavy, bright flies like Zonkers are often the ticket for coho salmon on the fly. And when the times get tough, make sure you've got some options on hand: a number of colors and styles of flies and spinners and bring both fly and spin gear if you can. If the coho seem to be lock-jawed, there's couple things that might open them up. For spin fishing, try using the slowest retrieve possible and the largest, brightest spinner you have. Spinners with large blades can usually be retrieved slower than smaller spinners. Try a number 5 Vibrax in the brightest color you have or a large Pixie using a jigging motion. When fishing slow or stagnate water, swapping over to a fly rod with purple or bright green leech can sometimes catch their eye. Again, presentation is the key; use a slow retrieve or even a jigging motion, giving them lots of time to react. And bait is often the go-to for the coho harvesters and can also be a tool to keep in your back pocket on the slow days. Cured salmon roe and even small chunks of herring beneath a bobber or just drifting bait along the bottom can tempt them to bite even on the slowest days.
Yakutat, Do-It-Yourself Silver Salmon Fishing
By Jason Pawluk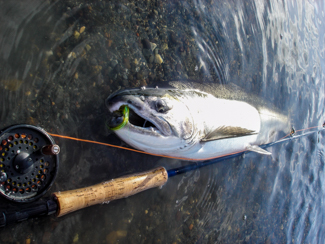 Few places in Southeast Alaska offer the abundance of roadside opportunity to catch wild silver salmon from freshwater streams as you will find in Yakutat. The best part, it is a place where that can be done without having to employ the services of a guide. All you need is a vehicle (offered from two main car rental services), a place to stay, your ADFG sport fishing license, and your fishing gear. There are many available lodges, B&B's, and house rentals during the fishing season, as well as fish processors to take care of your catch.
Yakutat has over 50 miles of roads and can allow anglers to reach multiple streams and estuary locations to fish for silver salmon. The most popular of the streams is the Situk river, which has three main access points (Lower Landing, Maggie John Trail, and Nine-Mile Bridge). The majority of anglers choose to pursue silvers on foot using the many angler trails along the river enabling them to spread out in pursuit of fish. Make sure you switch out treble hooks for a single hook per regulation. Anglers use a variety of gear to target the aggressively biting silver salmon including spinners, spoons or jigs along with any type of artificial fly, but the use of bait is not allowed.
The Situk produces most of the silver salmon catch along the Yakutat road system, but there are other locations that provide excellent opportunities if you want to try something different or if the Situk is unfishable due to water conditions. The two main alternatives are the Lost River and Tawah Creek. These locations have established angler trails that will get you to many of the open areas. The same types of gear are used in these streams, except you can use treble hooks on your lures on any stream other than the Situk River.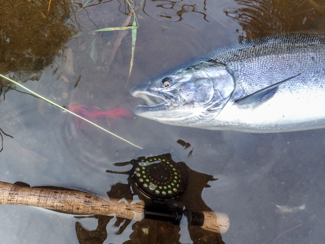 The fishing opportunity doesn't stop at the freshwater streams, there are other spots along the Yakutat road system that offer opportunity in estuaries and lagoons. The Ankau Lagoon is a water body west of Yakutat that allows anglers to fish for silvers near or from a bridge that can be quite productive. The main method used here is dropping a herring from the bridge and letting the current spin it similar to mooching. If a fish is hooked, anglers walk off the bridge down to shore to land it. Village Lagoon is another location that allows DIY anglers to catch silvers. It's located near the boat harbor and provides a place to pitch lures, primarily spinners, as they mill around the lagoon entrance.
If the water levels are high and conditions are bad, then there is another avenue to catch silvers if you are willing and able to drive a boat. There are businesses in Yakutat that rent boats for fishing in saltwater. Fishing is good relatively close to the harbor and can allow you to catch a bag limit of six silvers a day if freshwater fishing is slow. Most anglers troll herring, spoons, or hoochies with downriggers or banana weights, or they mooch with herring or dart jigs when they find a school of fish. You can also tuck back into some of the coves inside the islands and pitch spinners and jigs to intercept silvers as they cruise along the shorelines.
The prime time for silver fishing in Yakutat is from mid-August through the month of September. Remember to plan in advance. Just be prepared for rainy weather and bring a good attitude as there are many opportunities to get out and enjoy the pursuit of silver salmon on a budget and at your own speed.
Old Man of the North: Fishing for lake trout in the Alaskan Arctic
By Brendan Scanlon
Most information requests that we get regarding sport fishing in waters on the North Slope come from fall hunters hoping for a shore lunch of Dolly Varden or Arctic grayling whilst floating down a river waiting for a caribou to poke its head out on a gravel bar. While fishing for both Arctic grayling and Dolly Varden can be a blast, for a real treat try flying in to one of the many large lakes north of the Brooks Range for the Dolly's big brother, the lake trout.
In Alaska, lake trout inhabit the deeper lowland lakes along the central Arctic coastal plain, the turbid glacial lakes on the north side of the Chugach Range and Kenai Peninsula, and in deep lakes on both the north and south sides of the Brooks and Alaska Ranges. On the North Slope there are a few lakes along the Dalton Highway Corridor that contain lake trout, but most of the really good fishing is fly-in only. Because of the difficulty and expense of getting to some of these remote lakes and the short window of open water in the summer, fishing pressure for lake trout in these systems is low and fishing can be quite good.
Figure 1.-Nice lake trout from the Chandler Lakes system near Anaktuvuk Pass.
Because of the brutally cold and long winters in the Arctic, most lakes on the North Slope containing lake trout are ice-free for only 8-12 weeks in the summer, making float plane season pretty short. This short window of open water means that sunlight needed for primary production (i.e., plankton and invertebrates) is unavailable for most of the year and these lakes tend to be crystal clear. To adapt to the scarcity of food production, lake trout in the Arctic will spawn at older ages and less often than lake trout in the lower latitudes, and can also live much longer. It is not uncommon for lake trout in the Arctic to forego spawning until they reach 8-10 years old, and can be as old as 50. These low productivity lakes (or oligotrophic lakes) cause the lake trout to make annual decisions about whether to put resources into getting bigger and staying healthy (somatic growth) or into reproduction (gonadal growth).
These environmental factors would seem to paint a gloomy picture of lake trout fishing in the north but there are definitely some upsides for the avid angler to this life history strategy of lake trout. First, because these lakes are ice free for such a short time and the air temperatures generally remain cool all summer, these lake never really stratify thermally, meaning they remain cold from the surface to the bottom, unlike the popular lake trout lakes in lower latitudes. This means that lake trout don't need to spend the warm summers near the bottom of the lake and fishing can be quite good from shore. In addition, because of the cool water temperatures lake trout in the Arctic will often drop into shallow rivers and streams and travel many miles from the lake that they will spawn and spend the winter in. To an Arctic grayling or round whitefish cruising the shallows for bugs, lake trout can be three feet and 20 pounds of bad news in water depths inhospitable to lake trout in the lower latitude lakes.
Another upside would be that because lake trout in the Arctic spawn so infrequently and live so long, they can get really big. Arctic lakes that have lake trout that reach 20 pounds or more include Itkillik, Walker, Feniak, Teshekpuk, Peters, and Schrader Lakes, and the Chandler Lake complex. There are likely many more lakes with large lake trout on the North Slope but because stock assessment and fish effort information are lacking, data on these lakes is limited.
Getting there can be the hardest part. While there are some lake trout lakes that you can drive to (see the Sportfishing Along the Dalton Highway brochure), the best fishing will require chartering one of the many float planes available from an air taxi service in Fairbanks or Coldfoot. There's no cheap way to do it but if you and 2-3 friends pack light and smart you can get dropped off at one of these lakes for a few days and have the place to yourself for an unforgettable wilderness and fishing experience. Because most of these lakes are on Federal lands, be sure to check land status and see if you need to apply for a camping permit or a file a trip plan before you go.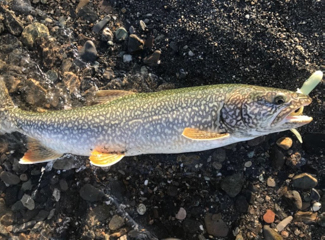 Figure 2.-Nice shore lunch-sized lake trout from Peters Lake.
As for fishing techniques, what works in lower latitudes will work in the north. Large spoons and plugs work well, and large soft baits work well too. Flies can be productive in shallow water but should be large and flashy with a strong hook, and fished close to the bottom. Fly anglers should use a weighted-tip line, as lake trout normally do not hit surface lures. Small lake trout can be good eating but if you are lucky enough to catch a closely related Arctic char, you'll really be in for a tasty treat. Be sure to bring some Arctic grayling gear too. In the summer months, you can experience temperatures anywhere between 40 and 70 degrees, with both bears and mosquitoes stopping by your camp for a visit, so proper preparation in the far north is essential. However, the long, sunny days and fantastic fishing in a such a special place will be what you remember the most.
Have You Tried the New ADF&G Mobile App?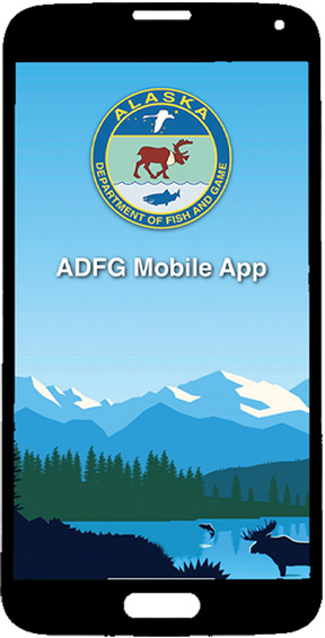 This free mobile app was developed for the people who hunt and fish in Alaska and is designed to enhance your pre-trip planning and in-field experience. The app provides access to the information and services you need to follow applicable hunting and fishing regulations. The mobile app will be available as a free download in the Android and Apple App stores and can be used on a smart device such as iPhone, Android phone, iPad, or Android tablet.
Visit our website to learn more and to download the new ADF&G mobile app to your phone.
Photos Sought for 2023 Sport Fishing Regulations Summary Booklets Photo Contest
Send us your best shots! Did you get any great photos of your kiddos fishing this year? If so, send your top three photos our way.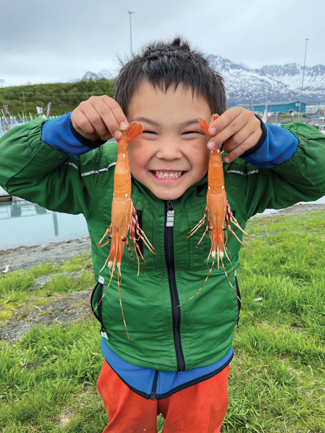 The Alaska Department of Fish and Game (ADF&G), Division of Sport Fish, is accepting photo submissions for the 2023 Sport Fishing Regulation Summary booklets. ADF&G publishes four, separate sport fishing regulation summary books each year for the Northern, Southcentral, Southeast, and Southwest regions. Every year each regional booklet features a new cover photo of a youth angler or a family of anglers and their catch. The submission deadline for photo entries with a completed and signed Media Consent Release Form is 5:00 p.m., Monday, October 31, 2022.
Please email submissions to the appropriate contact in the region where the fish was caught. Your email should include the anglers first and last name, age, species of fish, and the name of the waterbody the fish was caught at and include as attachments the signed media release form and up to three photos. Remember, photos submitted without a media release form will not be accepted. Photos that show evidence of fish and game violations, unethical, or unsafe actions or advertisement will not be considered - this includes youths in a boat without a life vest.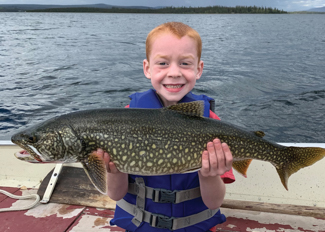 A maximum of three photos may be entered. To be considered for the cover, the primary person in the photo must be under the age of 18 when the photo was taken, and the photo must have been taken in Alaska. We are looking for photos that represent what sport fishing means to young people and their families. Photos not selected for the cover, may be used on the inside pages of the corresponding booklet. There are no age requirements for individuals featured in photos to be considered for use on the inside pages. Layout restrictions apply to the front cover that only horizontal photos will be considered. Vertical and horizontal photos will be considered for inside pages and there is no age requirement.
You can email your submissions to the following regional contacts:
For more information, please visit our website.
Field to Plate - Recipe of the month
Recipe of the Month – Alaska Salmon Sliders with Rosemary Lemon Aioli and Pickled Onions.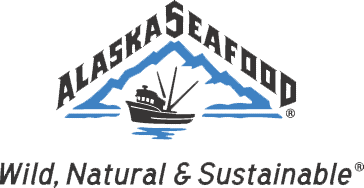 Try this tasty recipe for Alaska Salmon Sliders with Rosemary Lemon Aioli and Pickled Onions from the Alaska Seafood Marketing Institute, it's sure to be a hit.
Or, try this Salmon Hash recipe from the Alaska Department of Fish and Game.
Enjoy!
If you have any questions about the Reel Times newsletter, please contact Ryan Ragan at ryan.ragan@alaska.gov