Reel Times Newsletter
September 2021
Issue 45
---
September – Prime time to get out and fish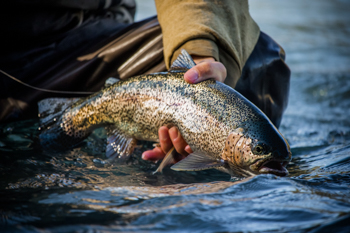 There's been a noticeable shift in things lately. A seasonal transition, when daylight hours and outdoor temperatures fall, and many people trade a fishing rod for a hunting rifle. If you're one of the many who are planning to take to the field this month in pursuit of small or large game, consider taking your fishing gear with you.
In this edition of Reel Times, we explore what a "cast and blast" looks like in Southeast Alaska, we venture out to western Alaska in pursuit of rainbow trout and we find out what it's like to fish for steelhead on the Anchor River.
Be sure to visit our YouTube channel. We've added new content recently.
If you haven't done so already, You can purchase licenses and stamps in our online store.
Are you following us on social media? If not, be sure to check us out on Instagram @wefishak. You can also follow us on Facebook at ADF&G - wefishak.
If you have a comment or story ideas for Reel Times, we encourage you to send them our way. You can send comments to ryan.ragan@alaska.gov.
We'll see you on the water.
Division of Sport Fish - Alaska Department of Fish and Game
Alaska 'Cast & Blast'
Author: Craig Schwanke, Prince of Wales Area Management, Division of Sport Fish and experienced 'cast & blaster'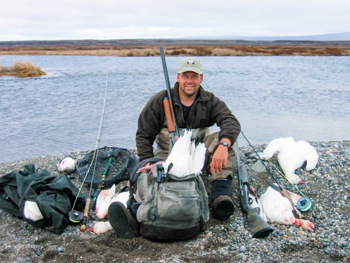 To most, a meal of fillet mignon and wild fish or shellfish might seem like something you'd get from a fancy restaurant, but in Alaska this exotic meal could occur in a hunting camp miles from civilization. Fresh wild game tenderloin and wild Alaskan fish are often the result of a good old Alaskan 'cast & blast'. The combination of hunting and fishing opportunities in one trip, or a 'cast & blast', makes for a great Alaskan outdoor adventure.
Opportunities for a 'cast & blast' exist all over Alaska with its healthy populations of fish and game and can occur on day hunts or multiple day trips. Examples of Alaskan 'cast & blasts' include: float trips for caribou and moose in western Alaska, which can provide excellent fishing for coho salmon, rainbow trout and Dolly Varden; coastal hunts for bears, ducks and goats with a boat can include bottomfish and shellfish; duck and moose hunts in interior Alaska can be accompanied with pike fishing; and lakes for floatplane drop off hunts around Alaska support a variety of species such as lake trout, Arctic char and grayling. In these 'cast & blast' scenarios, hunters will often hunt the mornings and evenings and take a break during the day to fish, while keeping their firearm handy in case the desired game appears.
In Southeast Alaska, the most common 'cast & blasts' are associated with Sitka black-tailed deer and black bear hunts. Hunters in Southeast Alaska commonly access remote hunting locations by boat and will take breaks from hunting to fish and set pots for shrimp and crab. Visiting 'do it yourself' hunters to Prince of Wales Island often rent a vehicle to access the island's large road system, which provides access to hundreds of square miles of public land to hunt and numerous lakes and creeks to fish. In the spring they will combine black bear hunts with steelhead and trout fishing. In the fall deer and black bear hunts can be combined with freshwater salmon and trout fishing. Hunters often book a saltwater charter for a day of fishing for halibut, rockfish and salmon.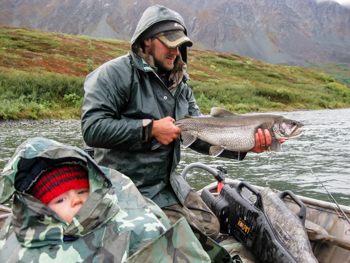 Not only do 'cast & blasts' provide a unique opportunity to combine fishing and hunting in an adventure but also provide some amazing camp meals and a diversity of harvest to stock freezers. When taking that break from hunting to make a cast be sure to keep your eyes on the landscape and have your firearm ready because many 'cast & blasts' have ended successfully with game spotted while fishing.
Fall fishing for steelhead on the Kenai Peninsula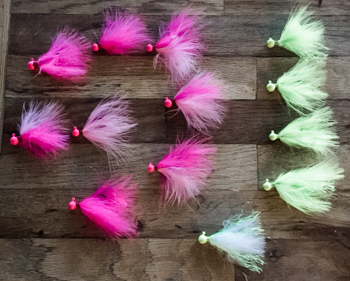 September and October in Alaska provide an endless number of outdoor activities. While many of us are transitioning from summer fishing to trying to fill our freezers with big game during the fall, there's still great fishing to be found particularly in the Lower Kenai Peninsula roadside streams. Although there may still be some decent coho salmon fishing into mid-September and Dolly Varden are all over the place in these streams, the primary target for anglers are steelhead trout.
Kenai Peninsula steelhead trout are generally described as fall run fish, meaning that they return to freshwater in the fall to spawn the following spring. Steelhead start returning to the Kenai Peninsula in late August, but the peak of the run typically occurs in late September and the fish hang out in the accessible portions of these streams until freeze-up. Spawning occurs in late April and May then those that have survived winter and spawning head back out to the ocean through the lower section of these streams past anglers trying to catch Chinook salmon.
Of the streams with steelhead trout on the Kenai Peninsula, the Anchor River receives the most effort since the Sterling Highway provides more roadside access to more of the river. For those that are willing to explore and walk farther from the road, both the Ninilchik River and Deep Creek provide lots of good holding spots in sections above the Sterling Highway. There are State Park campgrounds available at all of these streams. Most anglers target steelhead the same way they fish for rainbow trout and Dolly Varden throughout Alaska with the most popular technique being dead drifting beads with just enough weight to keep it on the bottom without getting stuck. Most use fly fishing gear but that's not required at all to target steelhead.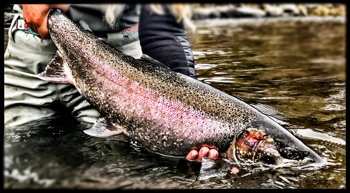 Other single-hook gear used in these streams to entice steelhead into biting include fly streamers and leaches, spinners, spoons, small plugs, and marabou jigs under a bobber. If you haven't tried jig and bobber fishing before, it's a pretty easy set-up to try and is nearly a foolproof way to get a lure in front of a steelhead that other gear can't.
Before heading to these streams in the fall, there's a few other things to know. First, if it's been raining there's a fair chance that the streams are blown out and too muddy to fish so it's worth checking NOAA's hydrographs for the Anchor and Ninilchik rivers. After these streams calm back down, it is a great time to go fishing. Second, these fish are not necessarily easy to catch at all but if you do hook one, you'll know why anglers get obsessed with fishing for them. Be ready for a serious fight and don't be disappointed when they spit the hook. You must release them anyways. These fish range from 24 inches up to 36 inches, so make sure you have appropriate size line and hooks. It also worth noting that there will be other anglers out but nothing like summer crowds. Lastly, the chance to catch a steelhead trout remains good throughout the day and near the end of the season in late October the fishing can be better later in the day as the water warms.
Fishing on the Aniak River: a great opportunity for a diverse angling experience!
By Bo Whiteside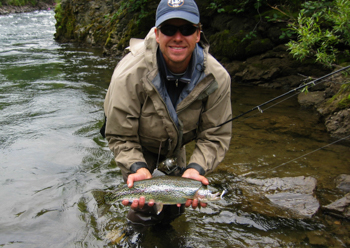 The Aniak River is a popular float trip (and guided or lodge trip) for anglers traveling to the remote reaches of the Kuskokwim River. The Aniak River supports a wide variety of fish species including the five common varieties of Pacific salmon, Dolly Varden, Arctic char, Arctic Grayling, Northern pike, and sheefish. The Northern pike and Sheefish tend to be near the confluence with the Kuskokwim River, and the sheefish are most likely to be caught at the confluence. Considered to be near the outer limits of the species' range, rainbow trout inhabit the river in moderate numbers.
Most species are attracted to egg patterns, especially during salmon spawning. Sockeye may be caught in locations where they are abundant, but they don't tend to be an aggressive feeder. Silver and flashy streamers may work well below water, and dry flies are popular during the right conditions. Topwater patterns such as mouse patterns or other topwater patterns can be very effective for rainbow trout. Spoons, spinners and jigs of your choice work well for spinning gear, with many anglers choosing flesh colored gear, or white, pink and silver.
The Aniak River begins at Aniak Lake between the Kilbuk and Kuskokwim Mountains and flows north roughly 150 miles to join the Kuskokwim River at the community of Aniak. This winding and moderately swift river is 25 to 75 meters (27 -81 yards) wide over much of its length. A clear stream in it's upper-most reaches, the Aniak River becomes increasingly silty below its confluence with the Salmon River and the Kipchuk River, and the water color ranges from a greenish cast in the middle reaches to an opaque brown a few miles above its juncture with the Kuskokwim River. The upper 2/3 to 3/4 of the river contains many hazards including braided false channels, shallow bars, overhanging brush, large sweepers, log jams (some blocking the entire river or a channel), root wads, sharp turns, narrow channels, and whirlpools. Water levels vary widely depending upon rainfall and snow melt conditions.
The lowest portion of the Aniak River is in the Yukon Delta National Wildlife Refuge. Most of the river is outside the Refuge, but there are private lands (largely Native allotments) throughout.
There are scheduled air services to both Aniak and Bethel from Anchorage and Fairbanks. The Aniak River is typically accessed by float plane to Aniak Lake or by wheel plane to small airstrips in the upper drainage. There are air taxi and outfitting services available in both Aniak and Bethel that can provide transportation and rental of rafts and other gear, and charter services from Dillingham are also available.
Sport fishing regulations for the Aniak River can be found in the Northern regulation summary book.
Send us your best shot!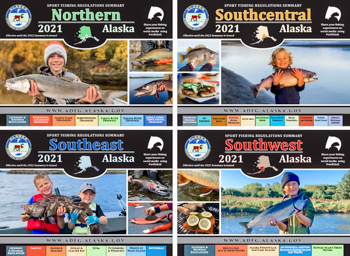 Get any good photos of kids fishing this year?
The Alaska Department of Fish and Game (ADF&G), Division of Sport Fish, is accepting photo submissions to the 2022 sport fish regulation summary cover photo contest. The submission deadline for photo entries with a completed and signed Media Consent Release Form is 5 p.m., Sunday, October 31, 2021.
To be considered for the cover, the primary person in the photo must be under the age of 18 when the photo was taken, and the photo must have been taken in Alaska. We are looking for photos that represent what sport fishing means to young people and their families.
A maximum of three photos may be entered. Lay-out restrictions are such that only horizontal photos will be considered for the front cover. Vertical or horizontal photos will be considered for inside pages. There are no age requirements for individuals featured in photos to be considered for use on the inside pages.
All photo submissions must be accompanied by a completed Media Consent Release Form with the youth anglers' parent or guardian's signature and information to be considered. Please include the name of the body of water or drainage in which the photo was taken and information about the angler(s) in the photo. Photos showing evidence of fish and game violations, unethical angling behavior, unsafe actions, or product advertisement will not be considered. Images showing young anglers on a boat not wearing a life jacket will not be considered.
ADF&G publishes four, separate sport fishing regulation summary books each year – Northern, Southeast, Southwest and Southcentral. Each regional booklet features a youth angler or a family of anglers and their catch on the cover.
Please email submissions to the appropriate contact in the region where the fish was caught:
For more information, please visit our webpage.
Field to Plate - Recipe of the month
Recipe of the Month – Seared Salmon with Green Olive Salsa Verde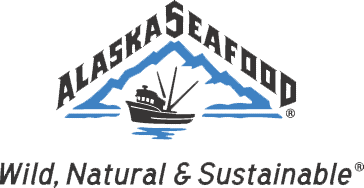 Got Salmon? Try this recipe for Seared Salmon with Green Olive Salsa Verde from the Alaska Seafood Marketing Institute.
Enjoy!
If you have any questions about the Reel Times newsletter, please contact Ryan Ragan at ryan.ragan@alaska.gov