Reel Times Newsletter
September 2019
Issue 21
---
When the spawn is on – A look at the lifecycle of salmon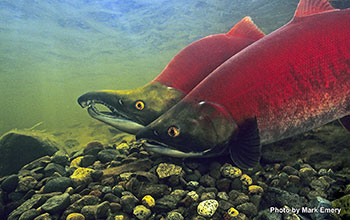 Salmon are amazing creatures.
There are five species of Pacific salmon native to the freshwaters of Alaska – Chinook (king), Coho (silver), Chum (dog or keta), Sockeye (red) and Pink (humpy). Each species spawns at different times of the year. In this issue of Reel Times we want to take a look at the salmon lifecycle. The salmon lifecycle is a pretty amazing natural occurrence that culminates during the fall months.
As salmon spawn and subsequently die, resident species such as rainbow trout, Dolly Varden and Arctic grayling gorge on eggs and the flesh of decaying salmon. Many fly anglers take advantage of this by using beads (or other patterns that mimic salmon eggs) or flesh fly patterns. Check out our "Fly of the Month" and learn how to tie an effective flesh fly.
We also have great articles about fishing for sheefish in northern Alaska and targeting coho (silver) salmon in Southeast. And from our staff in southcentral, we learn a few tips and tricks to target northern pike.
If you have a comment or story ideas for Reel Times, we encourage you to send them our way. You can send comments to ryan.ragan@alaska.gov.
We encourage you to share your fishing story on social media using #wefishak.
Tight lines!
Division of Sport Fish
Alaska Department of Fish and Game
The Salmon Lifecycle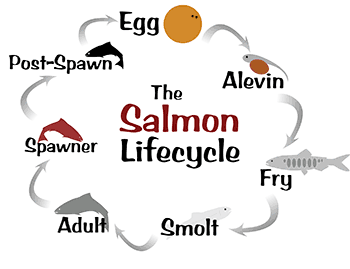 All Pacific salmon begin their life in freshwater. Female adult salmon dig a redd in the gravel. A redd is an indentation in the substrate where she deposits her eggs. A male and a female will pair up and the female will release her eggs while the male releases his milt. The eggs are fertilized and deposited in the redd. After spawning, the female buries the fertilized eggs in the gravel. The eggs will incubate in total darkness, being covered by gravel, for a certain amount of time.
The eggs hatch in the gravel. The salmon that emerge from the eggs, known at this stage as "alevin," are not able to swim and will remain in the gravel bed until their mouthparts and fins are fully developed. Alevin are recognized by a yolk sac on the front of their body. The juvenile salmon derives nutrients from the yolk sac as it continues to further develop.
Once the nutrients in the yolk sac have been absorbed and the fish has developed mouthparts and fins, they emerge from the gravel. This stage is called the "fry" stage. Salmon fry are able to swim and begin actively searching for food and shelter. Some species of salmon fry reside in streams and lakes for up to three years (or more), where they eat and continue to grow. Some species, like pink and chum salmon fry out-migrate to the ocean shortly after emerging from the gravel. Juvenile salmon that out-migrate to the ocean are known as smolt.
Salmon smolt continue to feed and grow in the marine environment until they reach the adult stage. At a certain point in a salmon's adult life, the fish begins making its way back to its natal stream where it will spawn. Salmon will grow in the ocean for 1-5 years before they return to their home streams to spawn. Salmon use various senses like smell to find their way back to the very stream they began their life in.
Age at maturity for salmon varies greatly by species. Pink salmon are 2 years old when they spawn, and some king salmon are up to 8 years old when they spawn. The size of returning salmon directly relates to time spent feeding at sea. Some king salmon can grow to be well over 60 pounds, as they tend to spend more time in the ocean feeding than other, smaller salmon.
Adults that return to their natal stream to spawn are called spawners. Salmon undergo significant physical changes as they prepare to spawn. Each species is different in how they change in appearance. Some develop a deep red or maroon tone to their body, while others, like the chum, develop pronounced calico markings on both sides of the body.
Once the salmon has spawned, the cycle begins again. All adult Pacific salmon die after spawning. The nutrients in their decaying bodies nourish the aquatic ecosystem and provide food for other animals. Even trees along the edge of waterways benefit from the nutrients released through the decay process.
Fishy publications for adults and kids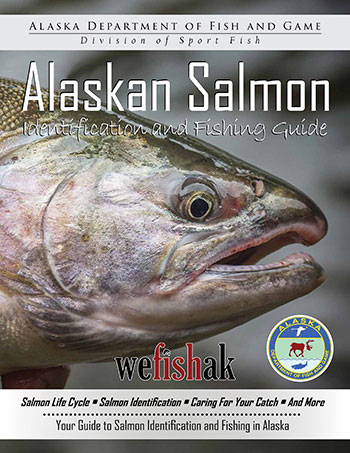 It can sometimes be difficult to differentiate between a chrome bright sockeye and a chrome bright chum salmon. And learning to properly identify each of the five species of Pacific salmon native to the freshwaters of Alaska takes a bit of practice.
We recently developed a "Salmon Identification and Fishing Guide" which can help you learn how to identify the five different species of Pacific salmon. The guide can be downloaded from here: https://www.adfg.alaska.gov/static/fishing /PDFs/sport/AKSalmonFishingGuide.pdf
And for the younger anglers out there, we have the "15 Awesome Alaska Fish" coloring book available for download here: https://www.adfg.alaska.gov/static/fishing /PDFs/sport/ColoringBook.pdf.
Happy fishing!
Reel Times- Hatchery Video
Spawning season is a busy time for the staff at the William Jack Hernandez Sport Fish Hatchery (WJHSFH). Chinook salmon are spawned in late July to early August, and coho salmon are spawned from late September to early October.
Each year, the hatchery obtains enough eggs to stock over 2.2 million Chinook salmon smolt and over 800,000 coho salmon smolt per year! Smolt are stocked in a variety of locations throughout Southcentral Alaska to increase and diversity salmon sport fishing opportunities.
Coho salmon return as adults 1 year after being stocked, and Chinook salmon return anywhere from 1-6 years later. When adult salmon return, the cycle restarts, and hatchery staff collect broodstock, or adult fish to spawn, all over again.
This video shows how the spawning, or egg take, process works at Ship Creek, which is adjacent to the WJHSFH in Anchorage.
Like the hatchery Facebook page, ADF&G-Ship Creek Fisheries Center, to get the latest egg take news.
Send us your best shot!
Each year the Division of Sport Fish publishes four regulation summary booklets: Northern, Southcentral, Southeast, and Southwest, each with a cover photograph of a young angler and their catch. It's now time to submit your best photo of a favorite youngster showing off why they love to fish in Alaska. Check out our website for all the required information we will need to consider your photograph for the 2020 regulation summary booklet cover photo contest. Lay-out restrictions are such that only horizontal compositions will be considered for the front cover. Both vertical and horizontal compositions will be considered for inside pages.
Check Out Regional Updates!
Southeast Alaska – Late Season Freshwater Coho Fun in Sitka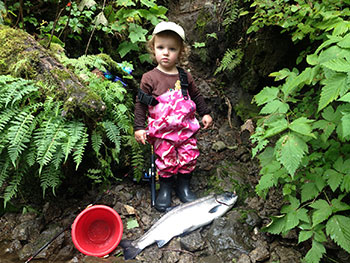 After the charter fleet has called it a season and most locals are out cruising the beaches for deer, some of the most underutilized and best fishing in the Sitka management area occurs in freshwater. Coho salmon begin gathering at the mouths of their natal freshwater streams around late August, waiting for numbers to increase and water conditions to be favorable. Then, from September through October, coho migrate upstream, and can be present in some freshwater streams as late as December.
Fighting a coho salmon with a rod and reel in a small stream is not something you'll soon forget. Coho are known for their electric fighting skills and will make you work hard to land one successfully. Local area streams with good coho salmon numbers include Nakwasina River, Katlian River, Redoubt Lake, Salmon Creek, and Eagle Creek. Most other streams in the area have coho runs of a much smaller scale.
What makes fall freshwater coho fishing so much fun is the variety of gear and fishing methods you can employ to catch them. You can equip your spinning rod with a #5 hot pink Vibrax or another type of spinner or spoon, and pitch and retrieve in slow, deep holding waters. From September 15-November 15, when the use of bait is allowed in freshwater, you can use a baitcasting rod and either drift cured salmon eggs along the bottom or float them under a bobber along seams and cut banks. If you're interested in a challenge, you can even bring your #7 fly-rod and swing some Dolly Llamas or leech patterns through deep moving water.
One thing to be aware of during this time is that other species of salmon are present in all flowing streams, such as spawning pink and chum salmon. This means bears will be present and in higher densities in these areas. So pull on some waders, grab your gun and fishing gear and take a stroll along one of your local area streams! Coho abound!
Southcentral Alaska – Four Methods for Harvesting Northern Pike In Southcentral Alaska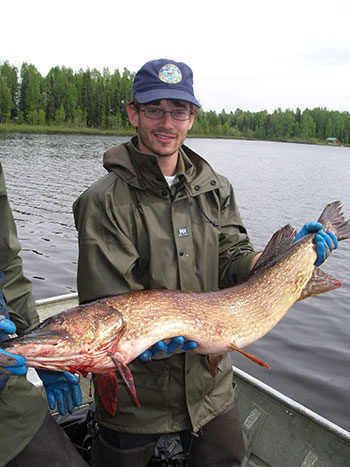 Lures
The Daredevil, the old red and white spoon never fails to entice pike into taking a strike. Trolling with spoons is another effective technique and allows the angler to cover large amounts of water. For top water action, try using jitterbugs, buzz baits, and floating frog or mice imitations. Large spinners work well in deeper water where not many weeds are present. Soft plastics that imitate leeches and bait fish are also effective. Concentrate your efforts on casting on the edge or over the top of weed beds, logs, along shorelines or on the sides of floating mats of vegetation.
Bait
If lures are not working well and pike are not interested in hitting or striking, bait can often be another method to harvest some fish. Whole or cut herring under a bobber is very effective at catching pike. Steel leaders and large hooks are recommended. Both the classic red and white bobber and slip bobbers work well. When a pike takes the bait, give the fish time to swallow the bait before setting the hook. Often times pike will take the bobber down initially when they take the bait in their mouth. Give them time to turn the bait and swallow it, the bobber will usually rise back to the surface as they do this. After they swallow the bait they will make a run and the bobber will go back down, this is when you can reel up the slack and set the hook which will help you land more fish. Tip-ups are effective in the winter months. Once again, wait for the initial run and the tip-up to stop spinning as the fish swallows the bait. On the second run, set the hook.
Bow & Arrow
If pike simply aren't hitting baits or lures or you are looking for a challenge, bow fishing is a great way to harvest some fish. Concentrate your efforts around shallow weed beds and shorelines. Aim below the fish, the deeper the fish is, the lower you will have to aim. Practice makes perfect!
Spear
Spearing pike is another effective way to harvest fish in the winter months. Cut a large hole in the ice with a chainsaw or make a large hole using an ice auger. Cover the hole with a pop up tent and place a decoy or bait in the hole suspended off of the bottom. Keep your spear just underwater so you don't create ripples when a fish comes in. Be sure to tie a rope to your spear.
There is no limit on the amount of pike you can harvest in Southcentral. Remember to follow all rules and regulations. Contact your local ADF&G office with questions regarding Northern Pike.
Interior Alaska – Fishing for Sheefish in Alaska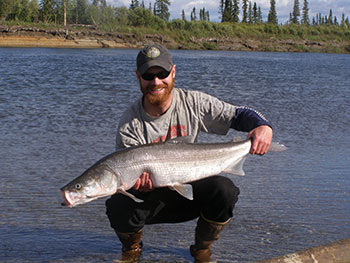 To successfully capture sheefish in Alaska, you can take advice from the 1980 movie, "Caddyshack", when Bill Murray was desperately trying to capture a gopher that was intent on ruining a golf course and exclaimed, "In order to conquer the animal, I need to think like an animal." Well, this quote has some good advice on how to approach fishing for the largest member of the whitefish family in the Yukon, Kuskokwim, Selawik, and Kobuk river drainages. Knowing a little about their life history, such as where they feed and on what prey, overwintering and spawning locations, and migration timing can increase success at capturing one.
Over the years, ADF&G has used radiotelemetry techniques on sheefish in these rivers to better understand overwintering, feeding, and spawning locations and migration timing. From these studies, we've learned that most (but not all) Yukon and Kuskokwim rivers sheefish spend their winters in lower river estuaries, although some sheefish overwinter in the mainstems. Kobuk and Selawik rivers sheefish spend winters in Hotham Inlet, where there is a popular "through the ice" sport fishery.
After spring ice out, sheefish swim upriver to the mouths of major tributaries to feed on outmigrating juvenile salmon and/or stay in the lower mainstem rivers to feast on rainbow smelt (hooligan) coming into the river. Sheefish are visual predators and you can fish the mouths of major tributaries in these lower rivers in late spring and early summer after the waters clear enough for them to be able to see a lure. You can try fishing the mouths of the Kwethluk and Aniak rivers within the Kuskokwim River drainage and the Andreafsky and Innoko rivers in the Yukon River drainage. The Selawik and Kobuk rivers are usually clear-running, so you can fish the mainstem as well as near the mouth of tributaries. The Kobuk River sees a lot more fishing pressure due to ease of access compared to the Selawik River. Sheefish can be captured below the village of Kobuk during late spring and early summer.
The best lures are those that mimic a delicious juvenile salmon or smelt such as shiny crocodiles, pixies, and daredevils, as well as large, soft baitfish imitations. The Holitna River, a large tributary of the Kuskokwim River upstream of Aniak, is also an overwintering location for sheefish and a good salmon spawning tributary and sheefish can be captured throughout the open water period. Sheefish can be found on the Chatanika River (a tributary of the Tanana River near Fairbanks) as it winds through Minto Flats in spring summer and fall. For these areas, try using lures like small northern pike imitations, but be prepared to catch adult northern pike. Even for areas where sheefish are accustomed to feeding on silvery prey, it's a good idea to include a variety of other lure types such as soft plastic fish and lamprey imitations, because if sheefish get used to eating a particular type of prey, one lure choice may work much better than another.
After a summer of feeding, mature sheefish travel to spawning locations. Sheefish tend to spawn in very few and relatively small areas. Currently, four spawning locations are known in the Kuskokwim River (Big and Tonzona rivers and Middle and South forks), six locations are known in the Alaska portion of the Yukon River (Innoko, Sulukna, Alatna, and Nowitna rivers, Yukon Flats, and Tanana River near Fairbanks) and one spawning area each is known in the mainstem Selawik and Kobuk rivers. Sheefish spawn in a relatively short period during late September and early October. Sheefish can be targeted at the mouths of spawning tributaries and/or further up the drainages (i.e. upriver past the village of Kobuk) during later summer as they approach their spawning locations. Late summer is a popular time for anglers to fish the Kobuk River. The state record for sheefish (53 lbs.) was captured on the Kobuk River and anglers can expect to catch sheefish that are 20-30 lbs.
Enjoy catching sheefish and they are good to eat, but please take care to not cause undo mortality when sport fishing. We want this fascinating and popular sport and subsistence resource to be around in good numbers in the future. A very good pamphlet entitled "Sheefish Catch and Release" can be found at: https://www.adfg.alaska.gov/index.cfm?adfg=fishingSportFishingInfo.InteriorPublications
Please familiarize yourself about landing and releasing techniques before you go fishing. Also, always have a fishing license and know the daily bag and possession limits at the location(s) where you will be fishing.
Happy Shee-fishing!
Fly of the Month: Cotton Candy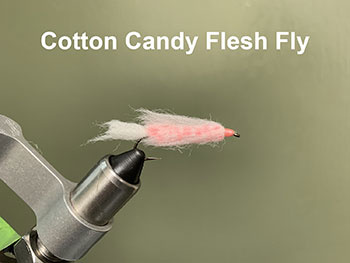 As salmon decay, small bits of flesh are taken from their bodies and carried downstream by the current. Fish such as rainbow trout, Dolly Varden, and Arctic grayling feed heavily on flesh. The Cotton Candy fly mimics a small piece of salmon flesh. This fly can be extremely effective when targeting resident species in flowing waters. Be sure to tie a few up and have them in your fly box. This could be the fly that saves your fishing trip.
Learn how to tie the Cotton Candy in this video tutorial: https://www.youtube.com/watch?v=AuMIbulKuqU
Reel Times Tip of the Month
Tip of the month – Get out and fish a remote stocked lake
The Alaska Department of Fish and Game – Division of Sport Fish staff stock fish at a number of remote locations throughout Southcentral and Interior Alaska. Getting the fish to these areas does present logistical challenges. The health of the fish during transport is a top priority. In order to effectively get fish to remote areas, staff use ATVs, backpacks and less common methods such as airplanes or helicopters.
Fishing at remote stocked lakes can be a great activity for families and friends. If you're looking for a remote lake to fish in Southcentral, Symphony Lake is a great spot to try. Symphony Lake was stocked with Arctic grayling and the population is self-sustaining. It's about a 5 to 6 mile hike to reach Symphony Lake, but the trial is well-established.
You can find Symphony Lake and many other remote lakes on our stocked lakes database here: https://www.adfg.alaska.gov/index.cfm?adfg=fishingSportLakeData.main.
In addition, we recently produced a video showing how we get fish to a remote lake using ATVs. Check it out here: https://www.youtube.com/watch?v=ifQj4mibrEQ.
Get out and fish!
Field to Plate – Recipe of the Month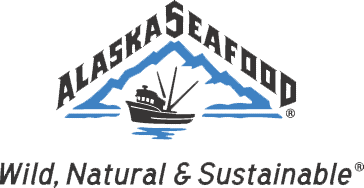 Our friends at the Alaska Seafood Marketing Institute offer this tasty recipe for grilled salmon sliders. Enjoy!
https://www.wildalaskaseafood.com/recipesdb/?recipeId=NzY2
If you have any questions about the Reel Times newsletter, please contact Ryan Ragan at ryan.ragan@alaska.gov