Reel Times Newsletter
November 2021
Issue 47
---
Winter is here – let's get out and fish!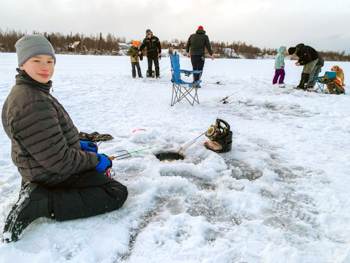 As we transition into the winter months, many anglers across the state will put away the open water fishing gear and grab their ice fishing equipment. There are a multitude of great locations across Alaska where you can spend some time ice fishing. Not sure where to start? Check out a stocked lake near you. If you have never gone ice fishing and would like to try, be sure to check out or Rod Loaner Program. Some ADF&G offices have ice fishing equipment to loan to anglers free of charge.
Searching for a great gift idea? Consider purchasing a 2022 sport fishing license for someone. Purchasing a sport fishing license through our online store is fast and easy.
Are you following us on social media? If not, be sure to check us out on Instagram @wefishak. You can also follow us on Facebook at ADF&G - wefishak.
If you have a comment or story ideas for Reel Times, we encourage you to send them our way. You can send comments to ryan.ragan@alaska.gov.
We'll see you on the water.
Ryan Ragan
Division of Sport Fish - Alaska Department of Fish and Game
Go online to buy your 2022 sport fishing license
The holiday season is upon us. And we'd like to encourage you to consider purchasing a sport fishing license as a gift for yourself or someone you know.
Giving the gift of a fishing license is a gift that literally keeps on giving all year long. Sport fishing licenses are valid for a calendar year – January 1 through December 31. Sport fishing licenses are a practical gift for an angler of any skill level.
Residents of Alaska who are 18 years of age or older, and non-residents who are 16 years of age or older need a valid sport fishing license to fish in fresh or saltwater of Alaska. Anyone targeting king salmon, with the exception of king salmon stocked in lakes, will need a king salmon stamp in addition to their sport fishing license.
An annual resident sport fishing license is $20.
An annual resident king salmon stamp is $10.
Non-resident sport fishing licenses are available as follows:
1-day: $15
3-day: $30
7-day $45
14-day: 75
Annual: $100
Non-resident annual king salmon stamps are available as follows:
1-day: $15
3-day: $30
7-day: $45
14-day: $75
Annual: $100
A non-resident military sport fishing license is available to active duty members of military service and their dependent(s) who have been permanently stationed in Alaska for less than 12 months for the price of $20. A non-resident military annual king stamp is available for $30. The same stipulations as mentioned before apply.
Click here for more information on residency requirements.
It is extremely easy to go online and purchase licenses, king salmon stamps, and an array of other items for the year season in one fell swoop. If your entire family has made the nice list, simply click 'Select Another Customer,' to add more than one person at a time to make the process quick and painless. If you plan to purchase a sport fishing license for someone else, be sure to have their necessary information in order to complete the transaction (Name, address, driver's license number, date of birth, etc.). Then, print off these great gifts and slide them into a card for someone special or make it a surprise that's hidden in the tippy toe of their stocking.
Beat the crowds. ADF&G wants you and your family's holiday season to be enjoyable, relaxing and stress free. Give the gift that brings joy all year long.
To purchase a sport fishing license or king stamp, visit the online store.
New to ice fishing? Need gear?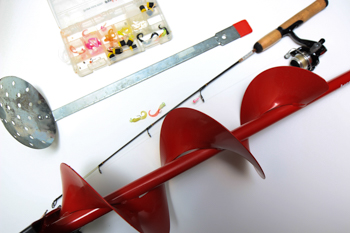 Many Department of Fish and Game offices have limited basic fishing equipment to loan anglers, free of charge! If you're still trying to decide if you want to take the leap and buy your own fishing equipment, or have visiting family coming to town, we can help "set the hook" to becoming a lifetime angler by providing short-term loans of our fishing equipment. Depending on the time of year, anglers of any age can borrow spinning rods or ice fishing equipment. For more information, please visit our wefishak rod loaner web page.
Identifying rockfish
By Brittany Blain-Roth
Identifying your rockfish catch can often be frustrating and challenging! There are dozens of species of rockfish and many look very similar. To simplify things, rockfish are frequently grouped into assemblages that have similar life histories. Being able to identify the charateristics of these assemblages will help you understand and comply with regulations. Here are a few tips that can make identifying your rockfish catch easier.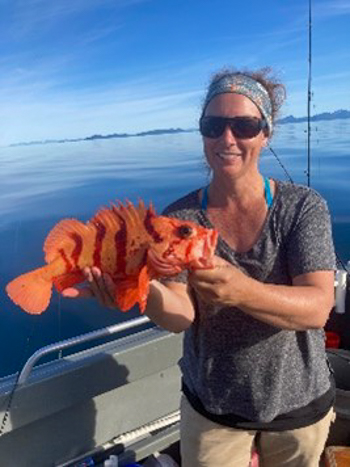 The Division of Sport Fish divides rockfish species into two assemblages, nonpelagic and pelagic. Nonpelagic rockfish are mostly bottom-dwelling species found on or near the ocean floor, usually in rocky habitats. They are often very long-lived species (15-100+ years). Nonpelagic rockfish are also easier to identify since they are often brightly colored, such as the yelloweye, tiger, and China rockfish.
Pelagic rockfish are mostly found from the mid-water up to the surface, and individual species can be harder to identify. Pelagic rockfish tend to form schools and are usually found close to rocky structures. In addition, they are less long lived (7-50 years) when compared to nonpelagic rockfish.
The most challenging to identify of the pelagic rockfish are the black, dark and dusky rockfish (all of which are pelagic species). Prior to 2003, dark and dusky rockfish were considered the same species. James Orr (NOAA) and Jim Blackburn (ADF&G) published a paper that officially separated the two species. Dusky rockfish are now identified as Sebastes variabilis and dark rockfish are Sebastes ciliates (black rockfish are Sebastes melanops).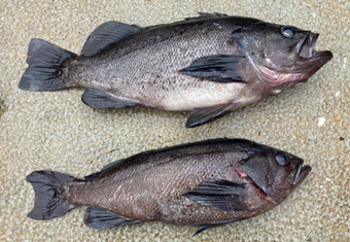 People frequently think they have a black rockfish when they catch a rockfish that is dark gray or black. However, dark rockfish are commonly misidentified as black rockfish because they are very dark in color, similar to black rockfish. In the picture of the two rockfish, you can see a black rockfish on top and a dark rockfish on the bottom. Dark rockfish are typically darker in color all around than black rockfish, where you typically see a lighter colored belly.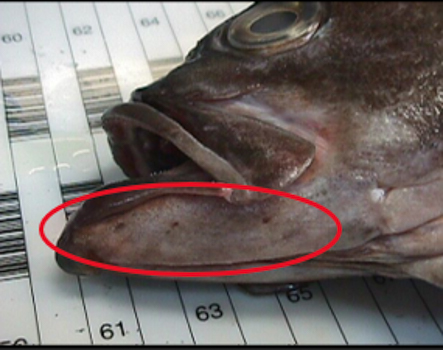 The pores on the lower jaw (or mandible) are one of the key characteristics to tell black rockfish from other dark colored rockfish species such as the dark or dusky rockfish. That's because black rockfish don't have them, and dark and dusky rockfish do! You can see in this photo the three pores along the lower jaw (mandible) circled in red. These pores are found on dark and dusky rockfish but not on black rockfish. Be careful though, black rockfish sometimes do have one pore, but never three!
Another sure-fire way to tell your black rockfish apart from dark and dusky rockfish is the color of the peritoneal lining, which is the inside lining of the body cavity. If the lining is white, the rockfish is a black rockfish. If the lining is dark or splotchy it could either be a dark or a dusky rockfish.
Typically external color should not be the main feature you use to identify rockfish from one another. However, an interesting feature is that the belly of dark rockfish are typically as dark as their sides, though some dark rockfish do have a slightly lighter belly. The one part of a dark rockfish that ususally stays dark is the skin around the base of the anal fin, near the vent. This area around the anal fin will almost certainly be coppery or pink on a dusky rockfish.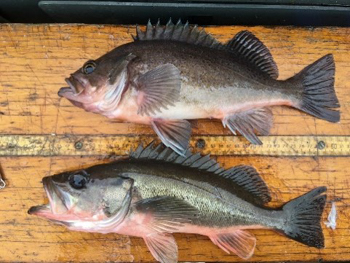 To make things even more fun, the color of dusky rockfish belly can often look similar to silvergray rockfish (Sebastes brevispinis). Silvergray rockfish are a nonpelagic species and you definitely need to be able to tell the difference between these two species because they have different bag limits in different areas of Alaska. Silvergray rockfish typically have a greenish to silver-gray, very long slender body. They don't have the "hump" you see in many rockfish species, but they do have three mandible pores similar to those found on dark and dusky rockfish. Most notably, silvergray rockfish have a long lower jaw protruding well beyond the upper jaw and a large knob on the tip of their lower jaw, called a symphyseal knob. In this photo the dusky rockfish is on top and the silvergray rockfish is on the bottom.
So now that you have the info, what are the four species of rockfish in the picture below?
Top to bottom: black rockfish, dark rockfish, dusky rockfish, and silvergray rockfish. Note the entirely different body shape of silvergray rockfish (long jaw, slender head, body longer and not as high).
Hopefully next time you come across a rockfish you will know what characteristics to look for. If you have additional questions about identifying your catch you can always contact your local ADF&G office for more information.
For more information of rockfish. Check out the Statewide Rockfish Initiative webpage.
If you want to learn more about Alaska's rockfish and find an identification guide, visit our newly updated rockfish webpage.
Quiz answers (top to bottom): black rockfish, dark rockfish, dusky rockfish, and silvergray rockfish. Note the entirely different body shape of silvergray rockfish (long jaw, slender head, body longer and not as high).
Rapids Lake
By Brandy Baker
Taking a road trip along the Richardson Highway and need a spot to stretch your legs and wet a line?
Rapids Lake is a quiet lake tucked in a cut at the base of the Alaska Range, evenly situated between the Denali Highway and Delta Junction. The trail to Rapids Lake is a short 100-yard walk through the woods, across from the big pull off located to at mile post 225.4. The pull off has a beautiful a view of the Black Rapids Glacier valley and the Delta River below. Looking across the highway you will see a green lake sign and a small foot path through the trees. After crossing the cleared Alyeska Pipeline right of way you will arrive at the lake.
The lake has some unique features that set it apart from most. The first third of the lake is littered with huge boulders, narrow shoreline, shallow in depth, steep bluffs, and you don't think the lake is as big as it is since most of the lake is around the corner. After turning the corner, the middle half of the lake starts to widen the lake bottom appears to drop out, moving to the deepest section of the lake, 25ft. The last third of the lake is the widest with a sandy shallow shelf at the end.
Rapids Lake was first stocked in 1962 with rainbow trout, and recently stocked with lake trout in 2020. Although it will take a couple years before this cohort of lake trout grow to a catchable size, there are rainbow trout and older lake trout in Rapids Lake that are worth casting for. Catches of lake trout 12 - 20 inches and rainbow trout 12 - 18 inches in size are common for this lake. Rapids Lake is easily accessed in the winter and summer months. There is not a very good trail along the shore as the sides are steep for walking, but a canoe or small inflatable raft will get you back to better fishing areas in the summer. In the winter you can access the lake with a snowmachine or easily pull a sled around with all your ice fishing gear.
Fishing for lake trout is best off the slopes where there is a break in depth. Depending on the time of year you will want to target lake trout in either deeper cooler water (summer) or shallower depths just after ice out and during the winter. Fishing for rainbow trout is generally best in shallower depths near vegetation or jigging in depths of 5-15 feet. Downloading or printing a bathymetric map before you go will make it easier to know where you want to try and target the species you are going after.
Most stocked fish prefer bait and Rapids Lake rainbow trout and lakers are no exception. Try baiting your lure or hook with shrimp, cured salmon eggs, mini marshmallows or power bait and jigging through the ice. If you are fishing in the summer use bright spoons, spinners, and small rubber fish. The sportfishing regulations in Rapids Lake are liberal with 10 rainbow trout per day and in possession (only 1 over 18 inches), and two lake trout per day and in possession, no size limit. Make sure you have your current sportfishing license on you. Get out, stretch your legs and try fishing Rapids Lake.
Southeast Alaska 2021 Sport Shrimp Permit and Reporting Reminder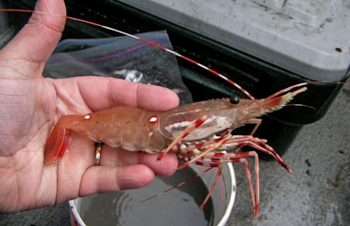 Sport shrimp anglers in Southeast Alaska are reminded to return their permits by reporting harvest as soon as they are done fishing. This is required even if the permit was not fished. The sport shrimp permit is good for the calendar year and reports are due by January 15, 2022. That said, most of the sport shrimp anglers have completed their fishing trips for the year and are encouraged to report as soon as they can. There are several ways to complete the reporting requirement for the 2021 Southeast Alaska Sport Shrimp Permit.
To finalize your permit, please do one of the following
Quickly Report Online.
Mail your 2021 permit and harvest report to Coral Bauer at: P.O. Box 110024, Douglas, AK 99811-0024.
Call Coral Bauer at 907-465-4270 to report your 2021 harvest over the phone.
Permit History and Importance
Effective June 25, 2018, the Board of Fisheries requires a shrimp permit for sport users wishing to harvest shrimp in Southeast Alaska. This permitting requirement was part of a shellfish proposal to address concerns of depressed shrimp populations throughout Southeast Alaska. Permits are free and available online at the ADF&G Store or at the Alaska Department of Fish and Game (ADF&G) offices in Douglas, Yakutat, Haines, Sitka, Petersburg, Wrangell, Ketchikan, and Craig (Prince of Wales Island).
The purpose of this permit is to estimate effort in pot days and harvest of whole shrimp biomass in the Southeast Alaska sport shrimp fishery. Permit holders have the option to report harvest in either quarts or pounds, as well as in tailed or whole weight.
The Alaska Department of Fish and Game has the responsibility to sustainably manage the shrimp resource in Southeast Alaska. The permit and reporting requirement to participate in the sport shrimp fishery allows fisheries managers to estimate the total harvest and harvest by district in the Southeast region. Through collecting this data over multiple years, trends in effort, harvest, and harvest per unit effort (HPUE) can be monitored. These results, along with commercial, subsistence, and personal use harvest estimates will be used by managers to estimate total removals of the shrimp resource and help ensure that harvest does not exceed the harvestable surplus to ensure the sustainability of the shrimp resource.
Permit holders are encouraged to use the ADF&G online harvest reporting system which allows the user to enter each day's fishing through an easy-to-use web interface. The permit holder has the option of entering this information periodically throughout the fishing season or waiting until all fishing has been completed to enter everything. The permit holder also has the option of hand-delivering the completed harvest reporting form to an ADF&G office or mailing to the address printed on the permit. The department would like to thank those permit holders who have already completed their reporting requirements and would like to encourage those that have not reported to do so as soon as they can.
For further questions regarding the Southeast Alaska Sport Shrimp Permit please call the Region 1 Division of Sport Fish Office in Douglas at (907) 465-4270.
Field to Plate - Recipe of the month
Recipe of the Month – Crispy Alaska Pollock Spicy Hanoi Noodle Bowl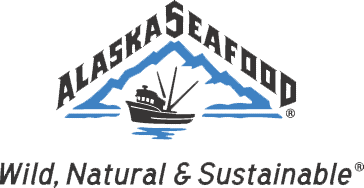 Here is another great recipe from the Alaska Seafood Marketing Institute. A Crispy Alaska Pollock Spicy Hanoi Noodle Bowl.
Enjoy!
If you have any questions about the Reel Times newsletter, please contact Ryan Ragan at ryan.ragan@alaska.gov