Reel Times Newsletter
March 2019
Issue 15
---
It may be winter, but fishing, or fish, can still bring a smile to your face!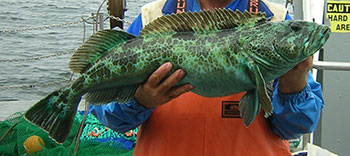 Fishing means many things to each one of us. But, it's the vivid memories of our fishing adventures that is a universal theme when we talk about fishing among our family and friends. It would be a fair bet that everyone reading this newsletter has started out several conversations by saying, "Do you remember that time we went fishing…." Remembering a day spent on the water typically brings a smile to our face just thinking about where you were, who you were with, or the fish you caught.
It's also probably fair to say that some of our first memories of fish might have been listening to our parents or teachers reading us stories that involved fish. Which leads us to remind everyone to celebrate the birthday of Dr. Seuss on March 2, 1904, who famously wrote, "One Fish, Two Fish, Red Fish, Blue Fish". In his honor, and since his writings were probably some of our first memories of fish stories, we're going to have some fun writing and showing you about some unique fish found in Alaska. And yes, some are red and blue, and even orange, yellow, and green! Check out this green ling cod!
In this edition of Reel Times our Fly of the Month video features the Thunder Creek streamer. Check it out!
To help with planning your fishing adventures we've summarized our pre-season actions around the state that ADF&G has put into place to help conserve and sustain our fishery resources.
And, over 1,500 people from Southcentral Alaska came out for a fun day on the ice this past month for a community wefishak fishing day. Check out the story and see the smiles on the faces of these hard-water anglers.
Don't forget you'll need a 2019 fishing license before heading out this year. Getting your sport fishing license is easy – check out our online store!
If you have a comment or story ideas for Reel Times, we encourage you to send them our way. You can send comments to terry.thompson@alaska.gov.
We encourage you to share your fishing story on social media using #wefishak.
Tight lines!
Division of Sport Fish
Alaska Department of Fish and Game
You Never Know What You Might Reel Up When Fishing in Alaska!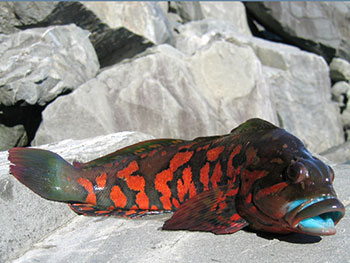 Ocean fishing can be very exciting, for even the crustiest 'ol salt. Dropping your bait into the deep blue waters along the nearly 34,000 miles of Alaska shoreline, and then feeling the tug, or at times, arm-wrenching tug at the other end of your fishing line can be jaw-dropping! There are times when the fish that appears on the surface is like nothing you've ever seen before, and you wonder, "do I really want to bring that onboard?" Dr. Seuss would have had a hay day with his story telling if he had seen some of the different kinds of fish that have been reported to ADF&G over the years.
If learning about unusual marine life in Alaska interests you, request to join a public Facebook page, Unusual Marine Life of Alaska: Report, Identify and Learn. It's a great way to learn more about what might be on the other end of your line!
Now retired ADF&G Fisheries Biologist Scott Meyer writes about "mystery fish" that have been reported over the years that have been caught in Alaska waters.
Mystery Fish
There are nearly 500 species of fish swimming around in marine waters of Alaska, including many that are rarely seen by sport, subsistence, or commercial fishermen. Some are downright uncommon or rare, some lurk in waters far offshore or deeper than most folks care to fish, and other may simply have habits that make them unlikely to get caught. On the other hand, there are a lot of fishermen out there. They are bound to catch something unusual once in a while.
Besides the uncommon resident species, some fishes are occasional visitors. The last two years seem to have generated more of these mystery fish reports than usual. The cause is undoubtedly "The Blob." I'm not referring to the creature from another planet portrayed in the 1958 movie of that name, but rather to an area of water that was up to 10°F warmer than usual and covered most of the northeastern Pacific Ocean from Mexico to the Bering Sea during 2014 and 2015. It allowed fish that usually prefer warmer water down south to take a vacation in Alaska. You can read more about this in The Alaska Fish & Wildlife News.
Fly of the Month Video: Thunder Creek Streamer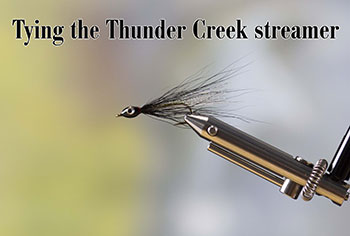 The Thunder Creek fly pattern mimics a small fish. This fly can be fished in rivers and lakes during the open-water season. The Thunder Creek fly is an effective pattern to use in early spring and through the summer months when larger, predatory fish such as rainbow trout and Dolly Varden are actively feeding on salmon fry or out-migrating salmon smolt.
The Thunder Creek is a relatively easy fly to tie and can be tied in various colors.
If you tie a Thunder Creek fly and land a nice fish on the fly you tied, take a photo and be sure to share it on social media using #wefishak.
Get out and Fish. Together.
Wefishak Community Fishing Day was a Huge Success!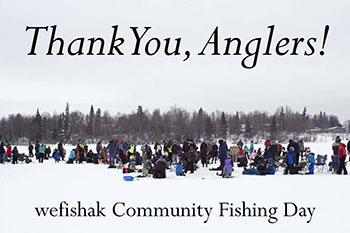 Thank you!
Thank you to all the families and individuals who made the Alaska Department of Fish and Game's wefishak Community Fishing Day ice fishing event a success last month at Jewel Lake in Anchorage. Without you, the wefishak event wouldn't have been possible. During the four-hour wefishak event, ADF&G staff interacted with over 1,500 people. This wefishak event was the perfect opportunity to help get many families and individuals in our community out fishing together on one of our local stocked waters and a great excuse to get outside during winter.
Our staff enjoyed talking and helping anglers of all skill levels. We heard from a lot of people this was their first-time fishing, let alone ice fishing. This wefishak event allowed ADF&G staff to help break that hesitation barrier and provide a hands-on learning opportunity for many families who have always wanted to try ice fishing but either didn't have the gear, knowledge, or chance to get out on the ice. While we saw multiple families with their own gear, ADF&G had over 500 jig sticks and bait available for the public to borrow during the four-hour time frame.
ADF&G staff predrilled over 400 ice fishing holes during the week leading up to the wefishak event. Which was held on the heels of the week-long Anchorage School District (ASD) Salmon in the Classroom ice fishing event where approximately 2,500 ASD students participated. That event has taken place for over 20 years. During the ice fishing event students learned about the characteristics of ice, ice safety, regulation, fishing techniques, as well as, species present in the lake. In anticipation of both events the William Jack Hernandez Sport Fish Hatchery stocked Jewel Lake with approximately 6,000 landlocked Chinook salmon catchables. It was great to see so many smiling faces, hear so many yell "fish on!" and endless laughter from the kids who hooked fish. A lot of people caught their daily bag limits during the wefishak Community Fishing Day event; however, there are still tons of catchable Chinook salmon and rainbow trout in Jewel Lake.
Bummed you missed out but wanted to give ice fishing a try? Stop by one of our participating ADF&G offices that offer a free "try-before-you-buy" rod loaner program throughout the year. During the winter, anglers can borrow ice fishing rods, manual ice augers, buckets, and scoops. While our staff isn't available to predrill holes for anglers, using a manual ice auger will help to keep those individuals on track with their new year's resolution to get fit. Drilling a couple holes through 15 plus inches of ice is an intense arm work out. For more information, please contact the Anchorage Sport Fish Information Center at (907) 267-2218.
From one angler to another, we can't wait to see you out on the local lakes and rivers.
Sincerely, ADF&G staff.
Get out and Fish. Together. And share your story online using #wefishak.
Check Out Regional Updates!
Southeast Alaska - Haines
During the summer, glacial rivers like the Chilkat are colored with the silt they transport. But in winter, the glacier melt stops, and these rivers transform into clear, green streams with gravel bottoms. In late winter, chum salmon fry emerge from the spawning gravels and begin their migration to the sea. For hungry Dolly Varden char and cutthroat trout, the fry migration is an important feeding opportunity. For anglers, the clear water and feeding fish are a great catching opportunity.
The Haines Highway runs alongside the Chilkat River for 23 miles from the high tide line up to the Chilkat River bridge, with frequent pullouts for fishing access. The Dolly Varden bag limit is 10 per day on the Chilkat River, with no size limit. The cutthroat trout bag limit is 2 fish per day, with a slot limit that allows harvest of cutthroat trout from 11 to 22 inches in length. The waters of Mosquito Lake and Chilkat Lake are an exception. To protect cutthroat trout in these "High Use" lakes, the slot limit is 14 to 22 inches in length, and bait is not allowed.
The first mile of the Chilkoot River, from the tideline to Chilkoot Lake, is easily accessed by a road. The road is not plowed in the winter, but there is usually a packed trail. The Dolly Varden bag limit is 4 fish per day in Chilkoot River and Lake, and bait is allowed.
Anglers can check local water conditions on the National Weather Service's Chilkat River water level gauge, which is located on the Haines Highway bridge over the Chilkat. A stable water level indicates the best fishing, before the glacial melt resumes in mid-May.
Southcentral Alaska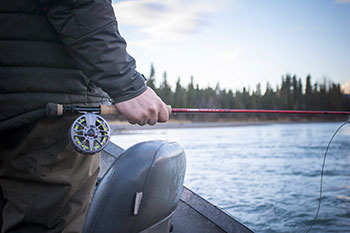 Alaskans know every fish counts towards achieving our escapement goals and providing a sustainable fishery for our future. The Alaska Department of Fish and Game (ADF&G) Division of Sport Fish (SF) has issued several preseason sport fishing emergency orders in the waters of Southcentral Alaska, either restricting or closing a fishery. Emergency orders restricting or closing a fishery are never an easy decision for SF management and ADF&G understands the impact restrictions and closures have on anglers, as we are also anglers; however, ADF&G has a duty to protect, maintain, and improve our fisheries and the burden of restrictions are being felt across all user groups in some aspect.
The Southcentral Chinook (king) salmon fishery is one just fishery that ADF&G is taking conservative preseason measures on to provide the greatest return of spawning king salmon either by closing the fishery entirely or by restricting the fishery. ADF&G is hopeful the early releases on these fisheries will allow our anglers, residents and nonresidents, and local businesses, guides and lodges, ample time to plan their fishing trips. However, anglers are remined that emergency orders can always be issued and rescinded prior to and during the season.
The following Southcentral Regulatory sport fishing restricts have been issued for the 2019 season. Please review the corresponding news release link in its entirety for additional information. For questions about the specific emergency order, please contact the applicable ADF&G office.
Southern Kenai Peninsula:
Kodiak/ Aleutian Islands:
Ayakulik River King Salmon Restricted to Catch-and-Release Only

Fishing for king salmon in the Ayakulik River drainage is restricted to catch-and-release only from June 1-July 25, 2019, and only one unbaited, single hook, artificial lure.

Karluk River Closed to King Salmon Fishing

Fishing for king salmon is closed in the Karluk River drainage including the lagoon and its outlet stream from June 1-July 25, 2019, and only one unbaited, single hook, artificial lure is allowed in the Karluk River drainage below Karluk Lake including the lagoon and its outlet stream.
Mat-Su/ West Cook Inlet:
Susitna River Drainage Closed to King Salmon Fishing

Fishing for king salmon is closed in Units 1-6 of the Susitna River drainages from May 1-July 13, 2019, and only one unbaited, single hook, artificial lure is allowed in waters normally open to king salmon fishing.
Sport fishing for other species is allowed seven days per week 6:00 a.m. to 11:00 p.m.

Little Susitna River Closed to King Salmon Fishing

Fishing for king salmon is closed in the Little Susitna River from its mouth upstream to the Parks Highway Bridge from May 1-July 13, 2019, and only one unbaited, single hook, artificial lure is allowed in waters normally open to king salmon fishing.
Sport fishing for other species is allowed seven days per week 6:00 a.m. to 11:00 p.m.
Northern Kenai Peninsula:
All fisheries will be monitored inseason and as the runs progress, run strength will be evaluated to determine future management actions.
Don't let these restrictions or closures deter you from going fishing in Southcentral Alaska! There are still plenty of opportunities for anglers to get on the water and fill their freezers. Anglers can still harvest king salmon in several Southcentral locations including the saltwaters of Homer, Seward, Valdez, Prince William Sound, and in the freshwaters of the Eklutna Tailrace, Ship Creek, Anchor River, Ninilchik River, and Kasilof River, (the last three have emergency orders associated with the rivers), just to name a few.
Contact your local ADF&G office for other fisheries and run-timing in Southcentral Alaska.
Wondering how you can keep updated to all season long about potential regulation changes? Anglers who subscribe to the Division of Sport Fish updates receive emails for fishery forums, news releases, emergency orders, and so much more. Signing up is easy! You can subscribe to specific area(s) of interest.
Interior Alaska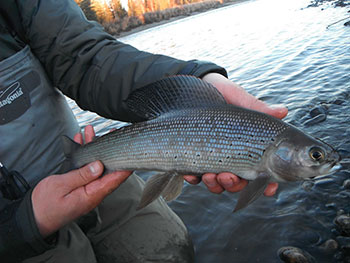 2019 Changes to Sport Fishing Regulations in the Tanana River Drainage
The Alaska Board of Fisheries has adopted several proposals that will change sport fishing regulations in the Tanana River drainage for the upcoming fishing season. These new regulations will be in the following water bodies:
Chena River: a youth-only sport fishery now allows kids under the age of 16 to harvest Arctic grayling with a bag and possession limit of one fish of any size. The youth-only area of the Chena River extends downstream from an ADF&G regulatory marker 300 feet downstream of the Chena flood control project to the confluence with the Tanana River. The youth-only fishery will occur over four consecutive weekends beginning with the third Saturday in June.
Koole and Dune lakes: the bag and possession limit for all stocked species combined is now 10 fish, of which only one may be greater than 18 inches. Previously, the bag and possession limit was five fish, of which only one could be 18 inches or longer.
Delta Clearwater River: the bag and possession limit of one Arctic grayling, 12 inches or smaller is now open year-round. Previously, the open period for harvesting Arctic grayling less than 12 inches was from June 1 to December 31.
Chisana River drainage: the bag and possession limit for northern pike in all flowing waters and lakes is five fish, of which only one may be 30 inches or greater. This was increased from a bag and possession limit of two fish.
George and Volkmar lakes: the open season for northern pike is now year-round. Previously, the season was open from June 1 to April 20.
Little Harding Lake: is now open to sport fishing for northern pike year-round with a bag and possession limit of five fish, of which only one may be longer than 30 inches. Previously, Little Harding Lake was closed to fishing for northern pike.
Toklat River drainage: is now open to sport fishing for all salmon and nonsalmon fish species year-round, except for within a three-mile section of the mainstem Toklat River that will be closed to all fishing from August 15 to May 15. The three-mile section extends from approximately one mile upstream to approximately two miles downstream of the Kobi-McGrath trail crossing. Precise waypoints of the boundaries will be provided in the new regulation summary booklet. Previously, the entire Toklat River was closed to all sport fishing from August 15 to May 15.
These regulations will take effect with the release of the 2019 Northern Alaska Sport Fishing Regulations Summary.
Reel Times Tip of the Month: Where Do We Stock Fish?
Each year ADF&G stocks hundreds of thousands of fish for the sport angler to pursue. It's easy to find out where, when, and the species of fish stocked by visiting our fish stocking webpage.
Field to Plate - Recipe of the Month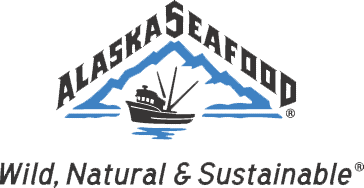 As the bottom of our freezers start to appear after eating through our supply of wild, sustainable salmon caught the year before, it's always good to revisit some salmon grilling tips from our friends at the Alaska Seafood Marketing Institute.
Alaska Sockeye Salmon Grilling Tips
If you have any questions about the Reel Times newsletter, please contact Terry Thompson at terry.thompson@alaska.gov