Reel Times Newsletter
January 2021
Issue 37
---
Get Those Fish On Ice – Ice Fishing Season is in Full Swing
Greetings, Alaskan anglers, and welcome to 2021!
Who's ready to get out and enjoy some time on the water?
My first fishing trip of 2021 took place on New Year's Day at a lake in the Mat-Su Valley. I met some friends and co-workers early in the morning at the lake, which is known to have northern pike. We grabbed our gear and made tracks to a spot I found success at on previous trips. As we walked atop the frozen lake, each of us pulling a sled full of ice fishing gear, it occurred to me that I couldn't remember the last time I actually went fishing on New Year's Day.
We drilled holes in the same general area I'd fished the week before with my family. We caught a lot of fish there during that trip and hoped to find more. We got gear ready and set our tip-ups out on the ice. It was good to be outside in the early morning, the cold wind biting a bit on my exposed skin. After our gear was out, we talked collectively about how exciting it is to watch and wait for a flag to go up.
It didn't take long until we had our first flag. The race was on when we saw the flag go up and a couple friends ran to tend to the line. I watched from a short distance as a nice northern pike came up through the ice hole. First fish of 2021.
We repeated this process many times that day. While we didn't hook every fish that took the bait, we did manage to amass a small pile of these worthy predators.
I'd say 2021 is off to a great start!
If you haven't purchased your sport fishing license for 2021, you can do so anytime on our website. You'll probably notice a reduction in cost of the sport fishing licenses. We cover the reason for the reduction in this issue.
We want to encourage you to get out and go fishing. Ice fishing is in full swing across much of the state. Fishing together creates memories that last a lifetime.
You'll find us on Instagram @wefishak and on Facebook at ADF&G - wefishak. And be sure to check out our YouTube channel where we have a growing collection of fishing-related videos.
Happy New Year, everyone.
Get Out and Fish. Together.
Ryan Ragan
Division of Sport Fish
Alaska Department of Fish and Game
Why do sport fishing licenses cost less now?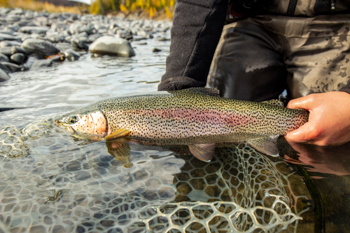 In 2005 a surcharge on the sale of sport fishing licenses was authorized by the state legislature to provide revenue for the bond debt that was created for the construction of the William Jack Hernandez and Ruth Burnett Sport Fish Hatcheries, and to enhance sport fisheries in Southeast Alaska.
In 2020, and five years earlier than expected, the hatchery bond debt was paid in full and the surcharge authorized by the legislature sunset on 12/31/20.
There was a significant decrease in the number of sport fishing licenses sold in 2020 due to the pandemic. When we compare 2019 license sales to 2020, we saw a decrease of approximately 200,000 licenses sold. This equates to a revenue loss of close to $9 million.
Money from the sale of sport fishing licenses goes toward funding sport fisheries research, management and enhancement efforts. By purchasing a sport fishing license, you help conserve Alaska's sport fisheries and you help ensure the future health and sustainability of these valuable resources.
You can review a list of 2021 license fees, then go online and purchase your license today from our online store.
Your license dollars at work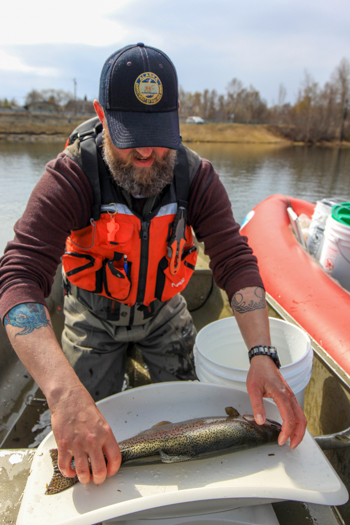 The Division of Sport Fish is funded in part through the sale of sport fishing licenses and king salmon stamps. This means when you purchase a sport fishing license or king salmon stamp, the money from that sale goes directly to fund staff working within the Division to protect and improve sport fisheries resources in Alaska.
Sport fish biologists, researchers, and technicians are in the field year-round, monitoring and managing a wide range of fish species, from Alaska's Southeast Panhandle to the high Arctic to fulfill the mission of the Division of Sport Fish -- to protect and improve the state's sport fisheries resources.
We use the funds from our license sales to provide the required match for federal funding we receive through the Sport Fish Restoration Act, enabling each license dollar to go further.
The Division of Sport Fish was established in 1951, coinciding with the passage of the Sport Fish Restoration (Dingell-Johnson) Act. The Sport Fish Restoration Act provides Federal aid to all state and territory fish and wildlife agencies for management and restoration of fish species having a material value for sport fishing and recreation. Eligible projects include restoration, conservation, management, and enhancement of sport fish, boating access, and projects enhancing the public's understanding of water resources and aquatic life.
Sport Fish Restoration funds originate from excise taxes on sport fishing tackle, fish finders and electric trolling motors, import duties on fishing tackle, yachts and pleasure craft, interest on the account, and a portion of motorboat fuel tax revenues and small engine fuel taxes attributed to motor boats (added in 1984 under the Wallop-Breaux amendment). To be eligible to receive Federal Aid through the Sport Fish Restoration program, states are required to pass laws which prohibit the use of license fees for any other purpose than the administration of the state fish department, called assent legislation (Alaska's Assent legislation is found at AS 16.05.130).
In the state of Alaska these Sport Fish Restoration funds primarily matched with license dollars, fund most of our management of sport fisheries, research to aid in our management, education and outreach, as well as boating access projects across the state.
When you purchase a sport fishing license, king salmon stamp, fishing equipment, boats or boating equipment, or any other product used to go fishing, your money goes right back into resource conservation. You help keep Alaska's sport fisheries healthy. And that's something all anglers can feel good about.
Our website provides more information on sport fishing licenses and other licenses offered by the Alaska Department of Fish and Game.
Inspired Young Angler – Maverick Kirsch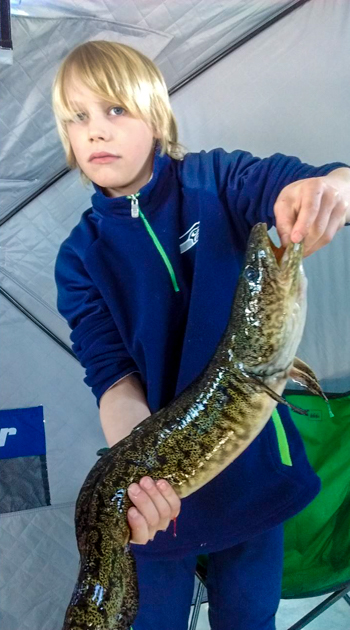 Meet Maverick Kirsch, age 12. Maverick is seriously into fishing. And he's achieved some great catches during his short time as an angler. The adjacent image shows Maverick holding a trophy burbot he caught while ice fishing with his family. Maverick was awarded a Trophy Fish certificate for the catch. We asked Maverick to share some of the reasons why he loves fishing and to share his most memorable fishing experience.
Who was the first person to take you fishing and what was the first species of fish you ever caught?
I have been fishing since I was 3. The first person who ever took me fishing was my dad. He took me ice fishing on Sand Lake. On that trip we caught two rainbow trout and 1 Arctic char. The first fish I landed on that trip was a 16 inch Arctic char.
What is your most memorable fishing experience?
My most memorable fishing trip was when I went halibut fishing off the beach near Kenai with my brother Brooks, Dad, and Grandpa. On that trip my brother and I were the only ones to catch anything. Brooks caught a 15 pound halibut and about an hour or so before we left I caught a 50 pound big skate. Although we were trying to catch halibut, the skate was unexpected and something I won't forget.
What do you like most about fishing?
From fishing for Arctic char and burbot on Big Lake to steelhead and king salmon on the Kasilof River, fishing is one of my family's favorite activities. There is something rewarding about catching a fish and the satisfaction that comes with catching that fish is my favorite part about fishing.
Do you know a young angler who loves to fish? We're looking to highlight a few young Alaskan anglers (15 years of age or younger) who love getting out and going fishing. We would like to feature them in coming editions of Reel Times as "Inspired Young Anglers."
If you would like to suggest a young angler for possible feature in future editions of this newsletter, please contact ryan.ragan@alaska.gov.
And be sure to share your fishing stories and photos on social media using #wefishak.
Ice Fishing at Quartz Lake
January - the month synonymous with New Year's resolutions, so why not try a new ice fishing location!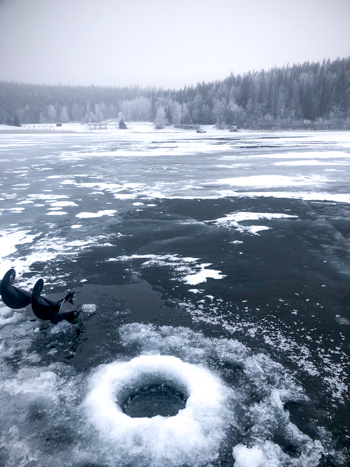 Quartz Lake is a popular stocked lake, nestled just outside Delta Junction. The drive from Fairbanks to Quartz Lake delivers stunning views of the Alaska Range as you traverse the Richardson highway. At milepost 277.8 of the Richardson Highway, travel 3 short miles down the winding road to the lake at Quartz Lake State Recreation Area.
Quartz Lake State Recreation Area has plowed access in the winter, outhouses, 4 ice houses (with wood stoves) and a public use cabin available for rent. Amenities like these are rare in the winter.
Annually, Quartz Lake receives multiple stockings of rainbow trout, landlocked salmon (king and coho), and Arctic char and is one of the Interior's most productive stocked lakes for decent-sized rainbow trout. To find out specific details about how many fish of each species have been stocked into Quartz Lake, consult the Alaska Lake Database.
Try fishing in shallower depths for rainbow trout by jigging shrimp or power bait just off the bottom using a single or treble hook lure. Target Arctic char and landlocked salmon (king and coho), in depths greater than 10ft, using cured salmon roe or shrimp on small brightly colored spoons. A current bathymetric (depth contours) map of Quartz can be handy in locating places to fish under the ice.
Getting outside in the winter is excellent for your health and mental well-being, especially in the cold dark winters of Alaska. And what better way to do that than to grab a friend, some ice fishing gear, and your 2021 Sport fishing license and head out to Quartz Lake for a day of ice fishing.
Go Online to Purchase Your 2021 Sport Fishing License and King Salmon Stamp
Online license purchasing is quick and easy.
Residents of Alaska who are 18 years of age or older, and non-residents who are 16 years of age or older need a valid sport fishing license to fish in fresh or saltwater of Alaska. Anyone targeting king salmon, with the exception of king salmon stocked in lakes, will need a king salmon stamp in addition to their sport fishing license.
An annual resident sport fishing license is $20.
An annual resident king salmon stamp is $10.
Non-resident sport fishing licenses:
1-day: $15
3-day: $30
7-day $45
14-day: $75
Annual: $100
Non-resident annual king salmon stamps:
1-day: $15
3-day: $30
7-day: $45
14-day: $75
Annual: $100
A non-resident military sport fishing license is available to active duty members of military service and their dependent(s) who have been permanently stationed in Alaska for less than 12 months for the price of $20. A non-resident military annual king stamp is available for $30. The same stipulations as mentioned before apply.
Find out more on residency requirements, and purchase a sport fishing license or king stamp in the online store.
Get out and fish. Together.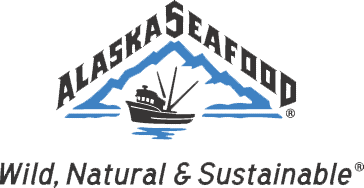 Field to Plate – Recipe of the Month
Puttanesca with Canned Wild Alaska Salmon
Here's another great recipe from our friends at the Alaska Seafood Marketing Institute that uses canned salmon. Enjoy!
If you have any questions about the Reel Times newsletter, please contact Ryan Ragan at ryan.ragan@alaska.gov