January 2023
Issue 61

---
Have Your 2023 Sport Fishing License Yet?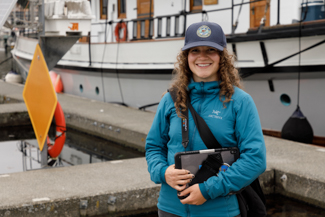 Are you ready to get out and fish in 2023?
If you haven't purchased your 2023 sport fishing license and king salmon stamp already, get ahead in the new year and make your purchase today. You will find what you need in our online store.
If you have any questions about fishing and hunting licenses in Alaska, please visit our General License Information page.
Additionally, when you purchase a purchase a sport fishing license or a king salmon stamp, the money you spend helps fund resource conservation in Alaska.
2023 is here. We hope this will be a great year for all anglers who fish in Alaska. If you're setting personal goals, let us suggest you set a goal to fish at least one new place in the state that you've never fished before. If you need help locating places or seek information on anything related to sport fishing, please don't hesitate to contact one of our offices across the state. You'll find contact information here.
Be sure to follow us on social media. You'll find us on Instagram @wefishak, on Facebook ADF&G - wefishak, and on YouTube.
Get out and fish. Together.
The Alaska Department of Fish and Game - Division of Sport Fish
Winter Fishing in Southeast Alaska
By John Driscoll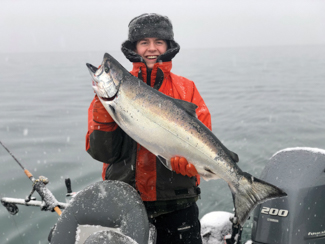 Winter is not known to be prime fishing season in Southeast Alaska but there are several opportunities to enjoy when the days are short and the nights are long. The colder months are a great time of year to hit the saltwater trolling for king salmon and soak in the quiet solitude of an Alaska winter. When looking for king salmon, you will find the most success trolling in nearshore waters around 50 feet deep using flashers, spoons, hoochies, or herring dropped about halfway down the water column. Check out the ADF&G YouTube channel for more detailed information about winter king salmon fishing techniques and strategies. Alaskan residents are reminded they may use two rods when fishing for king salmon in Southeast Alaska and Yakutat, from now till March 31, 2023, and may only retain salmon.
Pelagic rockfish are another popular saltwater species to target during the winter months. In Southeast, the most frequently harvested pelagic rockfish species are Black, Dusky, and Yellowtail. Pelagic rockfish like to swim together in large schools in rocky terrain near kelp beds and other underwater structures. Pelagic rockfish prefer to swim at depths around 150 feet where strong ocean currents are present. Use darts and jigs when mooching for pelagic rockfish, and keep a deepwater release device on board in case you catch a rockfish you do not wish to harvest.
If you do not feel like going out on the open water, freshwater drainages throughout the region provide the chance to harvest trout and Dolly Varden. All over Southeast, ponds and lakes serve as prime overwintering habitat for these species. Best of all, these fish are usually hungry during the winter when food is scarce and would love nothing more than to bite down on an enticing lure. Depending on the temperatures, lakes at lower elevations are usually ice-free and are easily accessible by foot or vehicle along the local road-systems.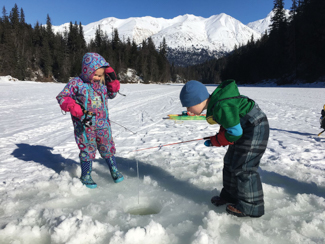 On colder days, when the conditions are right and the temperatures stay low enough, seize the day and do some ice-fishing like our more northerly neighbors. Remember to always check your local weather and the ice thickness before heading out. When looking for the best locations to do some ice fishing, deeper bodies of water that allow fish to swim and feed freely below the surface of the ice are best. The GoFishAK interactive map and Alaska Lake Database are fantastic resources for finding the right location for your ice-fishing adventure! Once you have found the ice-fishing spot that is right for you, use an auger to create a hole in the ice and deploy a light fishing rod and light tackle to lure fish. The ADF&G YouTube channel has some excellent how-to videos to teach you the basics of ice fishing: Ice Fishing 101, Ice Fishing Gear, Tips and Tactics, and How To Tie An Ice Fishing Jig.
Before going out, make sure to review the Southeast Alaska Sport Fishing Regulations and Emergency Orders, and purchase your 2023 Sport Fishing License on our online store. If you have any questions or concerns, please contact your local ADF&G Office. We are here to help you have the best winter fishing experience possible!
Ice fishing for burbot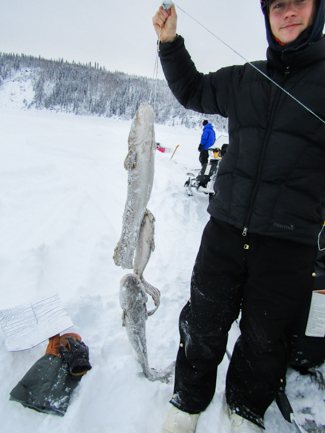 Burbot are a sought-after fish, especially during the winter months. While burbot can be caught on artificial jigs, many anglers target burbot through the ice using set lines.
Using set lines can be a very effective way to target burbot through the ice. We have a great video on our YouTube channel detailing how to construct and deploy set lines through the ice.
After you have successfully caught a burbot or two, you will want to prepare them for eating. The "How to Clean Burbot" video shows the technique for cleaning and filleting your catch.
During the winter months, we often see an increase in the number of trophy burbot submission to our Trophy Fish Program. If you're interested in learning what qualifies as a trophy burbot, please visit our Trophy Fish Program webpage.
Good Luck!
Your License Dollars at Work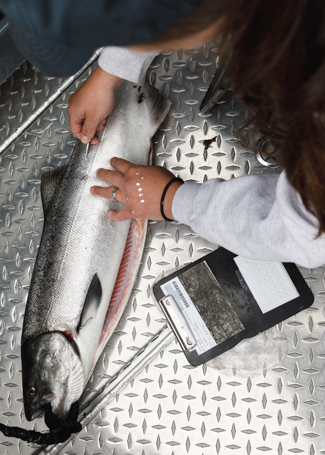 The Division of Sport Fish is funded in part through the sale of sport fishing licenses and king salmon stamps. This means when you purchase a sport fishing license or king salmon stamp, the money from that sale goes directly to fund staff working within the Division to protect and improve sport fisheries resources in Alaska.
Sport fish biologists, researchers, and technicians are in the field year-round, monitoring and managing a wide range of fish species, from Alaska's Southeast Panhandle to the high Arctic to fulfill the mission of the Division of Sport Fish -- to protect and improve the state's sport fisheries resources.
We use the funds from our license sales to provide the required match for federal funding we receive through the Sport Fish Restoration Act, enabling each license dollar to go further.
The Division of Sport Fish was established in 1951, coinciding with the passage of the Sport Fish Restoration (Dingell-Johnson) Act. The Sport Fish Restoration Act provides Federal aid to all state and territory fish and wildlife agencies for management and restoration of fish species having a material value for sport fishing and recreation. Eligible projects include restoration, conservation, management, and enhancement of sport fish, boating access, and projects enhancing the public's understanding of water resources and aquatic life.
Sport Fish Restoration funds originate from excise taxes on sport fishing tackle, fish finders and electric trolling motors, import duties on fishing tackle, yachts and pleasure craft, interest on the account, and a portion of motorboat fuel tax revenues and small engine fuel taxes attributed to motorboats (added in 1984 under the Wallop-Breaux amendment). To be eligible to receive Federal Aid through the Sport Fish Restoration program, states are required to pass laws which prohibit the use of license fees for any other purpose than the administration of the state fish department, called assent legislation (Alaska's Assent legislation is found at AS 16.05.130).
In the state of Alaska these Sport Fish Restoration funds primarily matched with license dollars, fund most of our management of sport fisheries, research to aid in our management, education, and outreach, as well as boating access projects across the state.
When you purchase a sport fishing license, king salmon stamp, fishing equipment, boats or boating equipment, or any other product used to go fishing, your money goes right back into resource conservation. You help keep Alaska's sport fisheries healthy. And that's something all anglers can feel good about.
For more information on sport fishing licenses and other licenses offered by the Alaska Department of Fish and Game, please visit our Licenses and Permits page.
There is Still Time to Comment on the Statewide Stocking Plan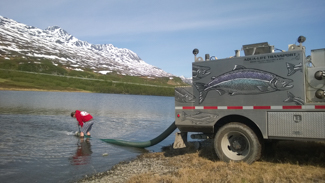 The comment period for the Statewide Stocking Plan is open until January 31, 2023.
The Division, with assistance from private nonprofit hatchery operators, plans to release approximately seven million fish annually into the waters of Alaska over the next five years to benefit anglers. The plan outlines the locations, numbers, and size or life stage for each species of fish that are planned for stocking.
"Public input is important to the Division as we finalize the Statewide Stocking Plan for 2023," Statewide Stocking Coordinator Summer Woods, said. "The Division commits a significant portion of the annual budget toward stocking fish throughout the state. Hearing from anglers is a critical piece of the fisheries management process and we welcome your comments on the plan."
Only fish reared from the Division's hatchery facilities and from private nonprofit hatcheries that work in cooperation with ADF&G to improve sport fisheries are included in this plan.
Only fish reared from the Division's hatchery facilities and from private nonprofit hatcheries that work in cooperation with ADF&G to improve sport fisheries are included in this plan.
Please submit public comments to Summer Woods by email or by mail:
William Jack Hernandez Sport Fish Hatchery
c/o Summer Woods-Tunney
941 North Reeve Boulevard
Anchorage, Alaska, 99501
Field to Plate - Recipe of the Month
Recipe of the Month – Grilled Alaska Pink Salmon Fillet with Cherry-Jalapeno-Cilantro Salsa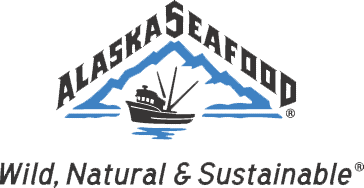 Here's a delicious recipe for Grilled Alaska Pink Salmon Fillet with Cherry-Jalapeno-Cilantro Salsa from the Alaska Seafood Marketing Institute.
Enjoy!
If you have any questions about the Reel Times newsletter, please contact Ryan Ragan at ryan.ragan@alaska.gov