Reel Times Newsletter
November 2019
Issue 23
---
As one fishing season ends, a new one begins
For many anglers across Alaska, November marks the beginning of a winter-long fishing season defined by colder temperatures, a thermos of hot coffee or hot chocolate, a couple fishing rods, maybe a few tip-ups, bait, jigs, friends, family … and ice. Lots of ice.
Welcome to the season of ice fishing.
Ice fishing is a great way to spend time on the hard water with friends and family. If you've never gone ice fishing, there are a few things you'll want to keep in mind. First, preparedness is key to a successfully day on the hard water. Ice fishing gear is a bit different than what you'd use for open-water fishing. You'll want to be sure you have the correct gear before heading out. Personal safety and comfort should also be on the top of your check list before drilling holes in the ice.
In this issue of Reel Times we'll touch on a few basics to consider when preparing for an ice fishing adventure. There are seemingly endless places to go ice fishing in Alaska where you can target everything from rainbow trout and Arctic char to burbot and northern pike.
We take a different spin on the "Fly of the Month" video and show fly tiers how to make a pair of earrings with fly tying material.
Our regional reports include information on targeting burbot in the Tanana River; winter fishing opportunities in Southeast, and where to find coho salmon in stocked lakes in Anchorage.
It's not too early to buy your 2020 fishing license. A fishing license makes a great gift for the holidays. Buy one for yourself, of give the gift of fishing to someone you know. Licenses can be purchased online.
We encourage you to share your fishing story on social media using #wefishak.
Tight lines!
Division of Sport Fish
Alaska Department of Fish and Game
Preparing for a day on the hard water
General precautions about ice formation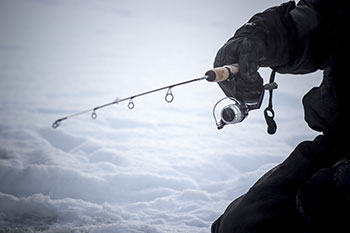 During freeze-up, ice is thickest near the shore. During breakup, it's just the opposite, the ice is thickest in the center of the lake. Streams or creeks flowing into the water can cause "overflow" layers of slush, water, and ice. Overflows are sometimes disguised by snow, and may suddenly give way. Underwater springs may also cause a section of the ice to be thinner than surrounding areas. Because the spring thins the ice from underneath, this type of thin ice is sometimes undetectable.
On larger lakes, freeze and thaw cycles and wind often causes variability in ice thickness. Ice is strongest where it's clear, and weakest where it's cloudy or full of large bubbles. On smaller or midsize lakes, ice is usually uniformly thick.
Many stores now carry hand-held ice spikes, like large nails, on a line that can be threaded through a jacket. For self-rescue, the spikes provide additional purchase on a slippery edge.
Clothing
When headed out for a day on the ice, common sense goes a long way. Wear warm clothing, a pair of warm gloves, a winter hat and a good pair of waterproof winter boots and pants. Keep in mind you can always remove layers if you get too warm.
Ice fishing equipment
Auger: Ice augers come in a variety of power modes, such as gas, propane, electric and manual. A 6, 8 or 10 inch blade is sufficient. Be sure to protect yourself from the blades as they are extremely sharp.
Scoop: An ice scoop is designed to remove ice particles from a freshly drilled ice hole.
Rod and reel: There are rod and reel set ups specifically manufactured for ice fishing. Check your local sporting goods store as there are a variety of options.
Tackle: Ice fishing jigs and tackle come in various options. Typically, a weighted jig head used in conjunction with a rubber body will work for most ice fishing applications.
Bait: Be sure to check sport fishing regulations on the waterbody you plan to fish before heading out to determine if bait is allowed. If regulations allow for the use of bait, common bait includes cocktail shrimp and cured roe.
Bucket: A 5-gallon bucket will help you carry necessary gear. It can also act as a seat.
Sled: A sled can help you pull your gear to your fishing spot.
Check Out Regional Updates!
Southeast Alaska – Fishing the open water in Southeast
As frost starts to form and the sunrise takes longer to show its bright face from over the mountain tops, one might wonder what fall has in store. For those who are still sulking because the summer fishing season has come to end, sulk no longer, fall fishing opportunities are to be had! Montana Creek offers great Dolly Varden fishing, something that could really spice up your Thanksgiving festivities. With a bag limit of 2 and no size limit, a couple Dolly's could complete your holiday feast.
The cool, crisp days of fall should not deter you from getting out and exploring. Grab your fishing gear, thermos and hike back into Dredge Lakes where you will find Rainbow and Cutthroat Trout just waiting to bite on the hook. Moraine, Crystal, and Glacier Lakes offer ampler opportunity for a good fight with either species of trout. Remember only unbaited, artificial lures or flies may be used year-round and the bag limit (in combination) is 2 per day, 2 in possession, 14 inches minimum and 22 inches maximum. Fall is a foraging season, with so many opportunities waiting out there for you!
Southcentral Alaska – Stocking catchable coho in Anchorage lakes

Guess what?! Lakes in Alaska's largest city are being stocked with catchable size coho salmon. Coho or "silver" salmon are common throughout Alaska and they will soon be available in Anchorage area lakes. The term "catchable" refers to fish that range in size from roughly 6 to 10+ inches in length. Stocking lakes in Anchorage with catchable size salmon isn't a new thing. The Alaska Department of Fish and Game, Division of Sport Fish staff have stocked local lakes with catchable Chinook salmon since the late 80's. However, due to a low number of Chinook salmon eggs collected during the 2018 egg takes, Sport Fish staff decided to revisit other species that had been stocked in local lakes in the past.
It's also been since the 80's since catchable coho salmon have been stocked in local lakes. Chinook salmon are a preferred stocked fish, over coho salmon, since they have a longer growing period. Like their Chinook relative, coho are aggressive feeders and will strike small jigs, bait and other offerings common to an angler's tackle box during the winter months when ice covers the lakes. Coho salmon are a hearty species and should do just fine in local lakes.
The William Jack Hernandez Sport Fish hatchery recently stocked catchable sized coho salmon in Jewel and Taku-Campbell lakes with more local lakes to be stocked. Regulations for retention of salmon species in Anchorage stocked lakes have not changed. Anglers are allowed to retain up to 5 salmon from stocked lakes per day (this includes coho or Chinook salmon), and may have 5 in possession (in combination). Anglers should look forward to a little variety in the catches in local lakes.
For more information, review the Anchorage Bowl section in the 2019 Sport Fish regulation summary.
Good luck ice fishing this year!
Interior Alaska – Tanana Burbot Ice Fishing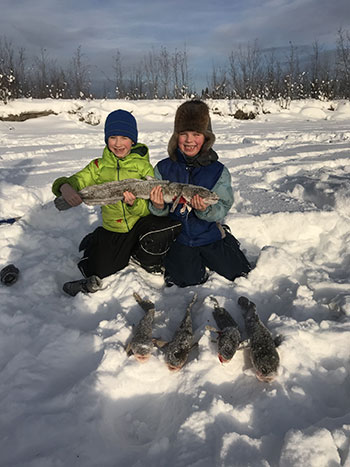 One of the more popular winter activities around the Fairbanks area is ice-fishing for burbot on the Tanana River. The Tanana River is a large glacially-fed river that flows from the Wrangell-St Elias Range to its confluence with the Yukon River near the village of Tanana. This river is road accessible at numerous locations between Tok, Fairbanks, and Nenana along the Alaska, Richardson and Parks highways. In the winter months the Tanana River turns into a winter highway for snowmachines, dog mushers, skiers and other winter enthusiasts.
Burbot are the only freshwater cod in North America, and they are known for their mild white flesh which is often referred to as "poor man's lobster". Although targeted by anglers all year, burbot are most active during winter months prior to spawning in mid-February to mid-March. This peak activity in winter makes them a favorable target for winter anglers using baited set-lines or hook and line gear. Before heading out to catch burbot in the winter there are a few important things to keep in mind. Be cautious of your environment, set yourself up for success, and educate yourself with the current regulations.
The Tanana River is a dynamic waterbody and exhibits inconsistent freezing patterns, especially in recent years. When traveling on river ice, beware of caving shelf ice, areas of overflow and remain on established, well-packed trails. Try to travel with someone or at the very least let someone know where you're going and when you'll be back. Head out on the ice prepared, which includes dressing appropriately and making sure all your fishing equipment is in good working order. It would be unfortunate to find yourself at your fishing spot and realize you'd forgotten something like an essential part for your ice auger. Some items to pack include: auger (8-10"), spud bar, line for both your main line and your leaders (tuna leader line, parachute cord, braided nylon line, cotton line), stick of some kind to support set-line, weights, single hooks (must be greater than ¾" from point to shank), bait, and processing equipment. Drilling through ice and hitting gravel is sometimes unavoidable, so bring spare blades. With all that covered it's time to head out to the river.
When looking for a fishing spot there are certain places to target and certain places to avoid. The best places to fish are in 1-3' of water along gravel bars and/or bends in the river, at the downstream end of islands, the mouth of sloughs or tributaries, and at the upper or lower ends of bluffs. Places to avoid are in the main channel and along cut banks where the current is likely to be swift, and ice may be thinner. Burbot are not very picky when it comes to bait but prefer lamprey or whitefish. In a pinch herring from any sporting goods store works great. Burbot feed at night and bait in flowing water quickly loses its ability to attract fish so try and set your lines later in the day to avoid your bait from becoming ineffective before dark. Once you've caught your first burbot, dispatch the fish with a quick blow to the top of the head, bleed it out by making a knife cut behind the gills, and store it for travel to clean and fillet at home. Our website also has some burbot recipes.
Set-lining for burbot in the Tanana River is covered under sport fishing regulations and the bag and possession limit is 15 burbot/day. The total number of hooks you may use is 15, which matches the limit. Some anglers use multiple hooks on the same set-line, however be aware that the more hooks used the more likely the chance of becoming tangled in debris or because multiple fish have been caught and are now tangled; 2 hooks on the same line are a safe maximum. Additionally, spreading out your effort among holes increases your chances at having a good catch the next day. As mentioned above, all single hooks must be greater than ¾" from point to shank, and in order to eliminate any chance of catching a different species, each hook must be set to rest on the bottom of the river. Every set must be labeled with your name and address and finally all sets must be checked at least once in each 24-hour period.
For more information about burbot fishing or burbot in general please check out our video on How to Set Line for Burbot. Also, feel free to come into the Fairbanks office and talk with our biologists. We are currently working on a Tanana River Burbot Radiotelemetry Project aimed at identifying seasonal habitat use and migratory patterns of burbot in the Tanana River.
NPFMC will review halibut harvest on unguided halibut rental vessels
The North Pacific Fishery Management Council (NPFMC) will be reviewing an analysis on unguided halibut rental vessels at its December Council Meeting. This document analyzes proposed management measures that would apply exclusively to unguided halibut rental vessels and the anglers that harvest halibut on these vessels. The measures under consideration include: a registration requirement for all unguided rental vessels used for harvesting halibut; and aligning the bag and size limits for halibut harvested by anglers on unguided rental vessel with those of anglers on charter vessels. The measures would apply in the Gulf of Alaska (GOA) in IPHC Regulatory Areas 2C and 3A or only Area 2C, dependent upon the Council's preferred alternative. Over the next few weeks, the analysis will be posted for review on the Council's website and will be presented at the Council meeting. The Council process welcomes stakeholder input, either in person or through the online written public comment portal which will open when the agenda item is posted. The window for public comment submitted through the online portal closes November 29th at noon.
Reel Times Tip of the Month
Tip of the month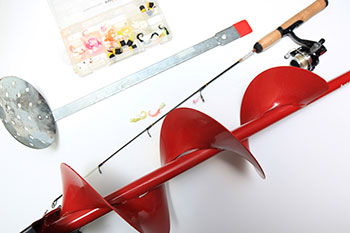 New to ice fishing? Need gear?
Many Department of Fish and Game offices have limited basic fishing equipment to loan anglers, free of charge! If you're still trying to decide if you want to take the leap and buy your own fishing equipment, or have visiting family coming to town, we can help "set the hook" to becoming a lifetime angler by providing short-term loans of our fishing equipment. Depending on the time of year, anglers of any age can borrow spinning rods or ice fishing equipment for up to seven days. Stop by our offices in Fairbanks, Delta Junction, Palmer, Anchorage, or Homer. We'll get you set-up for a fun day on the water or ice. For more information, please visit our wefishak rod loaner web page.
"Fly" of the Month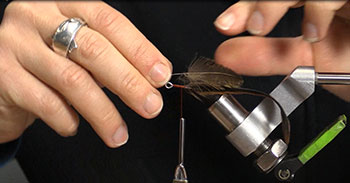 Ever make a pair of earrings out of fly tying material? Check out our latest "Fly of the Month" video to learn how.
https://www.youtube.com/watch?v=9ylGDqZlGNY
Field to Plate – Recipe of the Month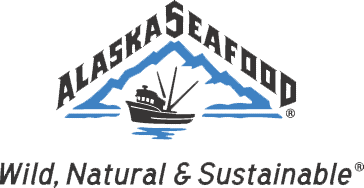 Winter is a perfect time to enjoy a warm bowl of soup indoors. The "Recipe of the Month" is brought to you by our friends at the Alaska Seafood Marketing Institute. Enjoy!
https://www.wildalaskaseafood.com/recipesdb/?recipeId=NTQ0
If you have any questions about the Reel Times newsletter, please contact Ryan Ragan at ryan.ragan@alaska.gov