Reel Times Newsletter
April 2021
Issue 40
---
Preseason Preparations - How to get ready for open water fishing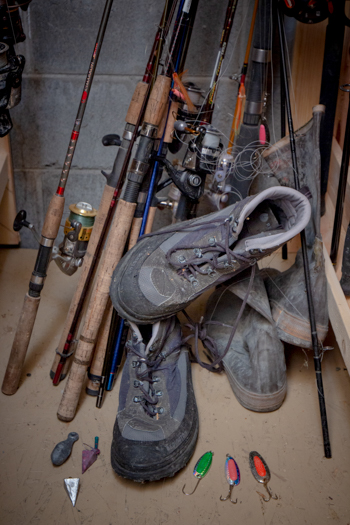 I thought for a brief moment that opening this introduction with a trite, rhetorical question like, "Who's ready for spring?" might draw attention to the fact that while there is still snow on the ground and ice on lakes and rivers in much of the state, spring is in fact, almost here.
A more appropriate question is, "Is your fishing gear ready for spring?"
We'll cover a few tips in this issue of Reel Times to help you get your open water fishing gear ready for the coming season. We'll also present some resources to help you bring some fish into your net this year.
Our "Inspired Young Angler" section features a young man who is out there on the water landing some very respectable fish and having a great time doing it.
Are you planning on going fishing soon? Don't forget to buy your 2021 sport fishing license online. While you're on the water, take a few pictures and share them on social media using #wefishak.
You'll find us on Instagram @wefishak and Facebook ADF&G - wefishak. And be sure to check out our YouTube channel where we have a growing collection of fishing-related videos.
Get Out and Fish. Together.
Ryan Ragan
Division of Sport Fish
Alaska Department of Fish and Game
Getting your fishing gear ready for open water
Change old fishing line
When and how often to change your fishing line can depend largely on the type of line you're using and how often you fish. If you fish multiple times per year, then you might want to swap fishing line out at least one, if not two times per year. However, if you only fish a couple times per year, you may be able to get away with only changing your fishing line every other year. But keep in mind, some lower quality fishing lines will degrade quite rapidly – even in storage.
There are key differences in the three types of fishing line most commonly used by anglers – monofilament, fluorocarbon and braided line. Whatever type of line you use, it's recommended that you thoroughly inspect the line prior to each fishing trip to ensure the line is up to the fight.
You can learn a lot about the condition of your fishing line just by looking at it on the reel. If you're using mono, flouro or braided line and the line on the spool appears off color, soiled, frayed or generally just not in good condition, it's likely time to change it out.
Always check the first five or six feet of your line for any obvious abrasions. You can do this by pinching the line between the thumb and forefinger of one hand and pulling the line gently with the other hand. If the line feels frayed or if you feel any abrasions, it could be time to remove the section of your line, or time to replace the entire spool.
Prepare reels and spools
Your reel is one of the most important pieces of fishing equipment. A clean and well-maintained reel can mean the difference of you landing your trophy catch or losing it. If you don't properly maintain your reel, over time debris or rust can inhibit proper function of the reel.
Now is the time to make sure your reels are cleaned and ready for some open water fishing.
Cleaning a fishing reel is quite easy. Check out our video called, "How to Clean a Spinning Reel" for a quick tutorial on how to make sure your reel is ready for action.
Organize your tackle box
Tackle boxes or bags can become rather disorganized the more they are used. Here are some things you can do now that will help you keep your gear organized this season.
Open your tackle box or bag and check your hooks, lures and plugs. Replace damaged or bent hooks and any rusty components on lures.
Clip off knot tags on lures or swivels.
When you go through your tackle supplies, make sure everything is organized in a way to make it easy for you to find what you're looking for on the water. This will depend on the type of fishing you plan to do.
Use a label maker to label trays or boxes. This makes it easy for you to quickly identify the type of gear in each compartment. This also helps you organize things in storage.
Keep track of what you're missing and purchase any needed fishing items now. This will help avoid having to make any last-minute purchases, which might delay you getting to the water.
Prepare other fishing gear
Did your waders or hip boots have a leak at the end of last season? The leak probably didn't repair itself over the winter. Grab a repair kit and fix the leak now before using them again.
Clean and lubricate scissors, pliers or other tools used.
Sharpen knives.
If you own a boat, be sure to complete the regular maintenance and have necessary servicing done now. Inspect trailer and tires. Restock and organize safety, boating and fishing supplies.
Be sure to renew your boat registration and be sure to purchase your 2021 sport fishing license before heading out to the water.
Inspired Young Angler - Aiden Summers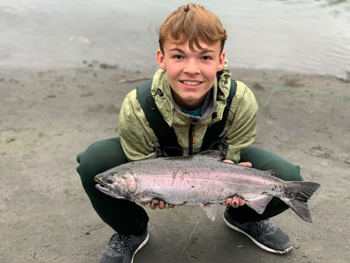 Meet Aiden Summers. Aiden, who is now 14, has been fishing since the age of two. He ties and fishes with his own flies and has landed some really nice fish. Please help us celebrate Aiden and all the young anglers out there who take to the water with a fishing rod in hand.
We asked Aiden to share some of his experiences with us. Below are answers in his own words.
Who was the first person to ever take you fishing?
My mom when I was two years old before I can even remember.
What was the first species of fish you ever caught?
A baby burbot on the Yukon River when I was four. This is my first memory of fishing and I was with my grandpa and my mom.
What is your most memorable fishing experience?
My favorite fishing experiences are fishing for pike and fishing for salmon. My most memorable fishing experience is pike fishing at moose camp near the Huslia River. My favorite fishing is when I am fishing in water that is clear so that I can see the pike take my fly. I only fish with flies that I tied myself, if it is applicable for the species.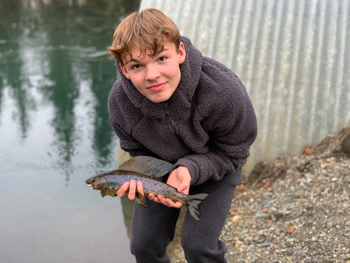 What do you like most about fishing?
What I like most about fishing is being outside, watching the fish, and feeling them on my line.
Keep on fishing, Aiden! Thanks for sharing your story with us.
Do you know a young angler who loves to fish? We're looking to highlight a few young Alaskan anglers (15 years of age or younger) who love getting out and going fishing. We would like to feature them in coming editions of Reel Times as "Inspired Young Anglers."
If you would like to suggest a young angler for possible feature in future editions of this newsletter, please contact Ryan Ragan.
And be sure to share your fishing stories and photos on social media using #wefishak.
Prepping your tacklebox for king salmon
By Samantha Oslund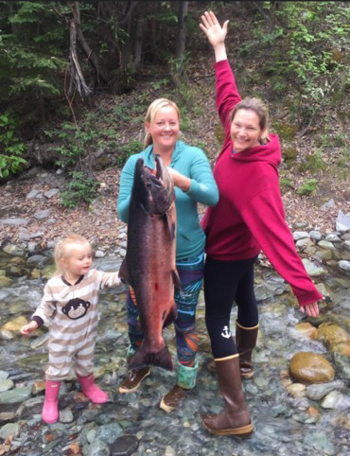 Growing up in southcentral Minnesota, it was about this time every year that my Dad would dig through the garage and find his sacred tackle box. He would bring it to the kitchen table, open it and go through his inventory for the walleye opener which was always right around Mother's Day. I remember being fascinated by all the different lures and he would never let me touch anything. Apparently, there was a method to his organization. He instilled a love for fishing in me which has since become my career as a sport fish biologist in Palmer, Alaska. Like my father, I take out my tackle box and review its contents prior to a season opener, although my tackle and opener is for Chinook salmon (king salmon).
spring is finally here, and it is that time of year everyone. Go grab your tackle boxes and get organized. By the time June rolls around we should have a few king salmon starting to return to the freshwaters. King salmon are one of the most sought-after fish here in Alaska. The recent decline in production has led to many years of fishery restrictions and even closures. In the Susitna and Little Susitna rivers drainages, the 2021 season will start with catch-and-release only. Hopefully, if the numbers of fish produce good returns, some harvest opportunities may be made available later in the season.
It's important to remember while taking stock of your tackle inventory that salmon can see shades of color. You want to fill up your fly or tackle boxes with tackle and flies in a variety of colors. Sun, wind, rain, clouds, and water depth can affect the shade of color you are trying to target kings with. Keep in mind every river system is different too. Some rivers are tinted blue with glacial silt, others run clear, or tannin stained (tea colored). Don't be afraid to buy tackle in various colors.
Personally, I like the colors blue, silver, and orange for king salmon fishing. These fish average 18lbs, so don't shy away from big gear. Preferred line sizes would start at 15-30lb test monofilament or even braided line. This is also a good time to change out the line on your reel. You don't want to lose that big fish because your line was old and fraying. Hook sizes of 5-6 for Pixee or Vibrax are readily available at your nearest sporting good stores. If you decide to use bait at the Eklutna Tailrace (or if it is allowed later in the king season on other systems), Spin-N-Glo set ups work great to fish right off the bottom with some weight, as well as herring wrapped on a Kwikfish. When I fish with my kids, we use a single-hook egg loop under a bobber and cast up-stream into the current and let it float down. Kids love watching bobbers and you might be able to extend your day by keeping them busy and letting them watch their own bobbers. For casting and retrieving a good old Kodiak Custom, Pixee, and Vibrax are hard to beat. Fishing from a boat for kings can greatly improve success rates when possible. Back-trolling and letting your bait hit the bottom in the current can be deadly for kings.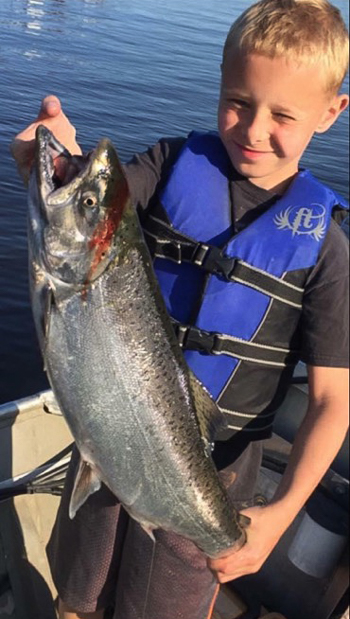 Early morning fishing is where it is at when fishing for king salmon. Be out there just before 6:00 a.m. and have your line in the water as soon as the fishery opens. Once the sun reaches the water the fish bit tends to slow down. You can still catch them, but they are readily caught early in the day, or late in the evening. As the season progresses and the outdoor temperatures rise, this phenomenon will become more and more pronounced.
Run-timing for kings will vary by area. Typically, here in the Mat-Su, king salmon fishing really picks up around June 10. We will have salmon weirs on both the Deshka and Little Su this spring and you can track the fish counts on our Fish Count webpage. You can access historical data on this page too by selecting multiple years. You will see the fish trickle in at the end of May and the bulk of the run starts to build around June 5. There are plenty of freshwater systems in the Mat-Su and Palmer area to target king salmon. But before you go, check out the latest emergency orders and advisory announcements. Don't forget to review the 2021 Southcentral Sport Fishing Regulations Summary booklet before you cast out your line. While you are online stop by the ADF&G Online store and purchase your 2021 sport fishing license and king salmon stamp. A king stamp is required anytime you target king salmon including catch-and-release (stocked lakes being the only exception).
No matter where you go or what you catch, a king salmon is always memorable and worth the time invested in targeting them. Some of my best memories with my kids are from king salmon fishing trips. Time is flying, the season is upon us. Get your gear ready and have a great summer on the water.
Tight lines!
Fishing on the Aniak River: A great opportunity for a diverse angling experience!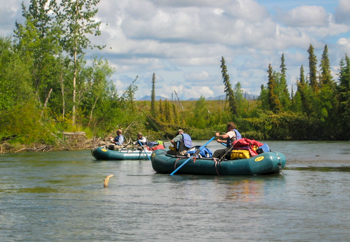 The Aniak River is a popular float trip (and guided or lodge trip) for anglers traveling to the remote reaches of the Kuskokwim River. The Aniak River supports a wide variety of fish species including the five common varieties of Pacific salmon, Dolly Varden, Arctic char, Arctic grayling, northern pike, and sheefish. The northern pike and sheefish tend to be near the confluence with the Kuskokwim River, and the sheefish are most likely to be caught at the confluence. Considered to be near the outer limits of the species' range, rainbow trout inhabit the river in moderate numbers.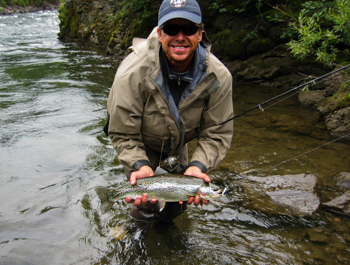 Most species are attracted to egg patterns, especially during salmon spawning. Sockeye salmon may be caught in locations where they are abundant, but they don't tend to be an aggressive feeder. Silver and flashy streamers may work well below water, and dry flies are popular during the right conditions. Topwater patterns such as mouse patterns or other topwater patterns can be very effective for rainbow trout. Spoons, spinners and jigs of your choice work well for spinning gear, with many anglers choosing flesh colored gear, or white, pink and silver.
The Aniak River begins at Aniak Lake between the Kilbuk and Kuskokwim mountains and flows north roughly 150 miles to join the Kuskokwim River at the community of Aniak. This winding and moderately swift river is 25 to 75 meters (27 -81 yards) wide over much of its length. A clear stream in it's upper-most reaches, the Aniak River becomes increasingly silty below its confluence with the Salmon River and the Kipchuk River, and the water color ranges from a greenish cast in the middle reaches to an opaque brown a few miles above its juncture with the Kuskokwim River. The upper 2/3 to 3/4 of the river contains many hazards including braided false channels, shallow bars, overhanging brush, large sweepers, log jams (some blocking the entire river or a channel), root wads, sharp turns, narrow channels, and whirlpools. Water levels vary widely depending upon rainfall and snow melt conditions.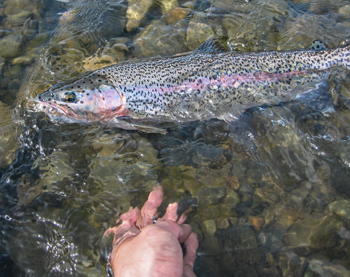 The lowest portion of the Aniak River is in the Yukon Delta National Wildlife Refuge. Most of the river is outside the Refuge, but there are private lands (largely Native allotments) throughout.
There are scheduled air services to both Aniak and Bethel from Anchorage and Fairbanks. The Aniak River is typically accessed by float plane to Aniak Lake or by wheel plane to small airstrips in the upper drainage. There are air taxi and outfitting services available in both Aniak and Bethel that can provide transportation and rental of rafts and other gear, and charter services from Dillingham are also available.
Aniak River drainage regulations in the 2021 Northern Sport Fishing Regulations Summary book.
2021 Sport Fish Regulations Summary books Now Available
The 2021 Sport Fish Regulation Summary Books are now available online, at ADF&G offices and at vendors across the state.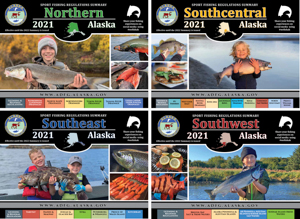 Be sure to check the regulations for the area you plan to fish before going fishing. If you have questions, please contact an ADF&G office. You'll find contact information here.
Field to Plate – Recipe of the month
Recipe of the month: Peruvian Grilled Alaska Pollock Sandwiches with Spicy Green Sauce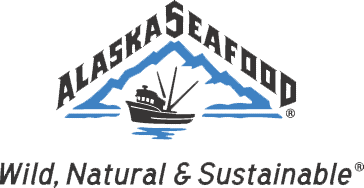 Fire up the grill and try this delicious recipe for Peruvian Grilled Alaska Pollock Sandwiches with Spicy Green Sauce from our friends at the Alaska Seafood Marketing Institute. Don't have pollock? Try substituting with another fish such as cod, rockfish or halibut.
Enjoy!
If you have any questions about the Reel Times newsletter, please contact Ryan Ragan at ryan.ragan@alaska.gov