Reel Times Newsletter
August 2020
Issue 32
---
Silver linings – Fall fishing for coho salmon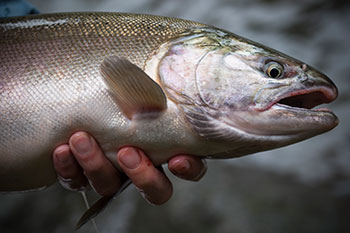 August marks a turn toward fall in Alaska. And while the weather is noticeably cooler, the fishing is still hot – especially for silver (or coho) salmon.
If you've ever wanted to target coho on the fly, check out the article on fishing for coho on Kodiak Island. For those who want to target coho using bait, we have a video on our YouTube channel showing how to use a slip-bobber set-up to drift cured salmon roe.
The submission period for photos for the 2021 sport fishing regulation summary books is now open. You'll find details below. Also, we share some new locations that have been or will be stocked with fish – including lake trout.
Are you following us on social media? If not, be sure to check us out on Instagram @wefishak. You can also follow us on Facebook at ADF&G - wefishak. We also have a YouTube channel where there is a growing collection of fishing-related videos.
While you're out there targeting the catch of the day, be sure to practice social distancing from any fellow anglers you may encounter and follow the Governor's heath mandates, which can be found here.
If you have a comment or story ideas for Reel Times, we encourage you to send them our way. You can send comments to ryan.ragan@alaska.gov.
We'll see you on the water.
Division of Sport Fish
Alaska Department of Fish and Game
Coho fishing on Kodiak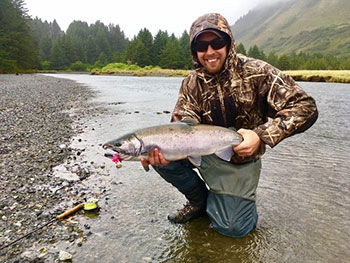 Fishing for coho salmon is typically an Alaskan fall tradition, but cohos can be caught as early as July. For many anglers fishing for coho salmon is met with anticipation that can rival Christmas or the next winter vacation to warmer climates. If July and August rolls around and you are singing 'It's the most wonderful time of the year', don't worry, you're not alone! Fishing coho salmon on Kodiak offers a dizzying variety of opportunities and the number of cohos returning to the Island each summer and fall are only surpassed in terms of salmon runs by that of the prolific pink salmon. Two different saltwater fishing opportunities can make for some of the best fishing around: trolling the open water for schools of feeding cohos and fishing the estuaries for holding schools.
Coho salmon can be caught by trolling as soon as the 4th of July in waters near the City of Kodiak. Once you see one come across the dock, its game on and you can expect fishing to get better by the day from then on. Popular tackle are flashers with spoons or hoochies, such as the old stand-by a green and white hoochy with a double hook set up towed behind a silver and green or pink flasher. The local hot spots closest to Town are Buoy's 3 and 4, Cape Chiniak, and Ugak Island, and by the peak of trolling season in early August, cohos can be caught in nearly all waters around Kodiak Island. Limits can easily be caught in an hour and the best fishing is found when cohos school in large aggregations around bait fish. Look for diving birds and feeding whales to locate these spots easily, but don't depend on the tried and true spot you 'know there will be fish at,' both bait fish and cohos can and will move by the day!
Cohos can also be caught in the salt at many spots nearer their home stream. Most of the Afognak Island rivers and a host of Kodiak Island streams offer saltwater fishing from shore or boats in the estuary areas. If you haven't experienced fishing in these lagoon-type areas, beware, it is addicting. More often than not, you can sight cast on schools in clear, calm waters and see them charging your fly or spinner. Don't get too excited and pull it out of their mouth! Typically beginning the first week of August and ending with the first big rain in late August or September, cohos often hold in narrow bays and lagoons before they start their freshwater run upstream and are 'sitting ducks' for anglers that can find them. Whether flies or spinners, bright and flashy is the name of the game and timing is everything. Bring an assortment of colors, shapes and sizes. Local favorites are florescent colored Vibrax's and articulated leech flies. If you have several days of fishing planned in a row, try to have 2 or 3 spots in mind to rotate between as after two or three days in one spot, they will be on to you.
Whether fishing from a boat or shore, using flies or spinners, chasing cohos offers one of the most exciting and predictable sport fisheries around!
Lake trout will be stocked in various locations in 2020
When someone mentions Upper Summit Lake on the Kenai Peninsula, you will likely hear avid anglers get into a heated debate on whether or not lake trout can be caught in, or even inhabit, that lake. There are rumors of huge lake trout, with fishing tackle stuck to them, that folks have seen on their underwater cameras. However, catching one might be just a little more likely than seeing a unicorn. However, in a couple years, that unicorn reference will be out the window, and catching a lake trout will be far more likely in Upper Summit, and a few other lakes in the state. This is because the Alaska Department of Fish and Game, Division of Sport Fish, by popular demand, has reinstated lake trout stocking programs throughout the state. In the fall of 2020, sub-catchable (5-7") lake trout will make their way to a few selected lakes. In Southcentral – Clunie, Sand, Upper Summit, Long Lake (Mile 86), Matanuska, Blueberry, and Lost lakes will all be stocked with lake trout. In Interior, Coal Mine #5, Craig, North Twin, Rapids, and Harding lakes will all be stocked with lake trout. It will take the fish a few years to grow, but hopefully by the mid to late-2020's, lake trout will be at perfect catching size! The Department plans to continue stocking lake trout every four years, so the next stocking won't be until 2024.
Three new stocked lakes in the Mat-Su Valley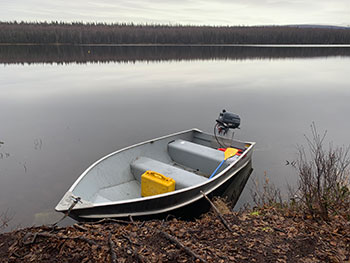 New stocked lakes? Yes, please! This spring, ADF&G staff added 3 new lakes to their stocking program! All three lakes are located within the Matanuska-Susitna valley, an increasingly popular fish area within in the state. With a suitable name for its location, Summit Lake is located in the gorgeous Hatcher Pass area. Summit Lake was stocked with catchable (7-14") Arctic grayling that will hopefully continue to thrive in the lake and provide angling opportunity throughout the summer and fall. If we're sticking with the name describes the lake theme, Leech Lake will likely have plenty of feed for hungry fish! Leech Lake is part of the Matanuska Lake Complex and can be accessed from the Matanuska Lake trailhead. Unlike Summit Lake, Leech Lake was stocked with catchable rainbow trout. Finally, Zero Lake, which if you look hard enough at a map, you can somewhat see what looks like a squiggly, tilted "0", is located in the Houston area. Zero lake was stocked with fingerling (3-5") rainbow trout, which will likely take a couple years to grow into harvestable fish. Whether it's today, next month, or next spring, we highly encourage you to get out your favorite fly or spinning gear and cast a line in one of these new spots!
Youth angler nabs trophy pike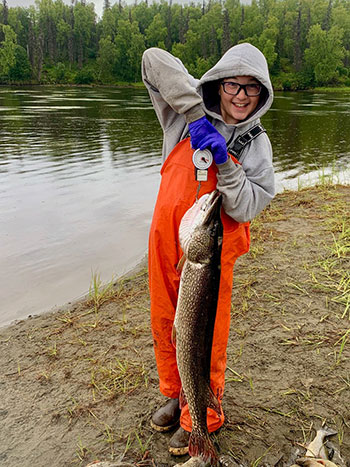 We'd like to congratulate Isaac Redington, 11, on his catch of a 44-inch northern pike. This fish was caught at an undisclosed location in Southcentral Alaska in late July. Isaac has been awarded a Trophy Fish certificate in our Youth category for his fine catch.
Our Trophy Fish program offers certificates of recognition to youth and adult anglers who catch a trophy fish in Alaska. You can find more details and view current state-record holders online at www.wefishak.alaska.gov.
Let us know what you think about Reel Times
We would like to hear from you about your experience with Reel Times. Please complete this short survey if you would like to share your thoughts with us. https://www.surveymonkey.com/r/ReelTimes
Thank you!
Send us your best shot!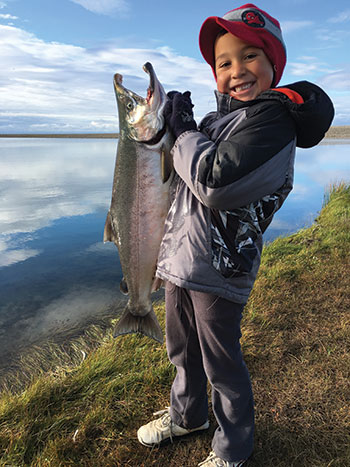 Did you take any good pictures this year of fishing with friends or family? If so, consider submitting a few shots to the 2021 sport fishing regulation summary cover photo contest.
Every year the Alaska Department of Fish and Game (ADF&G), Division of Sport Fish, publishes four regional Sport Fishing Regulation Summary booklets - Northern, Southcentral, Southeast, and Southwest.
ADF&G is now accepting photo entries of youth anglers and families or friends fishing together for the cover photo contest. We also encourage anglers to submit images showing the diversity among those who fish in Alaska. The submission deadline for photo entries with a completed and signed Media Consent Release Form is 5:00 p.m. Saturday, October 31, 2020.
A maximum of three photos may be entered. Lay-out restrictions are such that only horizontal photos will be considered for the front cover. Both vertical and horizontal photos will be considered for inside pages which have no age requirement. For photo submissions to be considered, all photos accompanied by a completed Media Consent Release Form with the youth anglers' parent or guardian must sign. Please include the name of the body of water or drainage in which the photo was taken and information about the angler(s) in the photo. Photos that show evidence of fish and game violations, unethical, or unsafe actions or advertisement will not be considered – this includes youths in a boat without a life vest.
Please email all photos and a completed and signed Media Consent Release Form to the appropriate region where the fish was caught to the following individuals:
Northern Alaska
Southcentral and Southwest Alaska
Southeast Alaska
For more information on the contest, please visit the Photo Contest webpage.
Field to Plate – Recipe of the Month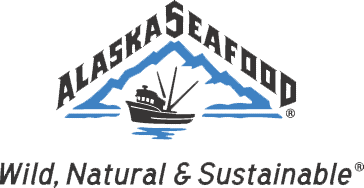 Alaska Halibut Tacos with Cucumber Salsa
Got halibut? Try preparing some of your tasty catch with this recipe from our friends at the Alaska Seafood Marketing Institute: https://www.wildalaskaseafood.com/recipesdb/?recipeId=NDQ=
If you have any questions about the Reel Times newsletter, please contact Ryan Ragan at ryan.ragan@alaska.gov