Alaska Department of Fish and Game
---
Secondary Site Navigation
Prince of Wales Management Area

Fishing Information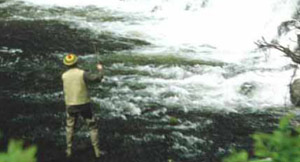 Most sport fishing effort in Marine waters usually occurs from Late May through early September. Chinook fishing usually peaks in June with both May and July being very good. Coho peaks in August with good catches in both July and September. Halibut fishing also peaks during the summer months. The majority of the chinook and halibut effort and catch occurs on the 'outside' coast (the west coast of the island).
One of the most popular freshwater fisheries with anglers every year is the great coho fishing found on POW. Most anglers target the "fall run" coho that usually begin entering POW streams in late August and peak in September. However a few island streams contain runs of "summer run" coho and these fish can be found in fresh water as early as late June (with July and August being the best time to fish for these returning salmon). The largest run of summer run coho on the island occurs at the outlet of Neck Lake near Whale Pass (this is a hatchery return) and this fishery remains good from late June through August. By far the largest coho return in the area is to the Klawock River. The Klawock River Hatchery releases millions of coho smolt annually, and the best time to fish for Klawock coho is from late August through September. There are many other fine coho streams to choose from on the island as almost all streams that contain anadromous salmon have a coho run.
The best months for Steelhead fishing on the island are April and May, but a few fall run fish can be found throughout the winter in some of the larger streams. The majority of steelhead runs on the island are small and number less than 200 returning adults annually.
The following links lead to regulation summaries of Alaska sport and personal use fishing regulations published by the Division of Sport Fish as a service to anglers. They are not intended to be a complete digest of all fishing regulations.
Regulations may be changed by the Alaska Board of Fisheries during its regular meetings, by emergency regulation, or by emergency order at any time. Any changes to the regulations are made available through the emergency order link below.
Prince of Wales Emergency Orders
Prince of Wales Regulations