Alaska Department of Fish and Game
---
Most ADF&G website information and services will not be available on Sunday, October 11 as the State of Alaska will be doing planned maintenance in Juneau on that date between 5 am – 9 pm AKST. We apologize for any inconvenience this may cause.
Facebook
Twitter
Google+
Reddit

Ketchikan Management Area

Fishing Research
Unuk River Chinook Salmon Studies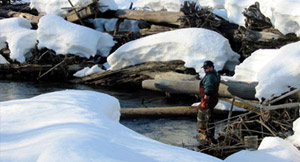 The Alaska Department of Fish and Game (ADF&G), Sport Fish Division, will continue their Chinook salmon Onchorynchus tshawytscha full stock assessment studies on the Unuk River in 2009. The Unuk River originates in a heavily glaciated area of northern British Columbia and flows for 129 km where it empties into Burroughs Bay 85 km northeast of Ketchikan, Alaska. The lower 39 km of the river are in Alaska where it traverses the Misty Fjords National Monument in southern Southeast Alaska (SEAK) (Figure 1). The Unuk River supports relatively large runs of Chinook, coho, pink, chum and sockeye salmon.
Secondary Site Navigation
Sport Fishing
Alaska Department of Fish and Game
P.O. Box 115526
1255 W. 8th Street
Juneau, AK 99811-5526
Office Locations