Foraging Ecology and Wildlife Nutritional Analysis (FaWNA) Lab
Table of Contents
---
Overview of the Foraging Ecology and Wildlife Nutritional Analysis (FaWNA) Lab
Opened in 2004 as the "Palmer Nutrition Lab", the Foraging Ecology and Wildlife Nutritional Analysis of the Alaska Department of Fish and Game is available as a statewide resource for the Alaska Department of Fish and Game. The FaWNA Lab has the capacity to run an array of nutritional biochemistry assays and has expertise to provide insights on study design and data collection, analysis, and interpretation for many types of foraging ecology and nutrition studies.
---
Mission Statement
The mission of the FaWNA Lab is to advance the science of nutritional ecology and our understanding of its influences on wildlife populations and their habitats throughout Alaska. We strive to perform rigorous nutritional ecology research, modernize or develop techniques to meet changing research needs, and promote training and education related to nutritional ecology and its application to wildlife management and conservation.
Researchers at the FaWNA Lab also use tame animals, focusing on moose and caribou, to evaluate foraging behavior of animals in the wild. These studies have illuminated how animals make foraging decisions, food selection patterns, and helped quantify availability of food resources on landscapes available to wild animals.
---
FAQs
Can you contract for non-ADFG projects?
Capacity to work with partners on external projects varies. Please contact Kristin Denryter (kristin.denryter@alaska.gov) for more information.
What services do you offer?
Sample preparation (freeze drying, grinding, oven dry matter)
Bomb calorimetry for gross energy
Sequential fiber analysis
Percent nitrogen (via an elemental analyzer using the Dumas method)
Tannins (via automated solvent extraction following methods of McArt et al. 2006)
Bioenergetic and nutritional modeling
Consultation on study design, data analysis, and interpretation
Do you offer NIRS?
Near-infrared reflectance spectroscopy (NIRS) was developed as a more rapid-assessment of forage quality for agricultural operations, but NIRS results must be related (i.e., calibrate) to known values of forage quality from tried and true methods like sequential fiber analysis. Relationships between NIRS and sequential fiber analysis requires substantial, up-front investment to develop relationships for every species of interest. Hundreds of samples of a given species should be collected across seasonal and ecological gradients to capture the potential variation in quality for a given species. To-date, these calibrations have not been determined for most forages used by wild ungulates, especially forages with plant secondary metabolites (e.g., tannins). If you have interest in working to develop calibrations, please contact the FaWNA Director for more information.
Do you offer in vitro dry matter digestibility?
In vitro dry matter digestibility (IVDMD) is a technique that ferments forage species in a test tube containing a buffer solution to mimic saliva and rumen fluid from a donor animal. Acquiring rumen fluid from a donor animal requires having fistulated animals and works best if donor animals are the same animal species as the species of interest and are maintained on a natural diet that contains the same types of forages as those being sampled. Typically, these constraints are difficult to overcome and may result in difficulty in interpreting IVDMD results. At this time, we are not offering these services.
What methods do you use to determine what animals are eating?
Typically we rely on tame animals to tell us about what wild animals eat in a given plant community. To do this, we train animals to load into a stock trailer and transport them out to various sites on the landscape and collect direct observations of animals foraging. This allows observers to see what the animals eat given what is available and allow us to detect patterns of forage selection (e.g., identifying what animals like to eat and what they don't like to eat), false bites, and other fine-scale foraging behaviors that are difficult or potentially impossible to collect using other methods.
Additionally, we are working to understand how new technologies can be used to determine what animals are eating. Our team is collaborating on projects to examine the utility of video collars for determining diet composition of caribou, moose, and other ungulates, as well as working to develop methods for DNA metabarcoding of moose diets. Be sure to check back for updates on this work.
Who should I contact about which assays I need, costs, and timelines for sampling processing?
Funding for nutritional analyses must be identified by principal investigators and costs vary depending on assays needed. If you would like to discuss assay options for your study, send an email to the FaWNA Lab Director at kristin.denryter@alaska.gov. We advise reaching out to discuss your assay needs at the time of study design, but are happy to provide advice at any time.
Are you open to new collaborations?
We believe that collaboration is essential to advancing science and welcome inquiries about collaborating on foraging and nutrition projects.
Are there opportunities to receive training or join your staff?
Training opportunities may be available on an individual basis and can be requested by contacting the FaWNA Lab directly.
---
Current Projects
Alphabet Hills Moose Nutrition (collaboration with Alaska Center for Conservation Science)
Fire suppression across Alaska has resulted in late successional forests that provide limited forage opportunities for moose. Fire returns the landscape to an early successional stage and encourages the regrowth of browse species, such as willows, aspen, and birch, which are important to moose. Therefore, prescribed fire has become an important management tool for increasing the capacity of landscapes to support more moose and increase harvest opportunity. Vegetation responses vary across space and time, however, and their utility in the Nelchina Basin in GMU 13 is not well understood. Thus, we are investigating plant responses to fire to evaluate the utility of prescribed fire for enhancing habitat for moose in GMU 13. Additionally, we have partnered with the Alaska Center for Conservation Science to produce new maps of forage resources for moose that will further enhance our understanding of available forage resources for moose in this area.
Nelchina Caribou Range Assessment (collaboration with Alaska Center for Conservation Science)
The Nelchina Caribou Herd ranges across ~20,000 square miles in southcentral Alaska, primarily in Game Management Unit 13. Demographic rates, including reproductive rates and calf weights, collected from 2012-2016 were lower than expected and suggest that the Nelchina Caribou Herd may be limited by nutrition. Information on range conditions, including quantity and quality of available forages, is needed to evaluate how nutrition may be influencing demographic rates of the Nelchina Caribou Herd and to identify appropriate management actions. The Nelchina Caribou Range Assessment will consist of intensive field work to collect forage samples to determine their nutritional value (in terms of digestible energy and digestible protein) and estimation of biomass of forage species. Additional estimates, including foliar cover and other site characteristics, will be collected and used to map distributions of forage species available to the Nelchina Caribou Herd. Our sampling efforts will target species known to be important to caribou. Information gathered in this study also will be used to map biomass of available forages and update existing foliar cover maps.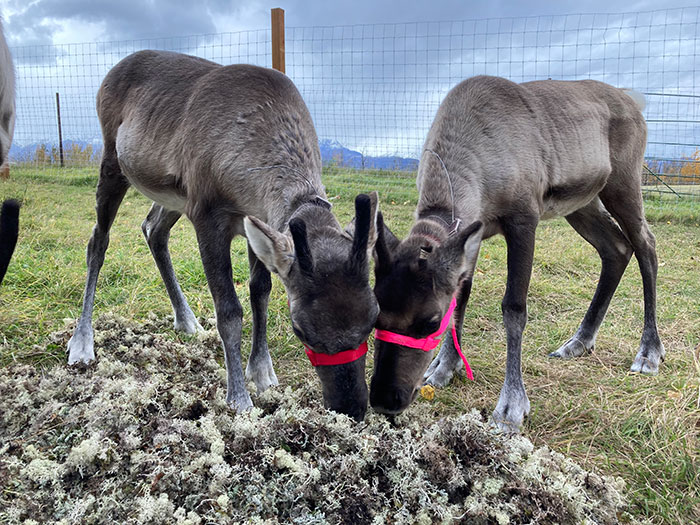 Ungulate Diet Methods Assessment
This project is being undertaken to evaluate the feasibility of using DNA metabarcoding to provide quantitative estimates of individual plant species in moose and caribou diets. While DNA metabarcoding can identify individual species, it has not yet been rigorously validated against known diet composition of moose or caribou diets. In this study, we are comparing fecal outputs from tame animals used in foraging trials to their known diet composition. Results from this work will help determine the accuracy and precision of DNA metabarcoding as a technique for quantitative assessment of ungulate diets.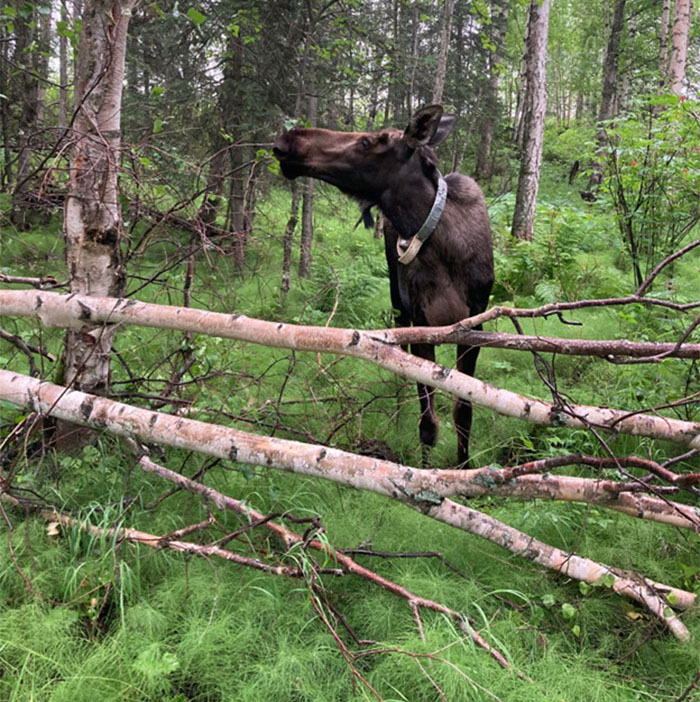 ---
Staff Profiles and Links to Cooperators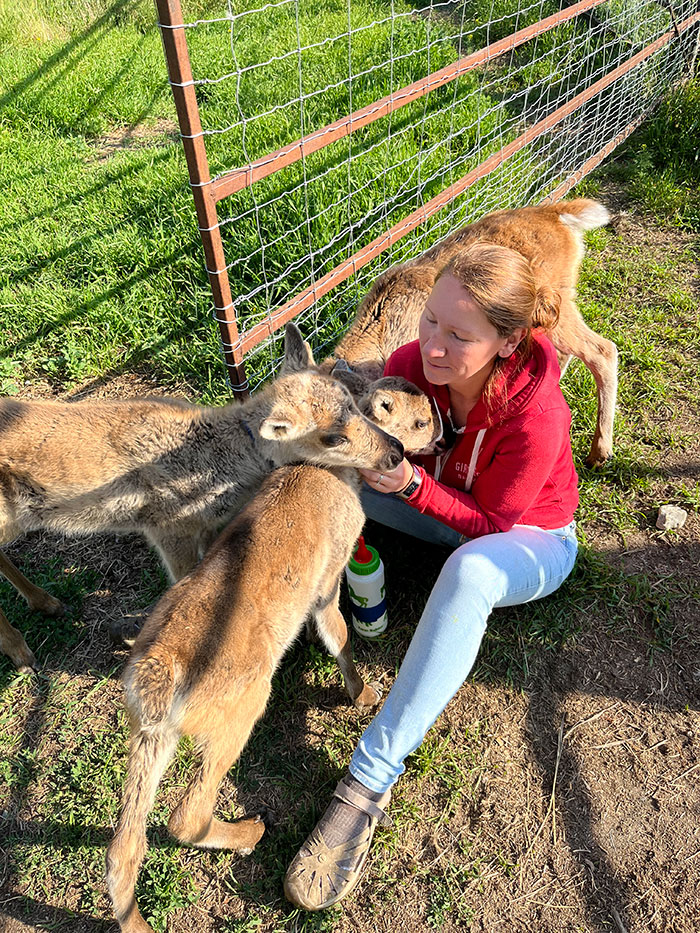 Kristin Denryter, PhD, joined the Alaska Department of Fish and Game in 2021 as a Wildlife Physiologist and Director of the Foraging Ecology and Wildlife Nutritional Analysis (FaWNA) Lab. Kristin earned a PhD from the University of Northern British Columbia where she studied nutritional ecology of woodland caribou and completed postdoctoral research on endangered Sierra Nevada bighorn sheep at the University of Wyoming.
Kristin's research focuses on understanding nutritional processes that control how animals acquire nutrients from their environment, the life-history strategies and behavioral adaptations animals use to overcome nutritional constraints, and consequences of nutritional constraints to individuals and population dynamics. She uses a variety of tools to study nutrition including tame animals, vegetation sampling, nutritional biochemistry assays, ultrasonography, and bioenergetic modeling. Kristin is interested in applying information about ungulate nutrition and physiology to build tools, including foodscapes and nutritional carrying capacity models, to help inform management and conservation.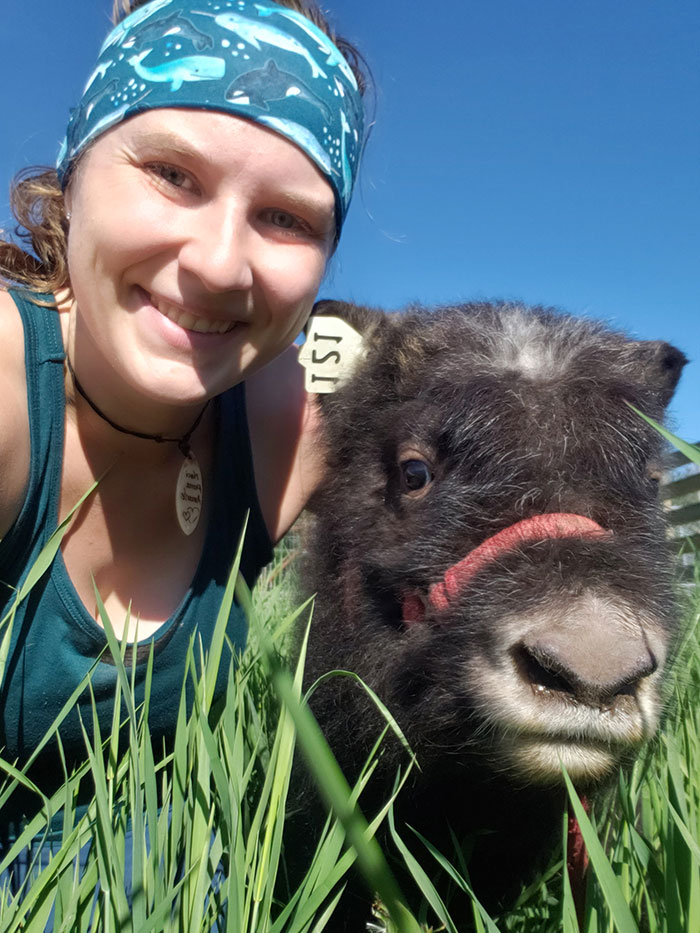 Sophia Bracio is our Fish and Wildlife Tech 4 and crew lead for animal care and husbandry. Sophia grew up loving the outdoors and animals and pursued these interests in all areas of her life (hobbies, work, and studies). She started riding horses at a young age and has always had a knack for choosing to work with the more "challenging" animals and enjoys putting in the time and effort to build relationships with these animals. Sophia graduated from the University of Alaska Fairbanks with a Bachelor of Science in Wildlife Biology and Conservation in 2021. Throughout her undergraduate career she transitioned from working at a dog boarding and training facility to working with reindeer and musk oxen at the UAF Large Animal Research Station (LARS). After graduating she volunteered on moose surveys for the National Park Service (and rumor has it she's a good flier) and continued working at LARS before joining ADF&G as a Fish and Wildlife Technician 3 at the FaWNA Lab in September of 2022. Sophia hopes to pursue a master's degree in the near future, ideally with a project focused on caribou or another Arctic ungulate.
External Collaborator Links
Don Spalinger, PhD (collaborator, retired ADFG)
Bill Collins, PhD (collaborator, retired ADFG)
---
Selected Publications and Multimedia
Carnahan, A. M., D. E. Spalinger, and W. B. Collins. 2018. n-Alkane and long-chain alcohol recovery in moose (Alces alces), a browsing herbivore. Canadian Journal of Zoology 96:559-565.
Carnahan, A. M., D. E. Spalinger, J. M. Kennish, and W. B. Collins. 2013. Extraction and analysis of plant alkanes and long-chain alcohols using accelerated solvent extraction (ASE). Wildlife Society Bulletin 37:220-225.
Collins, W. B., B. W. Dale, L. G. Adams, and K. Joly. 2011. Fire, grazing history, lichen abundance, and winter distribution of caribou in Alaska's taiga. Journal of Wildlife Management 75:369-377.
Cook, R. C., L. A. Shipley, J. G. Cook, M. J. Camp, D. S. Monzingo, S. L. Robatcek, S. L. Berry, I. T. Hull, W. L. Myers, K. Denryter, and R. A. Long. 2022. Sequential detergent fiber assay results used for nutritional ecology research: evidence of bias since 2012. Wildlife Society Bulletin 46:e1348.
Dale, B. W., L. G. Adams, W. B. Collins, K. Joly, P. Valkenburg, and R. Tobey. 2008. Stochastic and compensatory effects limit persistence of variation in body mass of young caribou. Journal of Mammalogy 89:1130-1135.
Denryter, K., M. M. Conner, T. R. Stephenson, D. W. German, and K. L. Monteith. 2022a. Survival of the fattest: how body fat and migration influence survival in highly seasonal environments. Functional Ecology 36:2569-2579.
Denryter, K., R. C. Cook, J. G. Cook, and K. L. Parker. 2017. Straight from the caribou's (Rangifer tarandus) mouth: detailed observations of tame caribou reveal new insights into summer-autumn diets. Canadian Journal of Zoology 95:81-94.
Denryter, K., R. C. Cook, J. G. Cook, and K. L. Parker. 2022b. Animal-defined resources reveal nutritional inadequacies for woodland caribou during summer in northeastern British Columbia. Journal of Wildlife Management 86:e22161.
Denryter, K., R. C. Cook, J. G. Cook, K. L. Parker, and M. P. Gillingham. 2020. State-dependent foraging by caribou with different nutritional requirements. Journal of Mammalogy 101:544-557.
Denryter, K., D. W. German, T. R. Stephenson, and K. L. Monteith. 2021. State- and context-dependent applications of an energetics model in free-ranging bighorn sheep. Ecological Modelling 440:109349.
McArt, S. H., D. E. Spalinger, W. B. Collins, E. R. Schoen, T. Stevenson, and M. Bucho. 2009. Summer dietary nitrogen availability as a potential bottom-up constraining on moose in south-central Alaska. Ecology 90:1400-1411.
McArt, S. H., D. E. Spalinger, J. M. Kennish, and W. B. Collins. 2006. A modified method for determining tannin-protein precipitation capacity using Accelerated Solvent Extraction (ASE) and microplate gel filtration. Journal of Chemical Ecology 32:1367-1377.
Rupp, T. S., M. Olson, L. G. Adams, B. W. Dale, K. F. Joly, J. Henkelman, W. B. Collins, and A. M. Starfield. 2006. Simulating the influences of various fire regimes on caribou winter habitat. Ecological Applications 16:1730-1743.
Spalinger, D. E., W. B. Collins, T. A. Hanley, N. E. Cassara, and A. M. Carnahan. 2010. The impact of tannins on protein, dry matter, and energy digestion in moose (Alces alces). Canadian Journal of Zoology 88:977-987.
Spalinger, D. E., S. M. Cooper, D. J. Martin, and L. A. Shipley. 1997. Is social learning an important influence on foraging behavior in white-tailed deer? Journal of Wildlife Management 61:611-621.