Alaska Fish & Wildlife News

April 2020
Sablefish tags bring prizes and cash rewards

By Madison Bargas and Riley Woodford
Every spring, Fish and Game announces the winners of the annual sablefish tag recovery incentive drawing. These go to anglers and, most often, commercial longliners who catch a tagged sablefish (also known as black cod) and return the tag to fishery managers and researchers. Movement information collected from tagging studies is important to the management of sablefish fisheries, and the department appreciates the participation of fishermen and processors in this program.
All persons who return an ADF&G sablefish tag receive a tag reward, in the past this has been a hat or t-shirt. Tag returns with valid recovery information (fisherman's name, date of recovery, and latitude and longitude) are entered into a random drawing for a cash prize. A total of 1,052 tags qualified for this year's drawing.
The winners of the 2020 annual tag recovery incentive drawing are (name, vessel, homeport, and cash prize amount):
1. Dale Bosworth Kruzof Petersburg, AK $1,000
2. Paul Sorenson Wind Walker Kenai, AK $500
3. Bruce Bauer Kaia Juneau, AK $500
4. Glenda Huff Kariel Gig Harbor, WA $250
5. James Phillips Pacific Dawn Pelican, AK $250
6. Jim Hubbard Kruzof Seward, AK $250
7. William Hammer Jr. Silver Lady Port Townsend, WA $250
The department has been tagging sablefish in Southeast Alaska since 1979 to obtain information on sablefish movement, growth, and abundance. Tags are bright orange or green in color, approximately three inches long, and located below the first dorsal fin. Sablefish tagged in the internal waters of Southeast Alaska have been recovered from as far away as Northern California and the Pribilof Islands in the Bering Sea.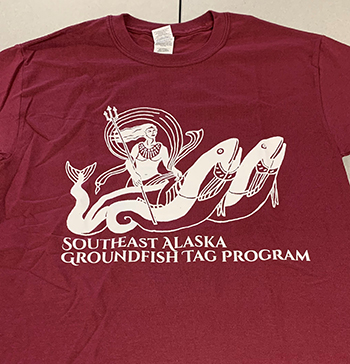 In a typical year 6,000 to 8,000 sablefish are caught, tagged, and released back into Southeast waters by biologists in surveys during May and June. 2018 was a record year and almost 10,000 sablefish were tagged that spring. The sablefish are caught using pots, strung on a longline. Pots are ideal for catch-and-release fishing. Unlike hooks on a longline, which can injure a fish's mouth, fish caught in pots have less chance of being injured.
Sablefish have been caught as long as five years after they were tagged. They have also been caught far from their tagging sites in Southeast waters. A sablefish tagged in upper Chatham Sound in May 2012 was caught four years later in April 2016 off the coast of Eureka, California, 2,066 km (almost 1,300 miles) away. Another, tagged in Lower Chatham in June 2007 was caught in October 2009 near the western end of the Aleutian Island chain, 2,888 km (almost 1,800 miles) away.
Sablefish are long-lived, and can reproduce for decades once mature. Sablefish are known to live into their 90s, and Fish and Game aged a 97-year old sablefish caught in Prince William Sound.
Information detailing the release and recovery of tag returns may be requested from ADF&G staff.
For additional information on groundfish fisheries, visit the Southeast Regional Groundfish Fisheries website
---
Subscribe to be notified about new issues
Receive a monthly notice about new issues and articles.