Coastal Rainforests in Alaska
Coastal temperate rainforests are rare. They occur in only 6 places outside of Alaska. The vast majority of Alaska's coastal temperate rainforests are old-growth, consisting primarily of Western hemlock, Sitka spruce, mountain hemlock, and Alaska yellow cedar. Mature coastal temperate rainforests are extraordinarily complex and stable habitats. Over thousands of years many wildlife species have evolved to exploit this habitat. Understanding the complexity of this habitat is only now beginning to emerge under scientific study.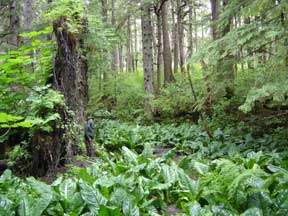 For more information see: Wildlife Action Plan Appendix 5: Forest Habitats (PDF 1,862 kB)
More Resources
The Alaska Rainforest — A powerpoint slideshow and booklet intended to provide educators an ecological overview of Southeast Alaska's temperate rainforest.
Alaska Rainforest Slideshow (

PowerPoint file 6,624 kB

): The powerpoint includes background information in the notes section. There is very little text on the slides to provide educators flexibility to tailor the presentation to meet the interests of their students.
Alaska Rainforest Booklet (

PDF 1,063 kB

): If you'd like a classroom set of this booklet, please contact Wildlife Education & Outreach Coordinator, Abby McAllister at: abby.mcallister@alaska.gov or call 465-4292.