Advisory Committee Meetings
Find current and past meeting information by committee or region. Info is also available on the State of Alaska Online Public Notice System.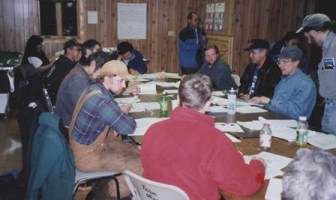 Advisory Committees provide a local forum on fish and wildlife issues. All Advisory Committee meetings are open to the public, and generally attended by members of the public, Fish & Game staff, and local residents who offer background and share information on agenda topics. Their purpose as established by the Joint Board of Fisheries and Game includes:
Developing regulatory proposals
Evaluating regulatory proposals and making recommendations to the appropriate board
Providing a local forum for fish and wildlife conservation and use, including matters relating to habitat
Consulting with individuals, organizations, and agencies
Under the Alaska Administrative Code, "A committee shall meet at least twice a year to remain active under 5 AAC 96.450. A committee may meet at times appropriate to the process described in 5 AAC 96.610, and at other times to formulate regulatory proposals, review and comment on proposals, and consider matters appropriate to the committee's functions under 5 AAC 96.050. A chairman or a majority of the full committee membership may call a regular meeting."
If you have questions, or have information regarding a meeting, please contact the Regional Coordinator for your area.