Alaska Department of Fish and Game
---
Secondary Site Navigation
Alaska Department of Fish & Game's
Outdoor Youth Days
— Anchorage, Alaska
The mission of the Outdoor Youth Days is to foster an awareness, respect, and enjoyment of Alaska's natural resources and to promote outdoor activities that include the shooting sports, fishing, and other outdoor skills in a safe and ethical manner.
Upcoming Events
Anchorage Youth Conservation Camps
Registration for the 2015 camps opens on March 31, 2015
Summer camp sessions for 2015 in Anchorage:
Outdoor Youth Days Camp #1 — June 1–3, 2015 (Mon–Wed) — Ages 10–14
Outdoor Youth Days Camp #2 — June 8–10, 2015 (Mon–Wed) — Ages 10–14
Tuition is $100.00 per participant per session.
If you have questions or need more information contact:
Held in Anchorage and taught by Alaska Department of Fish and Game employees and volunteers, this fun and exciting three day camp includes firearms safety, shotgun shooting, .22-caliber rifle shooting, archery, map and compass, outdoor survival skills, spin fishing, fly fishing, wildlife ID and tracking, boating safety, watershed ecology and more.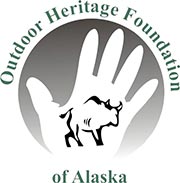 Outdoor Youth Days is a three day camp program for youth ages 10–14 and is made possible by a cooperative effort between the Alaska Department of Fish and Game (ADF&G) and the Outdoor Heritage Foundation of Alaska (OHFA). Other key supporters include the Safari Club International, Friends of the NRA (National Rifle Association of America) and community volunteers.