Alaska Department of Fish and Game
---
Alaska Department of Fish & Game's
Outdoor Youth Days
— Anchorage, Alaska
The mission of the Outdoor Youth Days is to foster an awareness, respect, and enjoyment of Alaska's natural resources and to promote outdoor activities that include the shooting sports, fishing, and other outdoor skills in a safe and ethical manner.
Upcoming Events
Anchorage Outdoor Youth Day Camps:
Camp registration will open on Monday April 4th @ 8:00AM. Applications will be available for download on this page and at the ADF&G Office in Anchorage beginning at 8am on April 4th. (333 Raspberry Road).
Registration opens at 8am on Monday, April 4, 2016
Both camps have filled. The registration period is now closed.
The camp is for students age 10 thru 14 years old. Nine is too young, 15 is too old. No exceptions.
Students who have never participated in the camp will be given priority to register. Registration forms from newcomers received between April 4th and May 16th, 2016, will be processed immediately in the order received. Both camps often fill early in the week that registration opens, thus mailed applications typically arrive after the camps have filled.
Standby: Once camp fills, registration forms from new and repeat attendees will be put on the corresponding standby list in the order received, with new attendees given preference. If the camp is not full by May 16th, the standby applications from returning students will be processed in the order they were received. If there are cancellations, new students on standby will be given preference. If no spots are available, all standby applications and tuitions will be returned. Rarely does anyone cancel, thus repeat attendees usually do not get in to camp.
Cancellations
Cancellation deadline is May 16, 2016. If you cancel before this date, a $10 processing fee (no exceptions) will be deducted from your refund. Registrants who decide not to attend or who do not cancel on or before May 16th will be assessed the full program fee.
Cost and class size
Space in each camp is limited to the first 30 youth aged 10 thru 14 years old who register with payment. The cost for each youth is $100. Some partial scholarships MAY be available. Call 267-2534 for more information. Campers will be divided into three groups according to age. Last minute group changes are not allowed, no exceptions.
Dress Appropriately
Please dress appropriately for outdoor activities in uncertain weather. Most activities will be outdoors (rain or shine or bugs!). Lunch and snacks will be provided all three days. Activities include: Firearms Handling and Safety, Archery, Rifle Shooting, Shotgun Shooting, Bear Safety, Wildlife ID, Map & Compass, Wilderness Survival, Fly and Spin Fishing, Boating Safety and much more.
Camp Dates & Times
Session 1: June 6, 7, & 8, 2016 (Monday – Wednesday)
— OR —
Session 2: June 13, 14, & 15, 2016 (Monday – Wednesday)
Monday's & Tuesday's sessions are held at Rabbit Creek Shooting Park (15222 Seward Hwy, across from Potter Marsh)
Wednesday's session is held at Cheney Lake (on Baxter Rd north of Northern Lights Blvd).
Camp will begin each day at 9:00 AM and conclude at 4:55 PM.
Lunch and snacks are provided all three days.
Transportation
Transportation to and from the camp locations is not provided. There will not be any before or after camp supervision for your child. Please be prompt dropping them off and picking them up.
For more information please contact:
907-267-2187 or 907-267-2534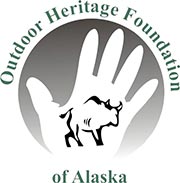 Outdoor Youth Days is a three day day-camp program for youth ages 10–14 and is made possible by a cooperative effort between the Alaska Department of Fish and Game (ADF&G) and the Outdoor Heritage Foundation of Alaska (OHFA). Other key supporters include the Safari Club International, Friends of the NRA (National Rifle Association of America) and community volunteers.
Facebook
Twitter
Google+
Reddit

Section Navigation
Education
Alaska Department of Fish and Game
P.O. Box 115526
1255 W. 8th Street
Juneau, AK 99811-5526
Office Locations