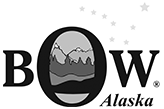 Map & Compass
A Beyond BOW (Becoming an Outdoors-Woman) Event
Anchorage — This course is designed to teach beginner basic map and compass skills that will help you navigate around outdoors with confidence.
Location and Date: Rabbit Creek Shooting Park, Hunter Education Building, February 10, Sunday 9am-6pm
COST: $55 PER PERSON
SEATS REMAINING: 0 / 14
MAXIMUM ENROLLMENT HAS BEEN REACHED. You may still register, but you will be put on a waitlist.