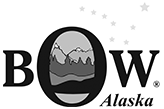 Chainsaw Basics
A Beyond BOW (Becoming an Outdoors-Woman) Event
Juneau — Getting to know your chainsaw and how it works in an important part of learning how to properly use this power tool. This class will teach you the anatomy of a chainsaw, how to take it apart and put it back together, how to service it and what models are best for what. You'll also learn about limbing, trimming, bucking and felling a tree — all with safety in mind. Our instructors will cover the importance of using the right fuel and oil mixture, how to check the tool before each use, and proper handling. We welcome those 18 and over for this class.
Location and Date: US Forest Service Ranger Station, 8510 Mendenhall Loop Rd, Juneau, AK 99801, July 20, 9am–12pm
Documents: Workshop Description (PDF 264 kB)
Attention: This becoming an outdoors woman course is for women 18 years and older.
COST: $30 PER PERSON
SEATS REMAINING: 0 / 7
MAXIMUM ENROLLMENT HAS BEEN REACHED. You may still register, but you will be put on a waitlist.