Alaska Department of Fish and Game
---
Facebook
Twitter
Google+
Reddit

Areas With Restrictions

Search By Game Management Unit (GMU)
Note: Use of these maps indicates that you have read and understand the liability statement.

Select a Game Management Unit.
Game Management Unit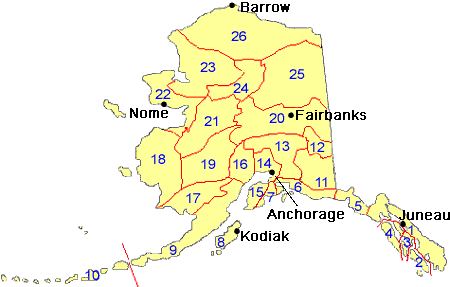 ---
Results for Game Management Unit 16
The following restrictions are those specific to GMU 16. Be sure to check the hunting regulations for additional state-wide hunting and trapping restrictions.
Management Areas
Unit 16B Youth Hunt Management Area
Restriction: In addition to other legal seasons, the area is open to moose hunting by a drawing permit issued to a child; the department may issue a permit to a child, as follows:
(i) a permit may be issued to a resident child aged 10 to 17 who will be accompanied in the field by a resident adult 21 years of age or older, with the child being the permittee;
(ii) permittees must have successfully completed a certified basic hunter education course;
(iii) a moose harvested under a permit issued under this section will count against the bag limits of both the child and accompanying adult;
(iv) only the child may shoot a moose, except that the accompanying adult may shoot the animal only to prevent the animal from escaping after having been wounded by the child;
(v) in addition to the permit specified in this section, the child and accompanying adult must have the licenses, harvest tickets, and tags required under this title and AS 16 in possession while in the field.
Area Description: Unit 16B Youth Hunt Management Area: the area consists of the mainland portion of Unit 16(B)
State Refuges
Susitna Flats State Game Refuge
Restriction: Open to hunting under the following conditions: (A) the use of a motorized vehicle for hunting is allowed from November 9 through March 31; (B) from April 1 through November 8, the use of a motorized vehicle, except an aircraft, hovercraft, boat, and snowmachine, is restricted to existing road surfaces, and to use within 1/8 mile of mean high tide or as designated by the department; (C) notwithstanding (A) and (B) of this paragraph, the department may issue an access permit, allowing an activity otherwise prohibited by this subsection, for (i) access by a person who has a physical impairment; (ii) movement of equipment or supplies; or (iii) refuge administration and management
Area Description: Units 14 and 16 - The Susitna Flats State Game Refuge, as described in AS 16.20.036
Note: Changes to area restrictions for hunting and trapping by Emergency Orders may not be shown on this page. Please be sure to check the Emergency Orders page for the most current list of changes.
Secondary Site Navigation
Hunting Maps &
Area Information
Hunting Maps
Area Information
Areas with Restrictions
Alaska Department of Fish and Game
P.O. Box 115526
1255 W. 8th Street
Juneau, AK 99811-5526
Office Locations