Alaska Department of Fish and Game
---
Secondary Site Navigation
Hunting Maps
Area Information
Areas with Restrictions
Areas With Restrictions

Search By Game Management Unit (GMU)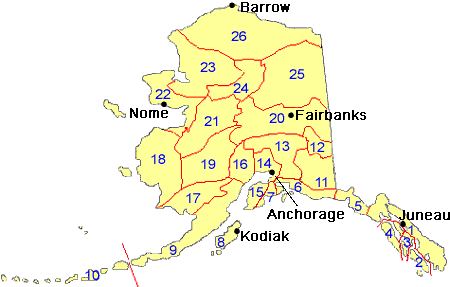 Note: Use of these maps indicates that you have read and understand the liability statement.

Select a Game Management Unit.
Game Management Unit
---
Results for Game Management Unit 5
The following restrictions are those specific to GMU 5. Be sure to check the hunting regulations for additional state-wide hunting and trapping restrictions.
Management Areas
Unit 5A Youth Hunt Managment Area
Restriction: The area is open to taking of one buck by youth hunt only. Season dates are Oct. 15-Oct 31. Hunt is open to both residents and nonresidents. Youth hunters must have successfully completed a department approved hunter education course and must be accompanied by a licensed resident adult at least 21 y ears of age or older. Proxy hunting is not allowed during this hunt and it does not affect the current Nov. 1–Nov. 30 season for residents and nonresidents
Area Description: Unit 5A
Note: Changes to area restrictions for hunting and trapping by Emergency Orders may not be shown on this page. Please be sure to check the Emergency Orders page for the most current list of changes.