Alaska Department of Fish and Game
---
Most ADF&G website information and services will not be available on Sunday, October 11 as the State of Alaska will be doing planned maintenance in Juneau on that date between 5 am – 9 pm AKST. We apologize for any inconvenience this may cause.
Facebook
Twitter
Google+
Reddit

Game Management Unit
(GMU) Information

Unit 4
Note: Use of these maps indicates that you have read and understand the liability statement.

Select a Game Management Unit.
Game Management Unit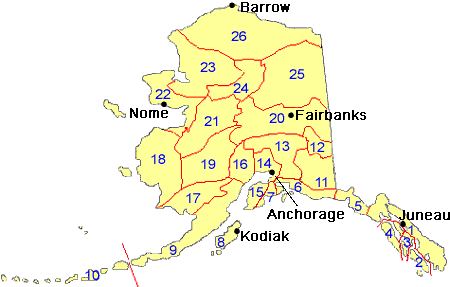 ---
Map of GMU 4
View high-resolution map of Unit 4 (PDF 386 kB)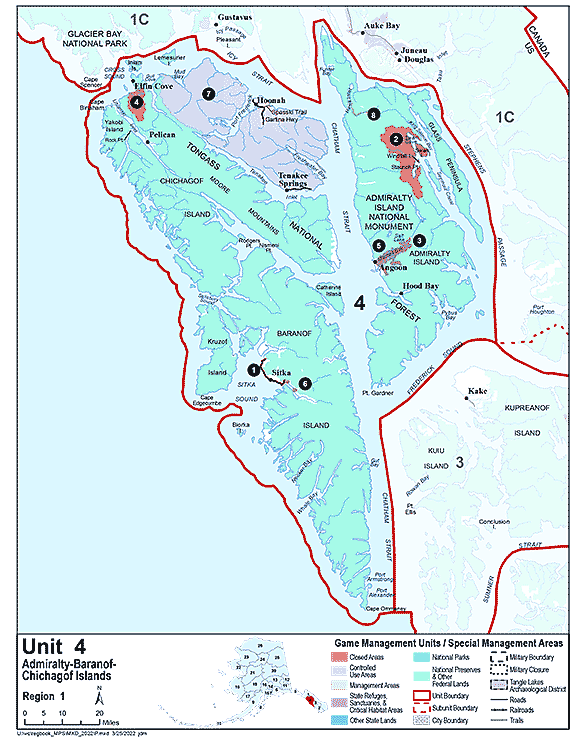 ---
Boundary Descriptions GMU 4
Game Management Unit 4 consists of all islands south and west of Unit 1(C) and north of Unit 3, including Admiralty, Baranof, Chichagof, Yakobi, Inian, Lemesurier, and Pleasant Islands;
---
Unit 4 Restrictions
Visit the Game Management Unit 4 Restrictions page.
---
Regulations
View the regulations book entry for GMU 4 (PDF 336 kB)
---
Access
For land access information see page 8 of the Hunting Regulations.
Contacts
Region of Alaska
Office Location
Address
Game
Management
Units
Phone Number
Region 1 -
Southeast
Douglas
P.O. Box 110024
Douglas, AK
99811-0024
1–5
(907) 465-4265
Region 2 -
Southcentral
Anchorage
333 Raspberry Road
Anchorage, AK
99518-1599
6–8, 14C, & 15
(907) 267-2257
Region 3 -
Interior
Fairbanks
1300 College Road
Fairbanks, AK
99701-1551
12, 19–21, 24, 25, 26B, & 26C
(907) 459-7206
Region 4 -
Central/Southwestern
Palmer
1800 Glenn Highway Suite 4
Palmer, AK
99645
9–11, 13, 14A, 14B, 16, & 17
(907) 746-6300
Region 5 -
Northwest
Nome
Pouch 1148
Nome, AK
99762
18, 22, 23, & 26A
(907) 443-2271
Secondary Site Navigation
Hunting Maps &
Area Information
Hunting Maps
Area Information
Areas with Restrictions
Alaska Department of Fish and Game
P.O. Box 115526
1255 W. 8th Street
Juneau, AK 99811-5526
Office Locations