Rabbit Creek Youth Shotgun League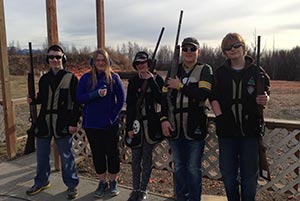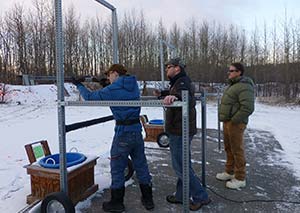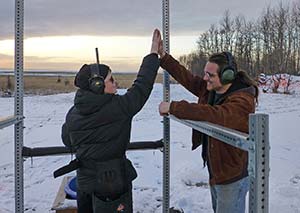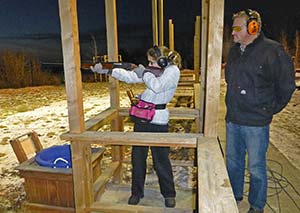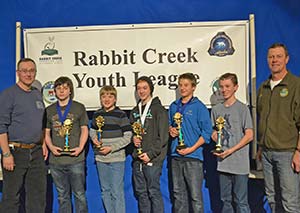 The shotgun shooting sports are lifetime activities. Success in the shotgun shooting sports emphasizes endurance, fine motor skills, psychological focus, and hand-eye coordination. Several shotgun shooting sports, including trap and skeet are Olympic events! The Rabbit Creek Youth Shotgun League program is built on the foundation of positive reinforcement, individual improvement, and getting youth involved in the shotgun shooting sports.
The League also has opportunities for parents to get involved with volunteering to help coach a team. ADF&G provides specialized shotgun coach training for parents who are interested in helping to coach. We also highly encourage league participants to expand their shooting to other shooting facilities such as Birchwood Recreation & Shooting Park and Grouse Ridge Shooting Club.
The League teams are comprised of 4-6 members, ages 10- to 15-years-old, who are coached by ADF&G trained volunteers. At Rabbit Creek Shooting Park teams shoot at either 5:30pm or 7:00pm on the same weeknight each week (Monday-Thursday). We check with prior league participants and then place new shooters on teams based on availability and family schedules. At JBER, participants shoot on Monday nights at 6:00pm.
Youth Shotgun League consists of a ten-week session, with sessions held in the fall (Sept-Nov) and spring (Feb-May).
Each week, participants shoot 50 rounds of clay targets (25 practice rounds with one-on-one coaching and then 25 rounds for score).
League shotguns are available, so participants do not need to have their own shotguns. League participants may use their own shotgun, if approved by the team coaches.
Awards are given out at a banquet at the end of the season for the top shooters and teams.
The cost is $300 which covers the shells and targets. Scholarship applications are available upon request.
Eye and ear protection are the responsibility of each participant and must be worn at all times when on the range.
The 2019 Fall Shotgun League is FULL.
The 2020 Spring Shotgun League will start the week of February 24. Sign-up (see online registration form below) should be completed prior to this date.
Important Information
A New Shooter Orientation will be held on Wednesday, February 19th at 6:30pm. More information will be provided upon registration.
Participants must be 10 years old by February 24, 2020.
Rabbit Creek Shooting Park
Youth Shotgun League
Hunter Information & Training Program
ginamaria.smith@alaska.gov
(907) 267-2196
Youth Shotgun League Registration
Upon completion of the online registration form, you will be sent an email with League details within a week. If you do not hear from ADF&G, please contact (907) 267-2196.