Alaska Department of Fish and Game
---
Welcome to the Rabbit Creek Youth Shotgun League Website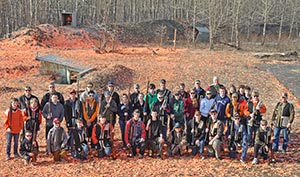 The clay target sports are lifetime activities. Success in the clay target sports emphasizes endurance, fine motor skills, psychological focus and hand-eye coordination. Several clay target sports, including trap and skeet are Olympic events! The youth clays program is built on the foundation of positive reinforcement and individual improvement. In the youth league there is absolutely no pressure to "win." We will assist each league member in setting realistic personal goals for improvement over the course of the league activities. We always need parents to get involved with coaching and provide training for parents who are interested in coaching their child's team. We also highly encourage league participants to expand their shooting to other shooting facilities such as Birchwood Recreation and shooting park and Grouse Ridge shooting grounds and experience registered sporting clays shoots.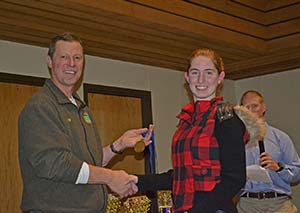 As part of the youth league's fees, each youth shooter will become a member of the Scholastic Clays Target Program, (SCTP) and the National Sporting Clays Association, (NSCA). The Scholastic Shooting Sports Foundation is an educational-athletic organization that exists to introduce school-age youth to the clay target shooting sports and to facilitate their continued involvement in a high-quality, team-based sport led by trained adult coaches focused on enhancing the personal growth and development of their athletes.
The National Sporting Clays Association recognizes and supports SCTP as their primary youth shooting development program. Both organizations offer and promote regional and national competitions where youth shooters can take the sport of clay target shooting to higher levels; e.g., college scholarships, shooting careers, and even the Olympics. Each summer, Alaska will host a statewide SCTP Tournament to be held at Grouse Ridge Shooting Club near Wasilla. National SCTP and NSCA competitions are also held each year in the lower 48, with a number of our Alaskan youth attending each year.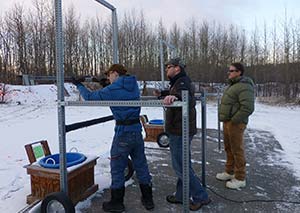 Our teams are comprised of 4-6 members, ages 10 to 15 years old. Coaches, trained and certified by the National Sporting Clays Association and the Dept. of Fish and Game, will coach each team.
Teams compete on Monday, Tuesday, Wednesday, or Thursday night of each week at 5:30 pm or 7:00 pm, based on availability.
Participants are expected to remain at the range for ten to twenty minutes after they finish shooting in order to assist their teammates with refilling trap machines and clean-up.
Each week team members will shoot 50 rounds of clay targets.
The first 25 rounds will be spent practicing specific targets with one-on-one coaching.
The teams will then shoot a complete round of 5-Stand Sporting Clays (25 targets) in handicapped team competition.
The league sponsors provide shotguns, targets and ammunition.
Basic eye and ear protection are the responsibility of each participant. Eye and ear protection must be worn at all times when on the range.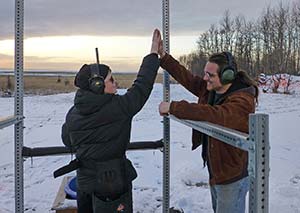 League members may use their own shotgun, if approved by the team coaches.
Make Ups
We will no longer allow make-ups during other teams' sessions without prior notice to that coach. If a participant misses their team's session, they may shoot for make-up on Friday, Saturday or Sunday during public shooting at the 5-Stand range from 10 am to 4:45 pm.
Rules of Behavior
League members represent the Alaska Department of Fish and Game, their families, and themselves. Therefore, each league member agrees to conduct himself or herself in accordance with a no-tolerance "no-horseplay" standard of behavior while involved in league activities.
Safe and enjoyable recreation is the ultimate objective. Therefore each league member agrees to a no-tolerance rule regarding safe firearm handling practices. If any league member violates any cardinal rule of firearm's safety they will be immediately removed from the squad rotation.
No league member or parent shall "coach" or advise any other league member on shooting. Coaches certified by the National Sporting Clays Association and the Dept. of Fish and Game will provide all shooting instruction.
No league member shall make disparaging remarks about other league members' shooting ability or performance.
Each league member will support and encourage all other members of the league.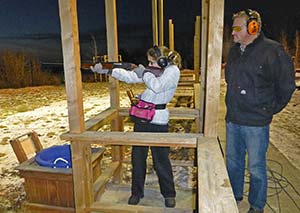 Each league member must dedicate themselves to each other and commit to shooting in their time slot each week if at all possible.
We encourage family members to attend practice and league activities, however non-participants are not allowed on the shooting pad during practice or team competition. A "warming hut" is provided for spectators and participants.
The 2016 Fall Youth Shotgun League is full. Please fill out the online registration form below if you are interested in learning more about the League or if you would like to register your son/daughter for the Spring 2017 League. The 2017 Spring Youth Shotgun League will start the week of February 27th.
Important Information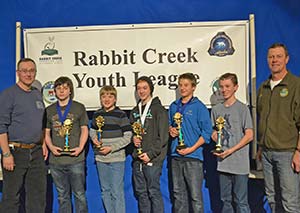 All participants must have a Hunter Education certification card. Visit the Hunter Education Course page for more information about getting your Hunter Education certification.
A New Shooter Orientation will be held on Wednesday, August 31st at 6:30pm. More information will be provided upon registration below.
Participants must be 10 years old by September 12, 2016.
Participants who are 16 by September 12, 2016 and who have participated in our Youth League will move up to Senior League.
Age categories as follows:
10–11 yrs — Super Sub-Junior
12–13 yrs — Sub-Junior
14–15 yrs — Junior
16–18 yrs — Senior
The cost for the 10-week League is $300. This includes 50 rounds of ammo each week, targets, range fees, and USA-YESS/AK SCTP memberships.
Rabbit Creek Shooting Park
Youth Shotgun League
Hunter Information & Training Program
ginamaria.smith@alaska.gov
(907) 267-2196
Youth Shotgun League Registration
Upon completion of the online registration form, you will be sent an email with League details within a week. If you do not hear from ADF&G, please contact (907) 267-2196.
Facebook
Twitter
Google+
Reddit

Section Navigation
Education
Alaska Department of Fish and Game
P.O. Box 115526
1255 W. 8th Street
Juneau, AK 99811-5526
Office Locations